Good Luck Policing the Massive Virus Relief Fund, TARP Vets Say
After a late push by Democrats to toughen oversight provisions, lawmakers agreed that the job will be split between a special inspector general and a congressional accountability committee—identical to the setup that oversaw the controversial $700 billion bank bailout in the 2008 financial crisis, the Troubled Asset Relief Program, or TARP. Those involved in the last bailout say that the effectiveness of this five-member panel will depend on whom congressional leaders choose for it, how they get along, and how willing the Trump administration is to comply with their requests for information, since they'll lack the power to compel it.
Veterans of the TARP oversight committee express serious doubts. Last time, they warn, the entire setup was deeply flawed and imbued them with little power to hold either the Treasury or large financial firms to account to ensure that funds were administered fairly and in the public's interest.
"We had no authority, no subpoena power, but a lot of obligations," says Damon Silvers, policy director and special counsel at the AFL-CIO, who served on the 2008 panel. "We couldn't swear in witnesses, so people could technically lie to us with impunity. The only thing we had to prevent that was the power of public shaming."
Silvers credits an aggressive public-relations push from the panel's chairperson, Elizabeth Warren, who was then a Harvard law professor, for raising the panel's visibility and giving it power beyond that enumerated in legislation. Within days after the panel was inaugurated, Warren took to the still-new medium of YouTube to apprise the public of her committee's progress and challenges and used regular appearances on the Daily Show and other news programs to build a public profile and pressure those who stonewalled the committee. Warren's transformation into a media celebrity, Silvers says, drew a grassroots following that made the panel's requests harder to rebuff.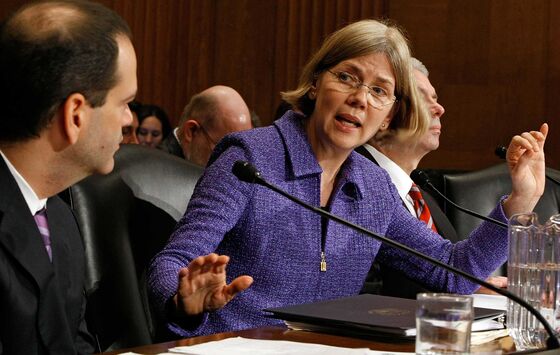 This time around, Democrats sought more direct powers to track corporate bailout funds—chiefly the power to issue subpoenas. But Republicans blocked that effort, according to lawmakers and staffers in both parties. "We thought that rather than the extremely expansive version our Democratic colleagues were pushing for, we ought to follow the model of the TARP approach, where we would focus on specific transactions," Republican Senator Pat Toomey told Politico. But gaining information from the current administration will be harder under the new law than it was 12 years ago. Upon signing the bill, Trump immediately moved to curb the power of the Special Inspector General for Pandemic Recovery, or SIGPR, by issuing a signing statement declaring that he or she cannot notify Congress of government stonewalling without first securing the president's approval.
Given the Trump administration's frequent refusal to cooperate with congressional investigations—including challenging subpoenas—that paints a bleak picture of future efforts to track the $500 billion corporate bailout.
Even overseeing a less overtly hostile administration was difficult, according to members of the TARP oversight committee.
"Getting the Obama administration to turn over documents was like pulling teeth," says Ken Troske, an economist at the University of Kentucky who served on the panel. "We got pushback all the time, and there were heated conversations about the lack of supply of documents we'd requested. I have yet to see a White House that's really keen on getting information to Congress. Inherently, it's an adversarial relationship."
So, too, on occasion, were relations between the panel's members, who were chosen by Democratic and Republican congressional leaders (members of the new panel will be, too). "It was supposed to be a bipartisan, constructive effort to look at what was going on and make sure it was consistent with congressional intent," says former Republican Senator Judd Gregg of New Hampshire, one of the original panel members. Instead, Gregg says, he quickly determined that it was "a partisan witch hunt" led by Warren and quit two weeks after he was appointed. "It was good they didn't have subpoena power, because it was a very bad panel led by a very bad person," Gregg says.
Others dispute that assessment, even while agreeing that relations among the panel members will go a long way toward determining whether it can effectively oversee the bailout. "I give Elizabeth a lot of credit for listening to our concerns and focusing on facts," says Troske, who was appointed to the panel by Republican Senate leader Mitch McConnell after Gregg's departure. "The five of us seemed to function and were able to get things done in a way that other committees examining the [financial] crisis could not. A lot of the concerns she had about behavior of Treasury and the implementation of TARP, I shared."
One key difference this time is that Republicans have more power in Congress, which makes it less likely that a crusading chairperson like Warren will lead the panel. In 2008, Democrats controlled both branches of Congress and were able to appoint three of the panel's five members, who quickly voted to put Warren in charge. Today, Republicans control the Senate, and the CARES Act, as the relief bill is formally known, stipulates that the chairperson will be jointly selected by the Speaker of the House and the Senate Majority Leader—that is, Nancy Pelosi and McConnell.
The new law authorizes Treasury to extend $500 billion to help large corporations keep workers on board and continue operations. Of that total, airlines and ticket agents are slated to receive $46 billion, with the remaining $454 billion allotted to backstop possible losses in lending facilities set up by the Federal Reserve. Beyond the SIGPR and congressional oversight panel, Treasury and the Fed are required to disclose each week which companies receive assistance. The law also imposes restrictions on stock buybacks, dividends, layoffs, and executive compensation for companies that receive aid.
Even so, Treasury Secretary Steven Mnuchin will have broad discretion in directing the use of funds. Veterans of the last bailout say this alone justifies strict oversight measures.
"A bailout is just picking winners and losers," Neil Barofsky, who was special inspector general for the TARP fund, told Bloomberg TV. "So you want to make sure you have an even playing field, so that the companies that are deserving of relief get it not because they have a political connection."
With Congress in recess and most of the nation under lockdown, it's unclear when the members of the new oversight panel will be appointed. In the meantime, Warren, now a Massachusetts senator, is reprising her role in the last crisis. In a Tuesday letter to Mnuchin and Federal Reserve Chairman Jerome Powell, Warren issued a blunt warning. The new law "gives you extraordinary powers to make discretionary decisions about the recipients of this huge bailout for big corporations, and the terms and conditions under which they receive aid," she wrote. "I will be watching carefully as you hand out these funds."
Silvers, of the AFL-CIO, says he welcomes the added oversight and hopes there will be more, including from the media. On its own, he says, a congressional panel modeled after the one he served on won't be enough to track the hundreds of billions of dollars that will soon flow out the door. "We had a reputation for having been an effective oversight body during the last crisis," he says. "But that was in spite of the structure, not because of it."