GM's $27 Billion Electric Bet Begins With Bad-Boy Hummer Truck
(Bloomberg Businessweek) -- A battery-powered Hummer pickup truck. Mary Barra, chief executive officer of General Motors Co., loved the idea from the moment she heard it. What better way to assure skeptical buyers that the company's coming raft of electric vehicles won't be just geeky science projects, GM President Mark Reuss's team had argued, than by rolling out a "green" version of one of its most badass nameplates?
At a meeting in March 2019, Barra quickly asked chief engineer Josh Tavel how much time it would take to get the electric Hummer out the door. The usual four years, he responded. That was big carmakers' age-old gestation period for getting a new model from a designer's sketch pad to dealer showrooms. But it wouldn't do for Barra, who's decided to make battery power the core of the company's strategy. "I'm thinking 2021," she said.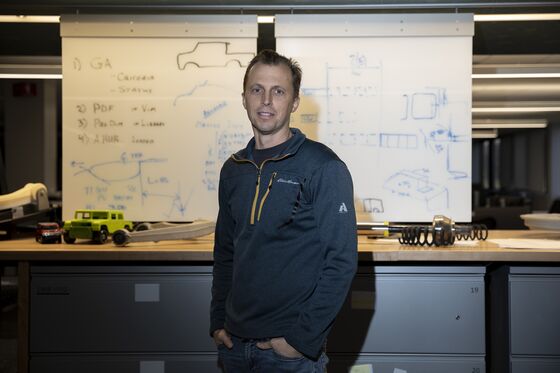 Thus began what could mark the genesis of the most transformative makeover of GM since legendary Chairman Alfred P. Sloan concocted the idea of differently priced car brands to suit different types of buyers. And the fact that GM is on track to begin deliveries of the Hummer EV truck next fall—barely 30 months after that fateful meeting—shows just how determined the company is to change itself.
The giant automaker plans to push out 30 electric vehicle models by 2025 to take on market leader Tesla Inc., starting with the two most iconic brands at the top of its roster, Cadillac and Hummer. GM is spending $27 billion in an all-out effort to remake 40% of its lineup and retool one-third of its U.S. vehicle assembly factories, putting it on a one-way path to electrification.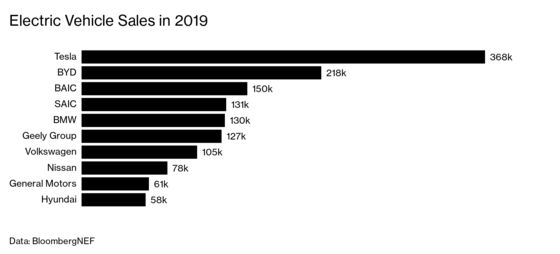 When Tavel agreed to Barra's ambitious schedule for the Hummer project's completion, he wasn't sure how they could pull it off. But speed is critical in the era of the ampere. Tesla is aggressively building more production around the globe, and President-elect Joe Biden and other political leaders elsewhere are pushing more EV-friendly government policies that will help plug-ins sell.
Like Tesla CEO Elon Musk, Barra has an advantage over rivals such as Ford Motor Co. and Volkswagen AG: plentiful supplies of its own batteries. Co-developed with partner LG Chem Ltd., the much-ballyhooed next-generation Ultium lithium-ion batteries are uniquely flexible, GM says, because the large-format, pouch-style cells can be stacked inside the battery pack, allowing engineers to use the same power-storing chassis to design a wide variety of vehicles. GM is also boasting that trucks will go 450 miles before needing a recharge. That flexibility will allow GM to design cars around just 19 different battery and drive unit configurations, compared with 550 internal combustion powertrain combinations available today. The electric Hummer truck will be the first vehicle to sport the new power plant, with Cadillac's planned Lyriq luxury crossover coming next.
To meet Barra's ambitious delivery schedule for the Hummer truck, Tavel and Doug Parks, GM's product development chief, met the next day to put together a small team that relied on virtual engineering tools, a streamlined internal approval process, and the simplicity of battery-centric vehicles compared with internal-combustion engines' mass of specialized engine combinations and fuel and exhaust systems. Designers started work the day after that. Fewer personnel and prototypes reduced costs, too. The program's progress so far has led GM to make the Hummer's expedited time frame a model for all future EVs. "We want to do epic shit," Tavel says. "We put our timing plan in the company's global plan. I expect this to be applied across the board."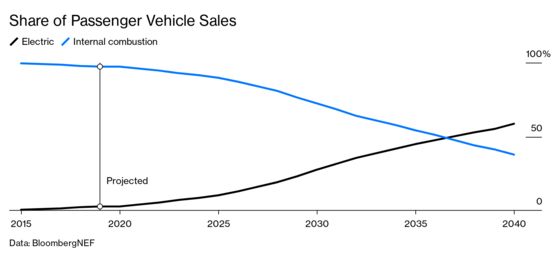 Seventeen-year-old Tesla is also developing models faster, with four distinct ones for sale and more coming. The carmaker was able to roll out its Model Y crossover SUV in March in far less time than it took to develop its mainstay Model 3 sedan because they share the same battery pack and underpinnings. Tesla's first pickup, the Cybertruck, which is also expected to hit the market in late 2021, will go head-to-head with the new Hummer.
EVs are more expensive to manufacture, mainly because of the cost of batteries, and most current models lose money. GM says its future EVs will turn a profit, but major automakers still rely on cash flow from their gasoline-powered vehicles to finance their transitions to an EV future. Meanwhile, most of all-electric Tesla's quarterly profits comes not from cars, but from the sale of clean energy credits to rivals that are out of compliance with emissions standards. Tesla is relying on improved manufacturing and lower-cost battery chemistry to drive its costs down.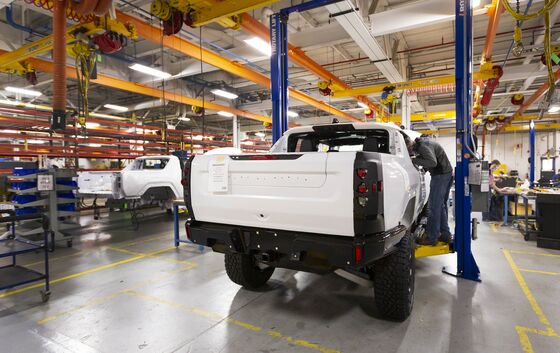 Electric cars' so-called skateboard architecture uses a standard chassis that allows automakers to develop new vehicles with fewer scale models fashioned out of clay or steel parts. Heavy use of computer engineering cuts GM's budget for prototype cars and parts by 63% compared with physical models, says Mike Anderson, the company's executive director for global virtual design.
Under its old method, GM would mock up a new vehicle like the Hummer by using a dressed-up version of an older GM pickup as a reference point. But it might take two full years to create a prototype with an engine and chassis. Now, 18 months into the Hummer truck's development, GM already has working prototypes driving around test tracks, Anderson says. Since each hand-built test vehicle can cost $500,000 to $2 million, cutting down on the number needed can save considerable costs, says Sandy Munro, founder of engineering firm Munro & Associates. The rapid shift to EVs also is causing a shake-up in the rank and file who will make future cars. GM needs fewer mechanical engineers and blue-collar assembly line workers to design and build them. Instead, the company will require more software coders and battery experts.
But some of the biggest changes brought on by the high-speed development of EVs have been to GM's deliberative corporate culture. To get around the typically hourslong and overstaffed committee meetings at GM's sprawling tech center campus north of Detroit, Tavel holds an open meeting every day at noon with a one-hour time limit for team members gathered around a wooden table. He borrowed Amazon.com Inc.'s two-pizza rule to keep delays to a minimum. "If you can't feed everyone there with two pizzas, you have too many people there," Tavel says.
One challenge faced by the team was engineering the vehicle with four removable roof panels, allowing it to become an open-air vehicle like the Jeep Wrangler or coming Ford Bronco. Tavel wanted the modular panels stored in the front trunk, or frunk, the place where an engine would be if the pickup ran on gasoline. The engineer in charge prepared a PowerPoint deck to discuss options for moving around other parts to make the panels fit, but Tavel refused to read it. Instead, he told the engineer to make a spot decision and inform everyone else on the team. Debate averted.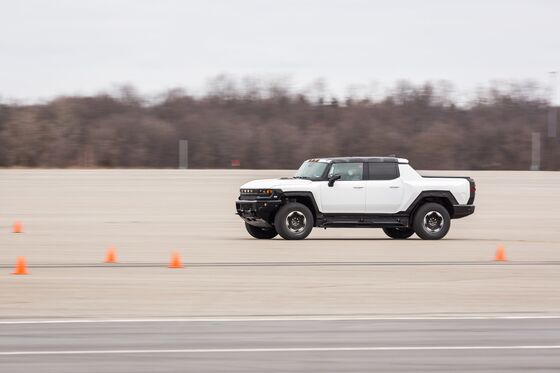 That was part of Tavel's policy of making all decisions within 24 hours so thorny issues aren't postponed and delays don't cascade. He says authority for that fast-pass policy comes from the highest levels. When Barra calls him to check on progress, her questions are rarely about the truck itself and usually deal with GM's culture of deliberation and checking on timing, he says.
Tavel, a former wrench-wielding racetrack technician who started driving sports cars at age 16, likes to bend the rules. But the demanding schedule has required long hours and a lot of weekend work by the Hummer team. GM hopes to replace the manic labor with a slightly more relaxed process for the next wave of electric vehicles under development, Anderson says. "You have passion-driven energy that crosses that borderline between work and life," he says. "We're working to make it so the next one is not like the Apollo space program. We know that's not sustainable."
Tavel sees the project paying off even after the Hummer goes on sale, because it will show the entire company how to move faster. Barra's intent, he says, "was to use us as a flag-bearer to show the whole organization what is possible." In a year, he'll see if she was right.