GM Is Building Cheap Cars for China's Masses
(Bloomberg Businessweek) -- For much of the past decade, sales of global automakers were buoyed by demand from China, whose residents have eagerly snapped up locally produced versions of pricey foreign cars such as Daimler's Mercedes-Benz, Volkswagen's Audi, and BMW's namesake sedans. Yet General Motors Co. has not only fared well with its premium-priced Buick line, it's killing it with Baojun, a made-for-the-mainland brand that sells for as little as $6,000.
There was a method to the down-market move. GM figured the next wave of car buyers in China would come from the smaller cities, especially in the interior of the country, where the middle class is growing and people are buying more cars. Baojun sales are up tenfold since 2013, to 1 million cars last year, more than Chevrolet and not far behind Buick.
GM rode the postwar economic boom in the U.S., when legendary company Chairman Alfred Sloan Jr. had a brand for "every purse and purpose." Chevrolet was the entry car, with wealthier buyers moving on to Pontiac, Oldsmobile, Buick, and eventually Cadillac. GM is making a similar play in China, with Baojun as the Chevy. "If the smaller cities are growing faster than major cities, we're positioned for it," says GM President Dan Ammann. "We're the only major carmaker there with our own brands and a local brand."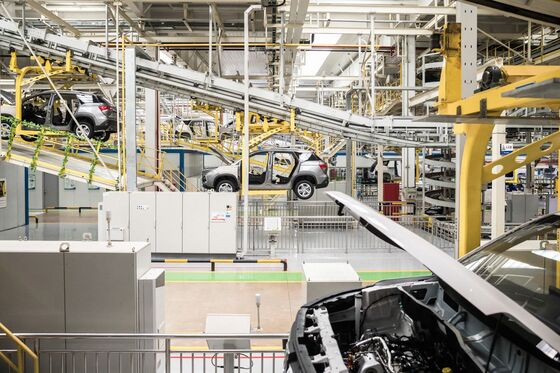 Growth in China is vital for GM because the company has retrenched in or left several other large markets. In 2017 it ended almost 90 years in Europe, having lost close to $20 billion there since 1999; last year it also left India, where its profit margins were low; it fled Russia in 2015 in response to political and economic instability.
It's a far different story on the mainland. GM and its partners sold 4 million vehicles in China in 2017, about 1 million more than the automaker sold in the U.S. General Motors China Inc. earned about $2 billion last year, about 18 percent of its parent's global profit. Annual auto sales in China are expected to increase by 5 million vehicles in five years, to more than 34 million, says researcher LMC Automotive Ltd.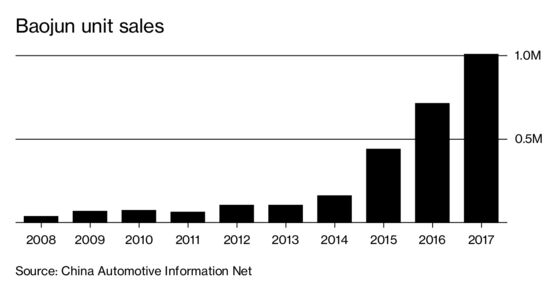 Since a lot of that growth will be in less expensive cars, Baojun has been building out its dealerships in midsize cities and even pushing into Beijing and other larger cities. The brand markets itself under the tag line "Your Reliable Partner," to underscore Baojun's proposition of offering reliable cars for a low price, says Matt Tsien, president of GM China.
The tiny Baojun 310 hatchback sells for less than $6,000. The 560 full-size sport utility vehicle goes for about $11,000, and the 730, a seven-person van, tops out at $18,500. Chevrolet models tend to start where Baojun prices peak, Tsien says.
The cars aren't stripped down, Tsien insists. They have air conditioning, power windows, and large touchscreens for infotainment systems. Still, they usually have manual transmissions and lack advanced features such as automatic emergency braking, lane departure warnings, heated steering wheels, and OnStar connectivity.
Baojun has been around only since 2010. Its roots come from GM partner Wuling Motors, which is known for small, cheap commercial vans and trucks that many consumers bought as family vehicles. GM and another Chinese partner, SAIC Motor Corp., formed a three-way joint venture with Wuling in 2002 to make more commercial vans.
When Chinese domestic brands such as Chery International, BYD, Geely Auto, and FAW Group began growing a decade ago, GM decided it needed a local brand to reach burgeoning markets that are far from the prosperous coastal cities. So GM and its two joint-venture partners created Baojun, which means "treasured horse" in Chinese. Its focus: low-priced rides.
To spur growth, Baojun has more recently been making bigger vehicles that cater to middle-class families, especially those with more than one child, says Luo Guifeng, sales director of Longsheng Junda Car Sales Service Ltd., a dealership in Beijing. "Baojun's consumers are becoming younger," he says. "The proportion of middle-class families is growing, while before migrant workers were our main consumers."
Qian Weijin, 41, who runs an ad agency in Liuzhou, bought a Baojun E100, the brand's electric car, which has a list price of $14,000 but cost Qian only about $5,200 after government subsidies. He said the design is "cute," and he liked that it came in a variety of colors. The brand is already seen as reliable, so the better styling is getting people to take a look, he says. "It is definitely not some premium brand, but it's a good value," Qian says. "It won't allow you to brag, but it won't make you ashamed of it either."
As Baojun cars get bigger and more expensive, their prices will climb into Chevrolet territory, Tsien says. But a Chevy that seats seven passengers will have more features and elbow room and a higher price than a Baojun that carries the same number of people. Says Tsien: "We don't see overlap happening for a good long time."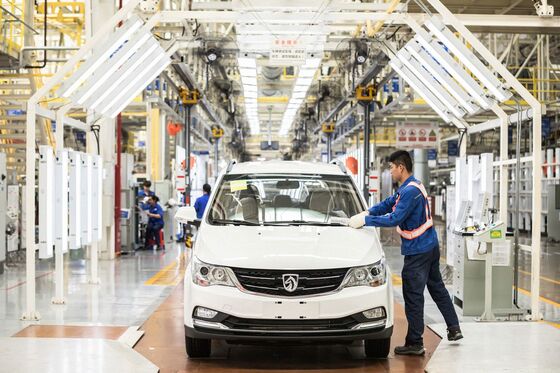 Tsien says that despite its lower prices, Baojun is a solidly profitable business. That's because its plant is new and efficient and the wages are lower than on the coast, where GM builds its other brands. In Liuzhou, autoworkers make $5 to $7 an hour, compared with $10 an hour in Beijing or Shanghai, says Ron Harbour, a senior partner with consulting firm Oliver Wyman in Detroit.
That will fatten the bottom line as Baojun makes bigger vehicles that sell at heftier prices. Since 2017 the brand has started selling three of its models for at least $10,000, and two of them get closer to $20,000 with options.
In China's largest cities, the government is limiting car sales to control congestion. So Tsien says that China's "smaller" cities—those with just several million residents—will be where much of the auto industry's growth is centered. Take Liuzhou, where the Baojun plant is located. It's tiny compared with Beijing and Shanghai, but the metro area has close to 4 million people. That's bigger than Seattle, providing plenty of potential demand as local incomes rise.
GM will eventually need the financial bump from Baojun as well. Its U.S. business is a cash cow, but it isn't gaining many new buyers. Even in China, Buick sales fell by almost 40,000 vehicles last year, to just under 1.2 million. Chevrolet sales rose to 560,000 last year, but they're down 100,000 from their peak in 2014.
"Buick has reached critical mass and will be about flat this year," says Jeff Schuster, senior vice president of forecasting for LMC Automotive. Baojun will grow from about 1 million vehicles a year today to 1.5 million by 2023, he says. That would make it bigger than Buick in China.
For now, sales increases at Baojun and Cadillac are making up for the static sales at Buick and Chevy. Together, those brands are the main reason GM saw profit in China rise 18 percent in the first quarter, to almost $600 million. "We've seen the first chapter of growth in China," Tsien says. "Now we're ready for the second one, and there is plenty of opportunity to grow." —With Yan Zhang
To contact the editor responsible for this story: James Ellis at jellis27@bloomberg.net