Lordstown's Auto Industry Is Coming Back. The Jobs? Not So Much
(Bloomberg Businessweek) -- It's just after 2 p.m., and Justin Brown is waving down the bartender at Ross' Eatery & Pub, a dimly lit dive in the shadow of the old General Motors Co. assembly plant. It isn't hard to get her attention. The crowds have thinned since GM closed the factory two years ago, cutting about 3,300 workers and striking another blow to Lordstown and other cities in northeastern Ohio still reeling from the loss of highly paid steel jobs in the 1980s.
When the plant closed, Brown was transferred to a GM facility in Missouri, though he frequently makes the nine-hour drive in his Lordstown-built Chevrolet Cruze to help his aging parents and look after his house. Furloughed because of a semiconductor chip shortage, he's back in Lordstown on a balmy afternoon with plenty of time to ponder whether to stay at GM or return home for a shot at a job that would require months of training and a pay cut of 30% or more.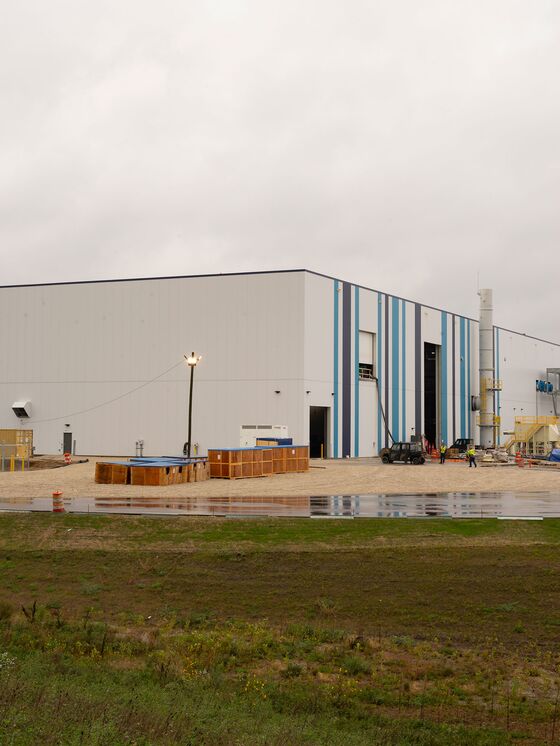 Less than a mile from Brown's barstool, construction crews are building a $2.3 billion battery plant in an empty field just behind the old GM site. The blindingly white expanse of concrete, the size of 30 football fields, stands at the center of U.S. efforts to compete in the global race for electric vehicles. A  joint venture between GM and South Korea's LG Chem Ltd., it will be just the second such facility in the U.S., after Tesla Inc.'s battery factory in Nevada. The company, Ultium Cells LLC, is a separate entity from the Detroit automaker, so Brown's 13 years at GM are worth less than the can of beer in his hand. If Ultium were to hire him at all.
The battery maker has announced plans to bring on roughly 1,200 workers for the factory's planned opening next summer, about a third of what GM had when it started winding down its plant five years ago. Sure, 1,200 jobs in a brand-new industry is a lot for a place like Lordstown. But the question is whether this emerging industry will be able to provide the vast numbers of well-paid positions that have defined the American auto industry for the better part of a century. EVs contain fewer parts, require fewer assembly-line workers, and use many components from nonunion companies in Asia, putting the livelihoods of 135,000 autoworkers—almost a fifth of the industry's U.S. workforce—at risk.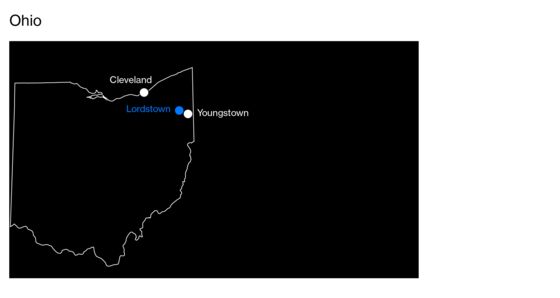 The facility in Lordstown, about halfway between Cleveland and Pittsburgh, will be a key part of a growing EV ecosystem in the U.S. At least a half-dozen other battery plants are in the works, and by 2025 there will be 44 factories making electric cars in North America, up from 14 today, according to researcher LMC Automotive.
Hanging in the balance are workers such as Brown, 44, who once saw GM as a ticket to the middle class but harbor doubts about an electric future, which will frequently require a different set of skills. "Am I the type of person who would be able to get into that plant and work?" Brown asks, sipping a freshly cracked can of Milwaukee's Best, seeming to address the six-point buck whose head hangs on the wall behind the bar. "Would I return for half the pay? I don't know."
Just three years ago, GM announced it would halt production of the subcompact Cruze and shutter its assembly plant in Lordstown. Although employees were offered jobs at other GM facilities, the shutdown was a blow to the region and infuriated then-President Donald Trump, who'd urged workers in the area to stay put in expectation of better times. That didn't happen. But to help the region after the assembly plant was shut, GM in late 2019 said it would use the Lordstown site for the venture it was planning with LG, which had a wealth of experience in battery production and could aid the American company's efforts to gain traction in EVs.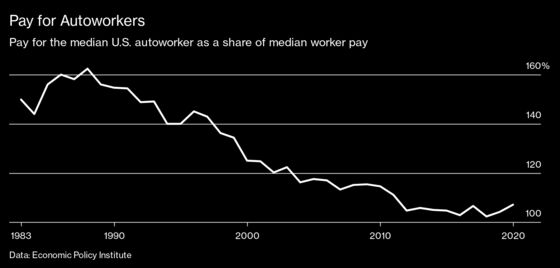 Ultium says laborers at the plant will earn $16 to $22 an hour. That's in line with wages in the area, but well below the $27 an hour that a single parent would need to support a child, according to a study by the Massachusetts Institute of Technology. And it's no match for what union assemblers earn at GM plants, where pay starts at $19 an hour and tops $32 within four years, though Ultium says such comparisons don't take into account health insurance and other benefits workers at its factory will receive.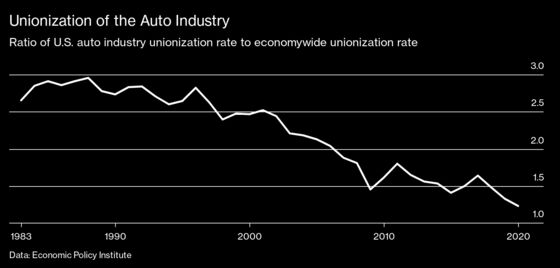 The village of Lordstown isn't much of a village at all; it's more an array of modest ranch homes stretched out along two-lane roads that run straight across the flat farmland. Sitting astride the intersection of Interstates 76 and 80 and bisected by multiple rail lines, it's long been dominated by heavy industry and logistics operations. Yet after the GM plant opened in 1966, Lordstown became closely identified with the automaker, the place that built storied cars such as the original Pontiac Firebird, as well as some more forgettable models, like the Chevy Vega. The plant's 2019 closure hit village finances, with about $3 million in income taxes—a third of revenue—vanishing overnight. All capital improvements were suspended as local officials went into a defensive fiscal crouch.
The village has been piecing together an economy that doesn't rely on just one employer. An electric truck startup, Lordstown Motors, has taken over the old GM plant, where more than 400 employees are getting ready to build its Endurance pickup. (Although the company has run into financial trouble and is seeking to sell the facility to another manufacturer.) A new HomeGoods distribution center sits on a freshly paved asphalt lot with docks for more than 1,000 trucks. A food distributor, an aluminum recycler, and other smaller companies have moved in—150 jobs here, 100 there, it starts to add up, says Mayor Arno Hill. Property prices are high, and buyers are getting into bidding wars for the first time in memory. "We'll be coming back eventually," Hill says, noting that tax revenue edged up last year. "We're doing our best to keep the doors open, and the lights are still on."
Many former Lordstown workers are reluctant to place their trust in a company they feel abandoned them once before. Stav Diamandis, who'd worked at the factory for 19 years when it closed, turned down a transfer to the Missouri plant where Brown now works, opting instead for a buyout of $67,500. He's part of a group in arbitration with GM to get an early retirement plan, but regardless of the outcome, Diamandis has moved on. He has a successful business painting houses in Lordstown and doubts that a job at Ultium would be worth the trouble. "It would have to be coming back to my wage and benefits, with pension," he says.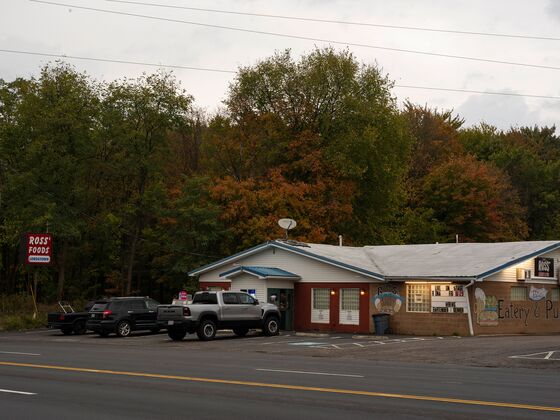 Brown counts himself among the skeptics, too. In his gut, he knows GM gave up on Lordstown long before the workers gave up on GM, like a troubled marriage where one spouse has already called it quits. He can't forget the searing memory of the $118 million in annual concessions that he and his Local 1112 colleagues agreed to in 2017 to save the plant, only to watch GM padlock the doors 18 months later.
As Brown speaks in hushed tones at the Ross' bar, young construction workers just off their shift at the battery plant begin trickling in. Some come from other towns, other states, and once the job is done they're unlikely to ever see Lordstown again. Brown, wearing a faded gray Local 1112 T-shirt, hardly notices. He's already accepted that this is no longer the kind of joint where you can walk in and know everybody. "We made our sacrifices, but we started seeing them not taking it seriously," he says. "It's like, weren't we in this together?"
The industry is undergoing the biggest shift in technology since the invention of the car itself. Autoworkers have long focused the bulk of their time and energy on engines and the drivetrains that deliver power to the wheels. In an EV, a battery cell feeds the motor, requiring an entirely different manufacturing process. Powertrains for internal combustion cars have as many as 2,000 parts. Tesla's electric version has just 17.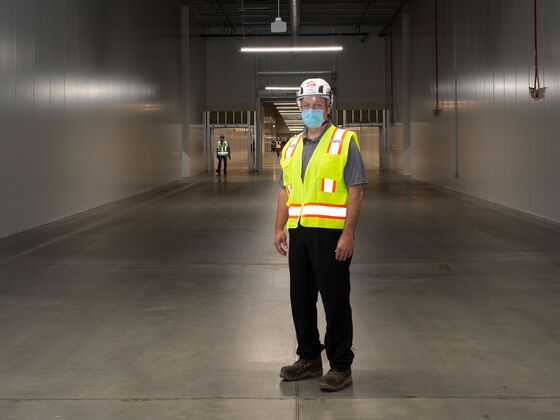 Manufacturing batteries—where the bulk of the value in an EV resides—requires few mechanical skills, but understanding chemistry is a big help. Tom Gallagher, Ultium's chief operating officer, says the factory will be highly automated, pointing to huge stainless-steel tanks where lithium, carbon, and nickel will be mixed into slurries. These form the positively and negatively charged components of the power cell, and most of the work will be done sitting in front of a computer screen. "The scale of this is really what it comes down to in making an EV profitable in the United States," he says. "It's not the labor cost. It's not where you produce. It's all around the technology."
With few qualified applicants for these jobs, Ultium enlisted nearby Youngstown State University (YSU) to help with recruitment. A team there developed an aptitude test for reading, math, and similar skills that will screen who gets into a training program. Those who do will be offered self-paced classes online before starting an on-the-job apprenticeship. "Robots are doing all the hard work, and they just need problem solvers, critical thinkers, teamwork, collaboration," says Jennifer Oddo, who's overseeing the program at YSU.
One group has been largely absent from the hiring pool: former GM workers who were transferred to other states or left the company. Oddo and others at YSU have no way of contacting the workers—GM and Local 1112 declined to give them employee lists, citing privacy, she says, though her team is trying to find them by other means. "We're just hoping," she says, "that we will reach enough people to get the buzz going around the opportunities that are here."
When Brown's father joined Local 1112 in 1970, he was one of almost 13,000 members from the GM plant and other factories in the area. By 2018, a year before the GM site closed, there were about 6,000. Now there are 32. The red-brick union hall, which once buzzed from Monday to Friday, is open only on Wednesdays, used for little other than the occasional meeting of a 12-step program. It feels like a monument to a bygone era, with a sign ordering anyone not driving a GM, Ford, or Chrysler to park in the back. In the main hall are photos from the day the final Chevy rolled off the line, captioned "The last Cruze: Sorry to say goodbye, but you can still see the USA in your Mexican-built Chevrolet."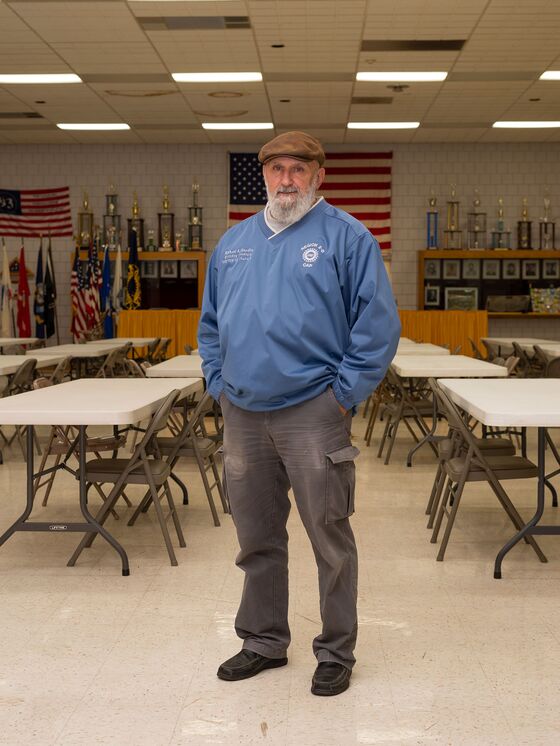 Down the hall is the office of Mike Aurilio, the recording secretary for Local 1112, who started as a body shop technician in 1970 at the age of 19. His walls are papered with a lifetime of UAW memorabilia. Political campaign buttons—Obama, Kerry, Clinton, Mondale, and hundreds more—cling tentatively to overcrowded bulletin boards. A picture of Aurilio with Hillary Clinton hangs behind his desk.
The battery plant augurs a revival for Local 1112, with a stream of new members and a chance to bargain over wages. Because Ultium is separate from GM, though, the UAW lacks the automatic right to represent the workers, and any agreement will have to be put to a vote of the people who get hired. Aurilio says the local hasn't been invited to weigh in on Ultium's recruiting and training plans, but the company says federal labor law bars it from holding talks with a specific union before workers have a chance to organize on their own. GM has said it won't block a UAW organization drive at the plant, but it hasn't agreed to a streamlined process that wouldn't require a vote.
The issue is becoming more urgent as carmakers downsize engine and transmission plants to focus on EVs. The UAW needs to organize the workers at the new factories to maintain its role as the guardian of blue-collar wages and benefits, and it's determined to play a role in Lordstown. UAW Vice President Terry Dittes rejects the idea that the new jobs should pay less, like those at a GM subsidiary that hires workers in a handful of U.S. assembly plants for simpler tasks such as unpacking parts. "These are highly skilled people," he says. "These are high-tech parts. We are going to represent those people."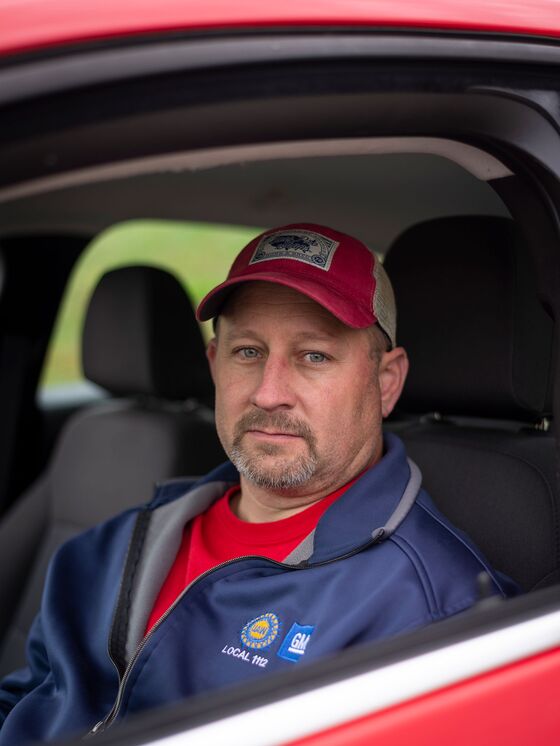 A new generation of workers—many of whom have never been employed in a union shop and don't identify with the labor movement—threatens to complicate the UAW's job. A sprawling corruption scandal that sent two former UAW presidents to prison this year for embezzlement will make things that much harder, and the group has had a spotty record in its recent organizing efforts. Since 2017 it's lost votes to unionize Volkswagen and Nissan plants in the U.S., and it hasn't come close to gaining a foothold at Tesla, where Chief Executive Officer Elon Musk has made no secret of his antipathy toward organized labor.
In a town where union identity spans generations, the UAW has an opportunity to rewrite that narrative through people like Brown. As a kid, he resolved to work at GM and achieve the kind of middle-class life in Lordstown that his father provided. For a decade, he did.
Sitting at the bar, Brown adjusts his baseball cap to shield his eyes from the late afternoon sun streaming through the back window, blocking out almost the only source of light other than the TV on the wall. Although he's far from certain he'll try to get a job at Ultium, Brown says he's glad the company chose his hometown for its factory. Sure, GM has burned Lordstown before, "but if they want to bring a battery plant here, what are you going to do, say no?" he asks. "We're going to take what we can get. We're survivors here."