GlobalFoundries Hopes to Turn Profitable Amid the Chip Shortage
(Bloomberg Businessweek) -- When Apple Inc. reported its most recent quarterly earnings, it said that revenue was $6 billion less than it could have been because it couldn't get all the chips it needed and that the current quarter would be even worse. In doing so, it was revealing not only that the global semiconductor shortage was affecting one of the world's most valuable companies, but also how it did so.
Apple's devices famously use cutting-edge chips that the company designs for its own needs. Those weren't the problem, according to Chief Executive Officer Tim Cook—it was the simpler chips that carry out mundane functions such as managing power and data. "On legacy nodes, we compete with many different companies for supply, and it's difficult to forecast when those things will balance," he told investors on Oct. 28.
The semiconductor industry is forever focused on making even more impossibly advanced chips, but the global chip shortage is most acute when it comes to chips made through processes that haven't been cutting-edge for years. As a result, chipmakers who can't compete with the most sophisticated players in the industry have been sharing in the boom in orders over the last 18 months.
This is good news for GlobalFoundries, the New York-based chipmaker owned almost entirely by the investment arm of the government of Abu Dhabi. GlobalFoundries, or GloFo as it's sometimes called, raised $2.6 billion when it went public the day before Cook's comments, quietly completing the third-largest initial public offering on a U.S. exchange this year, according to data compiled by Bloomberg. By Nov. 2 its share price had jumped more than 20%.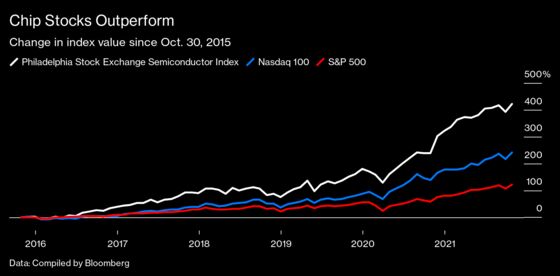 The company plans to spend $6 billion bolstering production, a small fraction of the commitments from top high-end chip producers TSMC and Samsung Electronics. GloFo, which was founded in 2009 as a spinoff of Advanced Micro Devices Inc.'s manufacturing operations, spent years bleeding cash in an attempt to achieve the scale required to compete with the top tier of chipmakers. In 2018 it gave up on making the most sophisticated chips and switched its focus to easier-to-manufacture parts.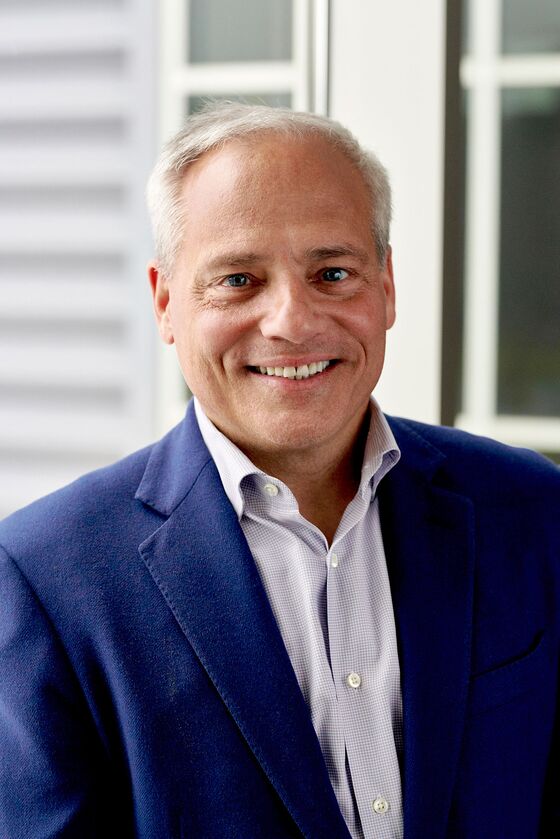 Semiconductor production is costly and time-consuming to set up, and GlobalFoundries kept losing money for years as it reshaped itself. But after a $301 million loss on revenue of about $3 billion in the first half of this year, it has more than $2 billion of commitments from customers to help it expand production, according to Chief Executive Officer Tom Caulfield. He says the growing need for chips in so many areas will translate into a period of sustained expansion for the industry. "We're sitting at a half-trillion-dollar semiconductor market, and it took us 50 years to get here," Caulfield says. "Consensus is we're doubling in the next 10 years. What's different this time is we're going to have to go 10 times faster."
Still, the chip market lurches in ways that are brutally difficult to time correctly. Periodic supply crunches inspire chipmakers to pour money into increased capacity, only to create a glut when customers pull back, leaving them with no way to recover their investment.
At this confused moment in the global economy, there are signs that Caulfield's optimism may be misplaced. Chipmaker Texas Instruments Inc., a bellwether for the industry because of its tremendous reach, recently revealed a forecast that suggested the surge in electronic components is already beginning to slow.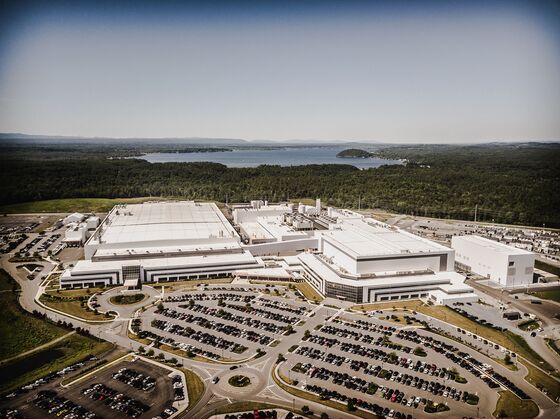 GlobalFoundries is in an interesting position related to the other shifting dynamic in the semiconductor world: geopolitics. Its main plant is in upstate New York, near Albany, an attribute that Caulfield, a veteran of IBM's chip operation, has tried to play to his advantage as he lobbies for subsidies from the U.S. government.
The Biden administration is worried about the lack of control that the U.S. has over the supply chain. But even after its U.S. IPO, GloFo is controlled by Mubadala Investment Co., which owns 80% of the company and whose main investment goal is to diversify Abu Dhabi's economy away from oil. All this could muddy up the politics for a semiconductor company trying to navigate an industry that's shifting in mysterious ways. Now it has to add to its list of tasks the art of pleasing public market investors.