Ghosn Takes His Case to a Global Court of Public Opinion
(Bloomberg Businessweek) -- Throughout his career, Carlos Ghosn portrayed himself as a singular figure, the driving force behind the creation of one of the world's largest automotive groups—and the only person capable of keeping it together. In recent years he was clearly in legacy mode, preparing the groundwork for a deal that would finally bring Nissan Motor Co. and Renault SA together under a single corporate umbrella. Had he achieved his larger goal of incorporating rival Fiat Chrysler Automobiles NV into that alliance, he would have created the world's biggest carmaker and been remembered as one of the handful of business visionaries—such as Lee Iacocca, Jack Welch, or Gordon Moore—whose careers helped reshape their industries. For the foreseeable future, however, he will be known above all as something very different: a fugitive.
Ghosn's audacious escape from Japan is the stuff of action movies. He apparently hid inside a large shipping box that airport inspectors in Osaka failed to X-ray and flew on a private jet to Istanbul and then on another to his homeland of Lebanon, which doesn't have an extradition treaty with Japan. But he's not quietly riding off into the sunset as the credits roll. Ghosn still has plenty of scores to settle—especially with Japanese officials who he says wrongly charged him with financial misdeeds with the help of his former Nissan colleagues. "I was brutally taken from my world as I knew it," the former head of Nissan and Renault said in Beirut on Jan. 8, addressing a press conference for the first time since his arrest more than a year ago. "I was ripped from my family, my friends, from my communities, and from Renault, Nissan, and Mitsubishi."
Displaying the energy that helped fuel his rise to the top of the global auto industry, Ghosn attempted to offer a point-by-point rebuttal of the accusations against him while trashing the recent performance of the carmakers and international alliance he formerly ran. Wearing a dark suit and red tie, his hair gone mostly gray, Ghosn took questions from reporters from around the world, shifting easily between English, French, Arabic, and Portuguese.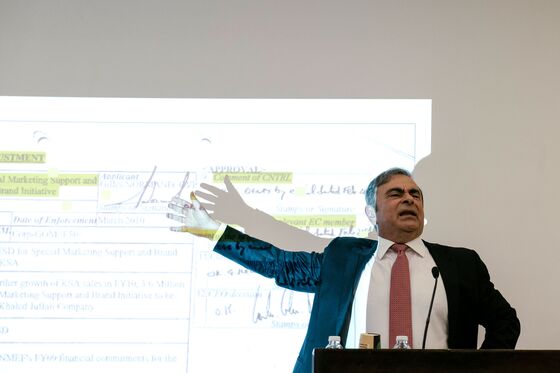 Throughout the press conference, Ghosn was combative and passionate at the podium, clearly relishing the opportunity to finally tell his side of the story without fear of legal repercussions. He arrived early and tried to start ahead of schedule. He displayed his legendary brashness, at one point attempting to group the reporters packed into the press conference by nationality. Ghosn veered between topics at a bewildering pace, asking repeatedly why his service to the company and Japan had been "repaid with evil." He even compared the unpredictability of his arrest to the Pearl Harbor attack. In all, Ghosn spoke for about 2½ hours, and by the end seemed like he would have happily kept going if circumstances allowed.
The 65-year-old is scrambling to salvage his legacy, blighted by allegations of understating his compensation and raiding corporate resources for personal gain at Nissan. He's also under investigation in France. Proclaiming his innocence, Ghosn accused Japanese prosecutors, government officials, and Nissan executives of conspiring to topple him to prevent a further integration of the Japanese carmaker with Renault. Ghosn named former Nissan Chief Executive Officer Hiroto Saikawa and three other current and former top company officials as among those involved in the plot against him. Saikawa, Ghosn's successor-turned-accuser who lost his job in September because of his own overcompensation scandal, said in November 2018 that Ghosn's ouster wasn't a coup d'état.
Now that Ghosn has slipped from the grasp of Japan's legal system, he's taking his case to the court of public opinion, an arena where he gained a wealth of experience during two decades as one of the world's most prominent business leaders. "I am here to expose a system of justice that violates the most basic principles of humanity," he said at the press conference. "These allegations are untrue and I should never have been arrested."
Ghosn said his lawyers told him he might have had to spend five more years in Japan before his cases would be resolved. So he took the risk of jumping bail. Now he says he's willing to be judged "in any country where I believe I can receive a fair trial," which he doesn't think was possible in Japan. "My unimaginable ordeal over the past 14 months was the result of an orchestrated campaign spearheaded by a handful of unscrupulous, vindictive individuals" at Nissan, its law firm, and the Tokyo prosecutor's office, Ghosn said.
The arrest of Ghosn to face trials that could have landed him in prison for more than a decade has cast an unflattering light on Japan's legal system, where prosecutors can grill suspects repeatedly without their lawyers present and enjoy an almost 100% conviction rate. Under the terms of Ghosn's bail, the court barred him from seeing or even speaking to his wife without a judge's approval—which he received only twice between April and late December. On Jan. 7, Japanese prosecutors said they'd obtained an arrest warrant for Ghosn's wife, Carole, claiming she gave false testimony in court last April. Ghosn said at the press conference that his wife's warrant is just part of Japan's intimidation tactics against defendants. "This is exactly how it works," he said.
Rather than backing off now that its former chairman has fled, Nissan has gone on the offensive. The carmaker has already spent more than $200 million on lawyers, investigators, and digital forensics in its probe of Ghosn and former lieutenant Greg Kelly, people with knowledge of the matter say, asking not to be identified because the information isn't public. Kelly, who remains in Japan, has also denied wrongdoing. In a Jan. 7 statement, Nissan said that its "internal investigation found incontrovertible evidence of various acts of misconduct by Ghosn, including misstatement of his compensation and misappropriation of the company's assets for his personal benefit."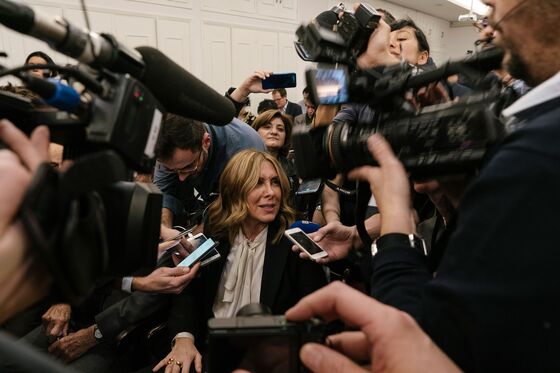 Nissan is also seeking to oust Ghosn from his usual home in Beirut, an elegant $8.75 million pink villa that the Yokohama-based automaker purchased for him and renovated extensively, says one of the people. Nissan views Ghosn's continued use of the house as illegitimate and wants him evicted, the person says. Ghosn's representatives have resisted efforts to dislodge him through the courts, arguing the house was part of a retirement package to which he's legally entitled.
"Ghosn's flight will not affect Nissan's basic policy of holding him responsible for the serious misconduct uncovered by the internal investigation," the company said in the statement. Nissan "will continue to take appropriate legal action to hold Ghosn accountable for the harm that his misconduct has caused."
Japanese officials also seem intent on pursuing the fugitive executive. Prosecutors there said Ghosn's bail was revoked, while the International Criminal Police Organization, or Interpol, has presented Lebanon with a "Red Notice" for his arrest at the request of the Japanese government. And the warrant for his wife, who's now in Lebanon with Ghosn, means she could be arrested if she returns to Japan. Ghosn's inability to see his wife in Japan was the "straw that broke the camel's back" in his decision to flee, Ghosn told Fox Business Network's Maria Bartiromo in a report aired on Jan. 6.
Ghosn has said his wife and other family members played no part in his escape to Lebanon, after reports began to appear suggesting that Carole or other members of his family had helped plan his exit—which, if accurate, could expose them to criminal charges in Japan or elsewhere. On Jan. 2, Ghosn said in a statement that "I alone arranged for my departure." His family, he said, "had no role whatsoever."
This is all a stunning turnabout for Ghosn, who once rubbed shoulders with world leaders and epitomized the term Davos Man. He helped guide Nissan back from the brink two decades ago, following its rescue by Renault. It made him a hero in Japan for a time, complete with a manga, or comic series, celebrating his corporate exploits. As the alliance between Renault and Nissan prospered—bringing in Mitsubishi Motors Corp. in 2016—Ghosn became the indispensable man at the center of the partnership.
Yet his compensation led to persistent criticism in Japan and France, and resentment grew at Nissan over the lopsided shareholder structure that left Renault with 43% of the Japanese carmaker, while Nissan owns just 15% of Renault. Given its bigger size and superior earnings in recent years, Nissan has sought more sway in the alliance.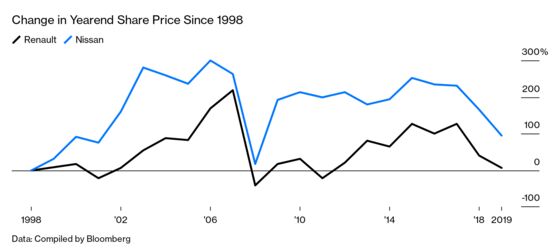 Ghosn had harsh words for the performance of the carmakers and their partnership since his arrest, describing it as "a masquerade of an alliance which is going nowhere." His pledge to "speak freely" has fueled concern his remarks could rekindle the mutual suspicion that has plagued relations between the carmakers.
With its business in jeopardy and shares down almost 40% since Ghosn's arrest, Nissan is already rife with internal divisions over his ouster. Makoto Uchida, who became CEO last month, has a long list of challenges: A top deputy abruptly quit, the company withdrew its dividend guidance in November, and it's under pressure to refresh an aging product lineup. Uchida declined to comment on Ghosn or his escape at a Jan. 7 New Year's reception in Tokyo for Japan's major business groups.
Given those pressures, Nissan doesn't have time to spend more money pursuing Ghosn, says Koji Endo, an analyst at SBI Securities Co. in Tokyo. "Nissan's current focus should be to carry out major restructuring immediately following a sharp earnings fall and a dividend cut," he says. But few expect the automaker—or Ghosn—to return to business as usual anytime soon.
 
Read more: Inside the Takedown That Put Carlos Ghosn in Jail
To contact the editor responsible for this story: James Ellis at jellis27@bloomberg.net