The $38 Million Earthquake Alert System Can Buy the West Coast Precious Seconds
(Bloomberg Businessweek) -- This summer showed not only the promise of the patchwork of earthquake early warning systems popping up on America's West Coast, but also the challenges it faces. On Aug. 28, when a minor quake briefly rumbled the Los Angeles suburb of La Verne, hundreds of area residents got advance notice from an app on their phones. Farther from the quake, Angelenos got as many as 10 seconds to brace themselves. Less than a mile from the epicenter, David Loor, who lives in La Verne, got 2. "Not much," he says. "But I still saw the alert before I felt the shaking."
That rumble was no Northridge—the magnitude 6.7 quake that killed 57 people, injured more than 9,000, and dealt the area more than $20 billion in property damage in 1994. But the U.S. Geological Survey says there's a 99.7 percent chance of a 6.7 or higher quake hitting somewhere on the Pacific coast before someone taking out a 30-year mortgage today has paid it off. In partnership with universities in California, Oregon, and Washington, the USGS has spent 12 years working on ShakeAlert, a network of 860 seismometers that will feed an early warning system comparable to those in other tectonically challenged locales.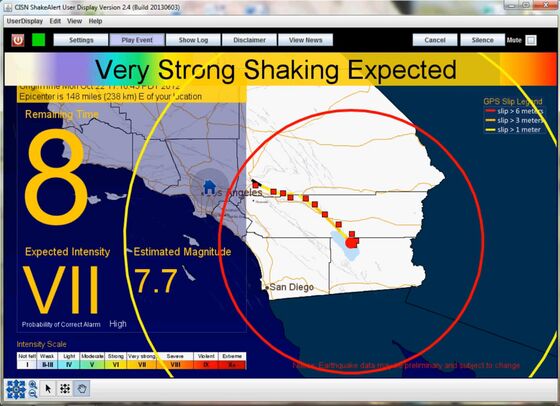 The feds spent $38 million to build ShakeAlert and are funding operating expenses of $16 million a year. The system is slated to go online in the next few months. In the meantime, the USGS has been relying on both government agencies and private companies to work out how to give people such as Loor more than 2 extra seconds. "If you know a major quake is coming, you can brace for impact," says Bob de Groot, who's heading ShakeAlert development at the USGS. "A lot of people won't die needlessly."
The idea behind ShakeAlert is simple enough; Japan and Mexico have employed similar systems since the 1990s. As soon as ShakeAlert's seismometers detect a 5.0 or higher, the system determines the area that will be affected and sends a warning through the Federal Emergency Management Agency's wireless emergency alert system. (It's supposed to sound a bit like an Amber alert.) ShakeAlert generates the message to FEMA in 5 seconds, and then FEMA blasts it out in an additional 3 to 7 seconds. But that's already a lot of time during an earthquake, and the wireless carriers used to relay FEMA's alerts add 10 more seconds of delay, whether the message is transmitted via SMS or an app's push notification, according to de Groot.
To speed transmission, ShakeAlert is taking a kitchen sink approach. More than two dozen public and private groups are involved in pilot programs up and down the coast, including the Bay Area Rapid Transit system, a handful of Los Angeles public schools, Northridge Hospital Medical Center, and NBCUniversal Media LLC. Where possible, they're cutting the wireless carriers out of the equation. RH2 Engineering Inc. is wiring Pacific Northwest water tank valves to close when they receive alerts through the FEMA system. Communications company Everbridge Inc. is working with the California Institute of Technology and other schools to send early warning calls, emails, and app notifications across their campuses.
Early Warning Labs LLC, the startup that made QuakeAlert, the app Loor uses, is retrofitting Los Angeles's subways and rails so they shut down automatically when a major temblor is detected. It's also teamed up with Johnson Controls, a maker of heating units and other building equipment, to add alert systems to commercial buildings and has begun adding seismic warnings—including over PA systems—in Los Angeles-area city halls, libraries, and condos. Early Warning founder Joshua Bashioum, a former volunteer FEMA search-and-rescue instructor, says his eight-person team is working on triggers to open gates and doors and halt elevators.
The city of Los Angeles has also hired AT&T Inc. to create an app that uses ShakeAlert data to send push notifications to all 48,000 city employees. The goal is to have all of them using that app by the end of the year. AT&T declined to comment on delays in relaying the alerts through its network but says it plans to expand the app into more cities. A fifth-generation wireless network might be able to solve the problem of carrier delays, but reliable 5G standards and service remain a ways off.
For now, the West Coast is relying on what it's got. All of California will have some form of messaging coverage by the time ShakeAlert is publicly available, de Groot says. In the near term, the assembled pilot programs should be able to reduce by more than half the lag added by wireless push notifications. So far, "nothing's fast enough" to efficiently warn an entire city at this point, de Groot says. "By the time you get an alert, you could be in the earthquake already."
To contact the editor responsible for this story: Jeff Muskus at jmuskus@bloomberg.net