America's Political Future (Still) Hinges on Georgia
(Bloomberg Businessweek) -- The swing state of Georgia became the crux of American politics in the 2020 election cycle. Not only did Georgians choose a Democrat for president for the first time in decades, helping Joe Biden clinch a victory, but they also elected two Democrats to the U.S. Senate in January 2021, giving the party razor-thin control of that chamber.
With Republican Governor Brian Kemp delivering his state of the state address Jan. 13 and unofficially kicking off his fight for reelection, the spotlight is about to return.
One of Georgia's Senate seats is again up for grabs. After becoming the first Black senator in Georgia history—winning only a partial term in office in a special election—Raphael Warnock will vie for a full term in November. His likely challenger is University of Georgia and pro football legend Herschel Walker, who's backed by former President Donald Trump. Walker is also Black and, until recently, was a resident of Texas.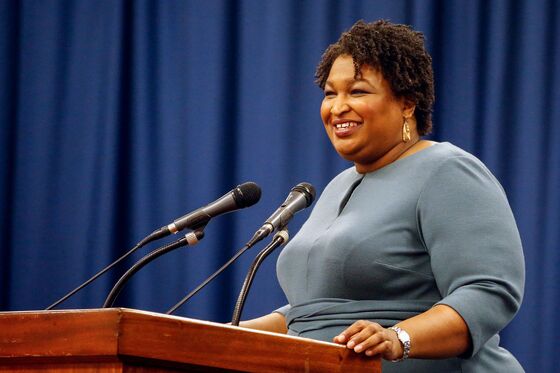 Then there's the high-drama governor's race. On the ballot: Stacey Abrams, the organizing powerhouse credited with turning Georgia blue in 2020 and a national lightning rod for Republican rage; Kemp, the sitting GOP governor who beat her in 2018; and David Perdue, who lost his seat in the Senate to then-33-year-old Jon Ossoff in January 2021 and is now challenging Kemp in the primary.
Trump is pushing Perdue's extraordinary move as payback for Kemp declining the defeated president's demands to overturn his electoral loss in Georgia. Perdue has already said he wouldn't have certified Biden's win as required by law. The former senator, once a Kemp family friend and supporter, even introduced him as Georgia's next governor at the state GOP convention in June.
"This is going to be the marquee race in the country about Trump's influence in the Republican Party," says Jessica Taylor, who follows governors' races for the Cook Political Report. "This establishes the litmus test everywhere, which is, 'Do you think the election was stolen?' "
Republican consultant Brian Robinson says Perdue's pitch is that "a significant minority of Republicans have lost faith in Kemp and will not show up to vote," which would tip the race to Abrams. Kemp's counterargument, in Robinson's words: "I'm the only person in the race who has ever beat Abrams, and you [Perdue] couldn't even beat Jon Ossoff."
Nor is Kemp the only Georgia Republican suffering the wrath of Trump and his supporters. His backers are trying to defeat Secretary of State Brad Raffensperger, the top elections official, who debunked Trump's voter-fraud claims and refused to overturn the 2020 results. Lieutenant Governor Geoff Duncan, who publicly denounced the stolen-election narrative, has decided not to seek reelection. Duncan says Perdue's run is a mistake: "There is no math that makes it easier to beat Stacey Abrams by having David Perdue in the race."
Georgia—once a bastion of racial segregation but now a powerhouse of Black business and politics—will also test whether Democrats can overcome Republican moves to limit voting to tilt elections in their favor. Stung by 2020's losses, exurban and suburban Republicans changed governmental structures, clamped down on measures meant to make voting easier, and drew new congressional boundaries to dilute the growing Democratic majority in Atlanta's outskirts. How much these maneuvers will bolster the GOP in the rapidly changing state remains to be seen.