GE Is Finally Trading Its Bankers' Stripes for a Hard Hat
(Bloomberg Businessweek) -- Despite its storied history as an industrial icon founded by Thomas Edison, General Electric Co. by a decade ago had morphed into a massive financial-services company bigger than all but a handful of U.S. banks. That transformation brought with it a maddeningly complex web of businesses, opaque accounting, and financial risk that dogged it for years. So when Chief Executive Officer Larry Culp on March 10 announced a $30 billion deal to unload GE's aircraft-leasing business, the move returned something long absent from GE: simplicity.
Jet lessor GE Capital Aviation Services, or Gecas, was the biggest remaining business of GE Capital, the once-sprawling financial-services company that in 2010 had more than $600 billion in assets. After the unit's sale to Irish rival AerCap Holdings NV closes a year from now, GE plans to transfer what it says are just $21 billion in remaining GE Capital assets onto its industrial balance sheet. It will also stop reporting results for GE's financial-services, industrial, and combined businesses separately, streamlining the complex financial reports that fueled criticism that trouble could—and sometimes did—lurk for years in those accounting statements before revealing itself.
"That's why I say this is so transformational for us," Culp says. "We end up being all about our core four industrial businesses. We're really not going to talk about Capital going forward."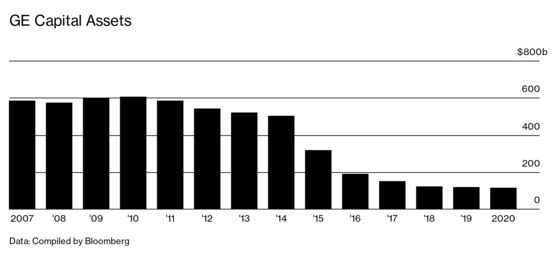 GE plans to use proceeds from the deal—which include $24 billion in cash, a 46% stake in AerCap valued at $6 billion, plus an additional $1 billion at closing—to help pay down another $30 billion from the company's bloated debt load. That would bring total debt reduction—a top priority for Culp since he became CEO in 2018—to about $70 billion since that year. Taken together, the sweeping moves will reorient GE around its manufacturing operations, primarily making and servicing gas-fired power-plant equipment, medical scanners, wind turbines, and jet engines.
The moves "will significantly simplify not only reporting but also the ability for management to focus on GE 'making things' again," UBS analyst Markus Mittermaier said in a client note.
Simplification isn't without risk. GE's credit rating may be cut, because the debt on its industrial balance sheet will rise to about $70 billion after the AerCap transaction closes. GE Chief Financial Officer Carolina Dybeck Happe says the company plans to buy back $25 billion of its bonds after the sale and aims to reach debt of less than $45 billion by 2023. JPMorgan Chase & Co. analyst Steve Tusa, a longtime GE bear, expressed concern about the deal's effect on the company's debt load in a note to clients, saying, "We see material downside from here" for GE's shares.
Culp's GE turnaround is still a work in progress, and its industrial units face a host of challenges. Airline travel is depressed and will remain below pre-pandemic levels for years, crimping GE's jet-engine unit. The company expects revenue to slip again this year at its gas-fired power-turbine business amid a shift toward renewable energy sources to meet carbon-reduction targets.
GE Aviation, the company's biggest industrial business at $22 billion in revenue last year—and historically its most profitable division—has been gutted by the pandemic, with airlines parking jets and cutting flights. GE expects its revenue and profit margins to improve in 2021 as air travel begins to recover, but most of that improvement won't come before the second half.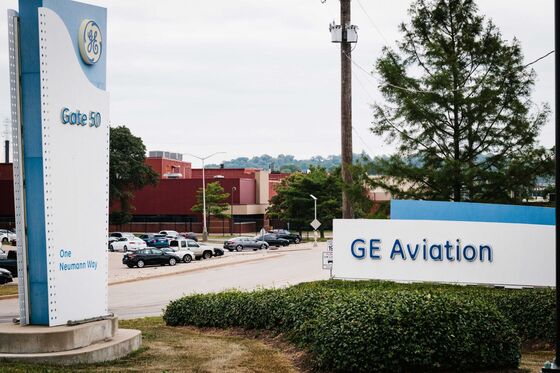 Still, GE Aviation CEO John Slattery says the unit is continuing to invest in the next generation of jet engines as the industry faces increasing pressure to reduce its carbon footprint. The company plans to spend $1.8 billion on research and development efforts this year, in line with 2020 levels, in a push to develop a next-generation engine for single-aisle jets that offers a more than 20% reduction in fuel burn compared with the latest engines from CFM International Inc., GE's joint venture with France's Safran SA.
Power-plant operators' push to curb emissions also poses a challenge for GE Power, a gas-turbine business whose installed equipment provides about half of the world's gas-power generation. The unit is recovering from revenue declines caused in part by excess global capacity and the pivot toward renewable energy. It's made progress, generating positive free cash flow in 2020, a year earlier than planned. And though gas turbines are a major source of carbon emissions, GE executives have argued that gas is still a cleaner fuel for utilities than coal. GE Gas Power CEO Scott Strazik says the company's latest generation of large turbines emit about a third of the carbon dioxide produced by coal and can operate on fuels blended with as much as 60% hydrogen, which is drawing greater attention because it emits no carbon dioxide when burned.
The renewable energy division has been a focal point of GE's turnaround, benefiting from wind becoming a bigger part of the global power-generation sector and surpassing Denmark's Vestas Wind Systems A/S as the world's top turbine producer in 2020, according to BloombergNEF. GE expects the division—which has accounted for about $1.5 billion in combined losses during the last two years—to begin generating cash this year and turn a profit in 2022 as it ramps up installations of massive offshore wind turbines. That market is expected to grow rapidly in the years ahead, and GE forecasts its offshore wind gear will produce $3 billion in additional revenue by 2024.
Former CEO Jack Welch built GE Capital into one of Wall Street's biggest banks, offering everything from credit cards to commercial real estate loans to pet insurance. At its peak, it accounted for about half of GE's sales and profits. Cracks began to show after Jeffrey Immelt took over in 2001, and the lending unit almost sank its industrial parent during the 2008 financial crisis.
Immelt moved to shrink GE Capital in the years that followed. He hit the gas pedal in 2015 with a plan to offload more than half of GE Capital's assets while holding on to only those businesses that supported GE's manufacturing operations. But in early 2018, not long after CEO John Flannery took the helm, GE shocked investors when it disclosed a $15 billion shortfall in reserves in an old portfolio of long-term-care insurance policies that had badly deteriorated, a reminder of the risks lurking in GE Capital. The news prompted an investigation by U.S. securities regulators that resulted in a settlement in December, in which GE agreed to pay a $200 million penalty without admitting or denying wrongdoing.
Some remnants of GE Capital will remain with the company after the AerCap deal. GE will hold on to the insurance portfolio, for example, which had $50 billion in assets at the end of 2020; the holdings have become less of a wild card recently, thanks in part to rising interest rates. Culp told analysts that should a prospective buyer show interest, GE "would entertain those conversations."
For now, his core focus is on managing debt while increasing revenue amid the rebounding post-pandemic economy and the continuing green revolution, something some analysts say is a possibility. "As General Electric shifts to growth investments and organic sales after years of portfolio pruning and balance-sheet repair, we believe secular tailwinds in markets affected by climate change could fuel long-term market-share gains," Bloomberg Intelligence analysts Karen Ubelhart and Christina Constantino wrote in a March 16 note. At the very least, having GE Capital in the rearview mirror leaves Culp with one less problem to worry about.
 
Read more: Larry Culp Was Smart to Keep GE in the Health-Care Business