Gaza Needs Cement to Rebuild, But Israel Dominates the Market
(Bloomberg Businessweek) -- Mohamad al-Assar was asleep when his factory was bombed. On a steamy night in August 2014, he was awakened not by the explosion but by a phone call from the security guard at the plant. The concrete-mixing factory, 2 miles north of his home and adjacent to the only highway in the Gaza Strip, had been attacked in the final days of the seven-week war between Israel and Islamist militants. When al-Assar got there at dawn, he saw nothing but devastation. Two neighbors were dead. The offices had been reduced to rubble. The storage silos were heaps of metal. An 18-wheel concrete-pumping truck had been thrown across the road. "I just sat in the ruins and cried," al-Assar says, scrolling through photos of the destruction on his phone.
He knew he had to open again; the plant provided a living for al-Assar and his 40 workers. But building any kind of factory requires tons of cement. In al-Assar's case, about 100 tons. Problem is, sales of cement are strictly regulated in Gaza, and al-Assar had little time. Buying cement legally would have required detailed plans and myriad approvals, and he had customers who needed to rebuild. So in January 2015 he did what almost everyone in Gaza has gotten accustomed to after decades of Israeli occupation and blockade: He went to the black market. He paid about double the going rate of just over $100 per ton, but he managed to restart production by that March. "I needed to get things moving," he says in the factory's crowded control room, where an ancient computer monitors the combination of ingredients to make concrete.
Gaza needs concrete, and lots of it. In the 2014 war, some 11,000 housing units were destroyed, and an additional 160,000 sustained some damage, according to the Gaza Chamber of Commerce—affecting more than a quarter of the families in the territory. Today, five years after the fighting ended, some 16,500 people remain in temporary housing, according to the United Nations. Gaza's streets are lined with half-built structures, where a handful of floors are occupied but the rest are windowless shells. Older buildings are pockmarked and crumbling from decades of neglect or damage in various conflicts. It's common to see groups of men clambering over piles of debris, breaking up slabs of concrete to recycle what they can. To repair war damage, carry out normal upkeep, and build planned projects over the past five years, Gaza needed at least 6 million tons of cement, the chamber says. It's gotten less than half that.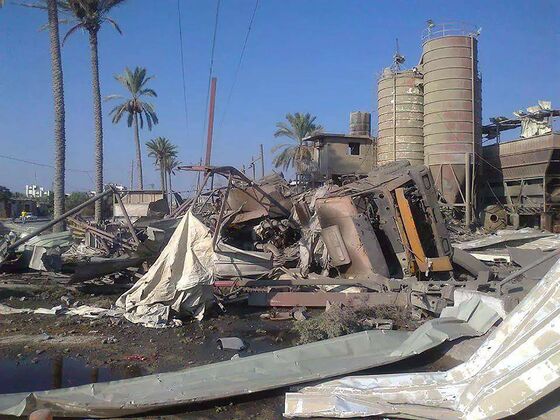 Like just about everything having to do with Palestinian-Israeli relations, supplying cement to Gaza is intensely political. The market is dominated by Nesher Israel Cement Enterprises, which gets about a third of its revenue from contractors who build homes for Jewish settlers on occupied land in the West Bank and controls almost three-fourths of legal sales in Gaza. Deliveries are governed by the Gaza Reconstruction Mechanism, or GRM, the complex set of rules al-Assar faced. That system monitors so-called dual-use materials—things needed by civilians that also have potential military applications. Israel restricts shipments of more than 100 broad categories of goods, ranging from smoke detectors and glues to precast concrete sewage conduits and iron reinforcement bars.
The biggest and most contentious commodity is cement, something that's rarely, if ever, been considered a dual-use material. It's easy to confuse it and concrete. The former is the builder's equivalent of glue, the stuff that binds the sand and gravel that make up the bulk of concrete, which is used in just about every structure in the industrialized world. Making cement isn't complicated—the recipe hasn't changed appreciably in two centuries—but it requires vast amounts of energy and facilities the size of a small city. Ideally, a cement factory will be located adjacent to a limestone quarry. The limestone is crushed, combined with clay and small amounts of additives such as ash or iron ore, and heated to 1,500C (2,700F). What comes out the other end is called clinker—a dark, rocky substance that looks something like charcoal briquettes. The clinker is mixed with a bit of gypsum or limestone and ground into a powder that becomes cement.
The driving force behind the GRM was a Dutch diplomat named Robert Serry, who was the UN's chief peace negotiator in the region. In September 2014, just a few weeks after the fighting ended, Serry met with Israelis and Palestinians in the West Bank to broker an agreement to speed reconstruction. With international donors expected to pledge more than $5 billion in aid at a conference in Cairo that October, someone needed to monitor shipments of supplies to building sites. "It would have made no sense without some sort of mechanism to get goods into Gaza," Serry recalls. "Everybody started to look to the UN for a solution."
What many in Gaza still call "the Serry Plan" faced intense skepticism. Israeli military brass were especially concerned about keeping Hamas—the Islamist group that rules Gaza, deemed by the U.S., the European Union, and Israel to be a terrorist organization—from getting its hands on materials that could be used to build tunnels for sneaking into Israel. But by late September, the two sides came to an agreement. While the GRM has seen millions of tons of cement enter Gaza from Israel in the past five years, many Gazans say the plan slowed reconstruction and helped ignite a black market for goods smuggled through tunnels under the border with Egypt. "The goal was to keep Hamas from getting cement," says Maher al–Tabbaa, an official with the Gaza Chamber of Commerce. "But cement from Egypt was available to anyone, Hamas or not."
Cement sales highlight the push-me-pull-you relationship between Israelis and Palestinians. The two sides hate, they fight, they kill, they cooperate—then the cycle begins again. And it's getting more complicated as other Middle East players wade in. Many Gazans buy cement from a factory owned by the Egyptian military that sends significant quantities despite Egypt's opposition to Hamas. Companies from Turkey, a perennial champion of Palestinian rights, have entered the Israeli market with cheap cement that today is even being used to build a concrete wall around Gaza. And the UN, once broadly trusted as a neutral force, has been put on the defensive as Palestinians increasingly perceive it as an enforcer of Israeli policy via the GRM.
The GRM rules are strict, and punishments for even minor violations can put contractors and suppliers out of business for weeks or months. At al-Assar's sun-baked plant, wedged between watermelon fields and an abandoned gas station south of Gaza City, clerks must log every 50-kilogram (110-pound) sack that comes in the gate. Walking through the rebuilt factory, al-Assar points out the dozen or so security cameras he had to install—on the front gate, on the storage shed, by the truck lot, on a light pole overlooking piles of gravel. Inside he curses as he passes two video-monitoring systems that run 24 hours a day. In Gaza, the only thing reliable about the electricity is frequent blackouts, so he had to buy a pair of battery backups to ensure a steady stream of power; if the lights go out, the internet connection fails, or a storm knocks out a camera, he risks being shut down under GRM rules. Flipping through a book of permits and receipts he must show UN inspectors anytime he makes concrete, al-Assar says the restrictions amount to "a new occupation of Gaza."
Under the GRM, proposed projects require documents describing what will be built, for what purpose, and the quantities of materials that will be needed. That's uploaded via a website to Israeli and Palestinian Authority officials, who check it for accuracy. When a project is greenlighted, the owner of the building gets a permit to purchase cement. At an approved store in Gaza, the buyer presents his ID and orders the material. Then he arranges transportation—typically a couple of palettes with a ton or more of cement in 50kg bags—to a concrete factory such as al-Assar's.
In a barren upstairs office, two UN inspectors sit around smoking hand-rolled cigarettes, waiting for the grinding equipment to kick into gear. When al-Assar wants to make a batch of concrete, they scrutinize the paperwork and approve the blending of the cement with sand, gravel, and water. "The engineers stick their nose into every tiny corner of your business," says al-Assar, who says he's been shut down more times than he can remember. "How much concrete, where it's going, the license number of the truck, the driver—on and on and on."
Israel contends the restrictions are needed to rein in militants affiliated with Hamas, which has controlled Gaza since elections in 2006. After the vote, most of the international community cut off aid to Gaza, and Israel moved to isolate the territory, including a ban on sales of cement. Hamas, which long advocated the destruction of Israel, is widely known to have constructed a concrete-lined labyrinth beneath Gaza to store munitions and provide shelter for its fighters. And it built some 30 tunnels—also concrete—into Israel. On six occasions, armed men managed to get under the border, where they killed 24 Israeli soldiers and kidnapped three others. And Israel says Gaza militants have used metal, fertilizer, and even everyday household items such as ammonia and sugar to build homemade rockets that they launch at Israeli towns and cities. After militants murdered a trio of Israeli teenagers in 2014, Israel launched what it calls "Operation Protective Edge," the third such conflict in a half-dozen years. "There is no more just war than this one," Prime Minister Benjamin Netanyahu said as the bombs fell in the summer of 2014. "We will not complete the operation without neutralizing the tunnels, the sole purpose of which is the destruction of our civilians and the killing of our children."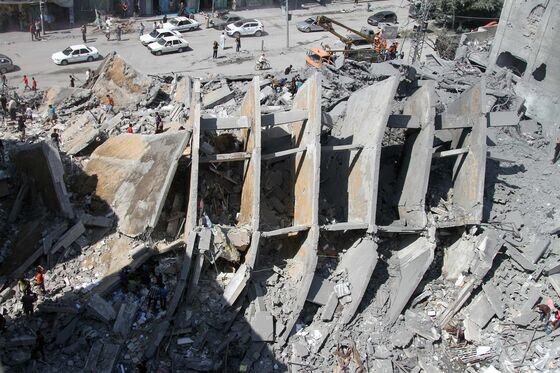 Gaza's 1.9 million residents long had a standard of living higher than in Palestinian areas of the West Bank. In the 1980s and '90s, many Gazans commuted daily into Israel for work, and Palestinians abroad invested in projects aimed at making the territory's wide, sandy beaches a tourist destination. The framers of the 1994 Oslo Accord even envisioned the 25-mile-long sliver of land along the Mediterranean as a Hong Kong or Singapore of the Middle East. But around 2000, after the start of the Second Intifada—the Palestinian uprising punctuated by a wave of suicide bombings in Israel—the Israelis began cutting off access to Gaza.
The economy has been in a tailspin since 2013, when Egypt started shutting down the 1,000-plus tunnels used to smuggle everything from cigarettes and chocolate to cars and cement into Gaza. In recent months, the situation has deteriorated as tensions between Hamas and the Palestinian Authority, combined with continuing disagreements with Israel, have sharply curtailed money transfers into the territory. The roads are potholed and rutted. The wastewater plant is overloaded, so it often dumps raw sewage into the waters along the beach. The number of Palestinians dependent on food aid from the UN has increased to almost 1 million, compared with about 80,000 in 2000. Unemployment stands above 50%, and among young people it's almost 70%. At midmorning, the streets are eerily empty. Few people have any reason to get out of bed.
The GRM was conceived as a temporary measure; five years later it's still in place, and there's growing pressure to reconsider the system and Israel's controls on dual-use goods. The World Bank says that difficulties getting approvals for supply shipments have slowed construction of a water treatment plant by at least four years and that relaxing the dual-use limits could boost the Gaza economy 11% by 2025. If anything comes of the Trump administration's so-called Deal of the Century to promote investment and eventually peace in the region, there will be even greater need for a more streamlined approach.
In January, the UN, the Palestinian Authority, and the Israelis agreed to modifications aimed at making the GRM more transparent. Gazans who are sanctioned under the system or whose plans are rejected can now lodge an appeal. Projects must be approved or blocked within 45 days (before there was no time limit, and a response sometimes took months). And there's a clear catalog of dual-use goods, making it easier for Palestinians to know what they can and can't request. The UN says that since the changes, the average time for a decision on dual-use shipments has been cut in half, to 18 days. "It's much more user-friendly, transparent for donors and beneficiaries, and accountable," says Nickolay Mladenov, the UN special coordinator for the Middle East peace process.
For many Palestinians, the pain of the restrictions is compounded by the source of the materials. Although the GRM doesn't require purchases from Israel—as many in Gaza believe—most goods pass through the country, giving its companies a strong advantage. Mohamad Abu Qammar, who sells goldfinches and canaries from his ground-floor apartment a few hundred yards from the Israeli border fence, felt he had little choice but to buy his supplies from the same people who destroyed his home.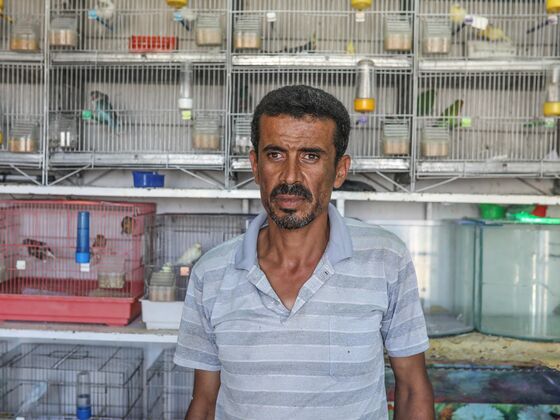 Early in the 2014 war, most of his neighbors decamped for safer ground, but Abu Qammar had no place else to go, and he figured the Israelis would only attack militants, not civilians. Then two weeks into the conflict, his building was hit by a shell. Abu Qammar, his wife, and five children were taken to a hospital, where they were treated and released the following day. The family moved to a UN shelter, where they would stay for the next six weeks. When Abu Qammar finally got back to his home, it was still standing, but barely. He cleared away the rubble and moved back in to the damaged flat. A year and a half ago, the UN showed up with plans to rebuild. He's happy with the reconstruction—there's room for his songbird shop—but it stings that it was done with Israeli materials. "Israel is destroying," Abu Qammar says, sitting in the shade of the building on a hot summer afternoon with a circle of friends, repairing a broken fan, "and Arabs are paying."
Abu Qammar's cement came from Nesher, which for decades had a monopoly on cement production in Israel, helping build everything from kibbutzim to Tel Aviv's Bauhaus masterpieces to the walls that divide the West Bank. In the past 20 years, though, Israel has abandoned its socialist roots, and today it needs ever more concrete for its superhighways, high-speed trains, and luxury apartment towers. With the economy booming, the government in 2015 sought to boost competition by forcing Nesher to sell off a production facility. As imports from Greece and Turkey have grown, Nesher's market share in Israel has fallen to 55% from 85% three years ago. But in Gaza it remains dominant. "Israel has monopolized the reconstruction," says Mkhaimar Abusada, a political science professor at Al-Azhar University in Gaza. "There's no doubt that Nesher is making money from the rebuilding."
Nesher had been cut off from Gaza for the better part of a decade by Israeli restrictions on cement sales there, but the GRM opened it again. With its monopoly in Israel unwinding, the company hired a former military governor of Gaza to help boost its business in the territory, which now accounts for 10% of the Israeli cement market. But Miro Amiel, Nesher's sales chief, calls the GRM "bullshit" and says it's created a secondary market among people with GRM IDs who charge an extra $15 per ton to buy cement and deliver it to anyone, no questions asked. That makes his cement more expensive, tilting customers toward Egypt. "Why do you think Israel is building a wall around Gaza?" Amiel says. "Nobody really knows where the cement is going."
Fifty miles south, through the Israeli checkpoints and across the concrete wall, fence, and barbed wire surrounding Gaza, al-Assar agrees with Amiel—and says that's why it's time to scrap the GRM. In addition to his office at the mixing plant, he has a space up two flights of rough concrete stairs in an unfinished Gaza City building surrounded by rubble. A glass door leads to the marble-clad suite, the only occupied floor in the otherwise empty shell. Al-Assar says the incomplete building highlights the lack of materials and the economic struggles of Gazans under the GRM. "From the beginning we opposed Serry's plan," he says, raising his voice to be heard over the street noise pouring in through a window propped open to catch a breeze. "We knew it would destroy our economy, but in the end we had to work with it." —With Saud Abu Ramadan
To contact the editor responsible for this story: Bret Begun at bbegun@bloomberg.net, Jim Aley