Fur Industry Hopes Certification Will Help It Shed Its Inhumane Image
(Bloomberg Businessweek) -- Few products have suffered a bigger image implosion than fur. Once a status symbol for the rich, rock stars, and royalty, it's increasingly become stigmatized, a fashion fail synonymous with animal suffering and the ostentatious display of wealth.
And yet, through decades of public protests, corporate boycotts, and vegan activism, the industry has lumbered on, thanks to Chinese mink shoppers and the global trend of fur trimmings on arctic anorak hoods. Now the $25 billion industry is seeking redemption, arguing that fur has its rightful place in the era of sustainability and careful consumption.
The pitch is called Furmark, a certification program that aims to ensure animal welfare and sustainability at every step of the supply chain and to ultimately bring back business. Consumers can trace the farm where a mink, fox, or sable was kept and where the pelt was later dyed and dressed, providing a level of assurance that animal rearing and environmental standards were maintained in the best possible way.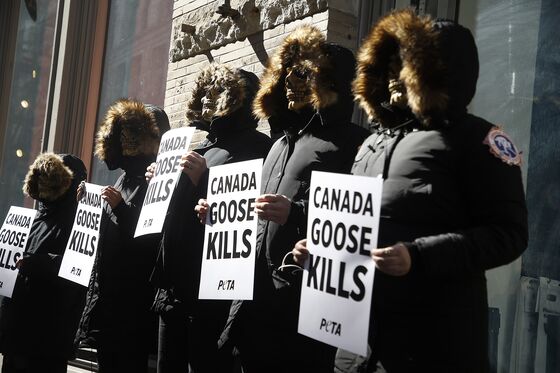 Furmark (not to be confused with the computer graphics card bearing the same name) could turn out to be the last stand for an industry beaten down by trade bans, squeamish fashion houses, and a public sensitized to animals' well-being. Apparel maker Canada Goose Holdings Inc. has said it will stop using fur in all its products by the end of this year. This is also the last year that retailer Saks Fifth Avenue will sell fur products.
Opposition to fur has become part of the political mainstream. Israel was the first country to halt fur sales, in 2021, with a few exceptions for religious garments. French lawmakers adopted a bill in November that bans farms from breeding animals exclusively for their pelts. Italy, home to fur stalwart Fendi—whose double-F logo stands for "Fun Fur"—announced in December that it's banning fur farming. The U.K. could be next: The government, which already prohibited rearing animals for fur 20 years ago, is mulling a law that would ban all sales and imports of fur products.
Furmark was supposed to counter all that, but soon after its launch in September, it ran into trouble. Luxury conglomerate Kering SA, initially a supporter, announced that all of its brands, which include Gucci and Yves Saint Laurent, will stop using fur entirely. Elle magazine followed, banning display of fur in its 45 global editions.
"The battle appears to be lost, at least in the West," says Frédéric Godart, associate professor of organizational behavior at Insead, the French business school. "The issue around fur is not whether it's sustainable. The issue is fur itself."
The International Fur Federation, a governance body overseeing the trade in more than 50 countries, acknowledges that it's late in getting a certification program off the ground. Furmark is in fact the industry's second attempt at self-policing: Its first, in 2007, didn't cover the entire supply chain or set standards that went beyond national welfare rules.
One major player remains at least partially absent from the current program: China, the world's top fur exporter. The IFF managed to bring Chinese manufacturers, dressers, and dyers on board, but not the farms, because China didn't conform with independent inspections of the operations. That's a major problem for Furmark, because much of the public's concern revolves around the conditions of breeding and farming.
All Furmark-labeled products are made from wild or farm-raised animals from producers that adhere to closely defined welfare programs. And dressers, which prepare the pelts, and dyers must pass tests on sustainability, emissions, use of chemicals, and safety. Each item receives an alphanumeric code that traces its journey from cage to coat.
Furmakers are trying to use the industry's sustainability argument as a weapon against a key rival: faux fur, which is usually made of synthetic materials that have been criticized for adding to microplastics piling up in oceans. "I cannot think of a material or a product that is more sustainable than a fur coat" that's passed on from grandmothers to granddaughters, says Aron Liska, whose family-owned Austrian luxury fur brand Liska & Co., founded in 1947, is part of Furmark.
IFF members have little choice but to embrace the new code of conduct: Those who don't are expelled from the organization. Farmers who refuse to meet Furmark standards are cut off from auction houses that sell skins.
Mark Oaten, chief executive officer of the IFF, acknowledges the tough road ahead. Establishing Furmark among trappers, farmers, and retailers is one thing, but making it a recognizable emblem for consumers will be the next challenge, he says. And then there's the issue of broad resistance to fur because of its association with an idle elite who places personal prestige over animal welfare. "It's true that there is a group of consumers who are opposed to fur regardless of how sustainable it is," says Oaten. "Some people are never going to eat meat, and some people are never going to go on an airplane. Everybody has their choices, and I'm in the business of respecting that."
The global fur market has shown that it's able to cope with adversity. The industry has grown by about 40% in the last 15 years despite the sharp drop in Europe. That's because of China, where the fur market surged more than fivefold since 2006.
When Denmark, previously the world's largest producer of mink, ordered the killing of more than 15 million farmed mink over Covid-19 mutation concerns in 2020, farmers in Finland and Canada quickly stepped in. Producers who rely on fur see the Furmark standard as a tool to separate themselves from the cash-and-cruelty image that's long haunted the fur trade, while updating core products along the way.
"Our product needs to be reinvented, reinterpreted," says Cesare Gavazzi, CEO of Italian fur house Fureco, which is part of Furmark. "But first of all it must be accepted again."