Is Your Town Nearing Extinction? Try Turning It Into a Resort
(Bloomberg Businessweek) -- Roughly 2,500 villages in Italy and almost 3,000 in Spain are at risk of becoming ghost towns. In Japan, 8 million or so buildings sit vacant. As better jobs and modern lifestyles lure young people to cities, what happens to the crumbling hamlets they leave behind?
A few aspiring hoteliers are fighting brain drain and rural flight by turning abandoned buildings in their villages into hospitality hubs. The Italians even have a name for these towns-turned-resorts: alberghi diffusi, or "scattered hotels."
In Matera, a mountain town in Puglia, one called Sextantio has almost single-handedly put the region back on the tourism map. The hotel's 18 well-appointed rooms, tucked into cave dwellings that were once part of a sprawling Benedictine monastery, bring travelers from the world over to live the medieval life in this once-forgotten spot. Likewise, entrepreneur John Papadouris has been so successful resurrecting his hometown of Kalopanayiotis in Cyprus—thanks to his 40-room hotel and spa—that the country's president asked him to join the government and do the same for 115 other communities in the area.
A visit to such properties can feel like a journey to a long-lost, simpler time, but in reality these places are a harbinger of the future, a template for how to save dying towns all around the world. In Romania, the owners of Village Hotel Maramures are attempting to revive Breb, one of Transylvania's best-preserved traditional hamlets, where residents still ride in horse-drawn carriages. The bed-and-breakfast has rooms in four houses, near the reported doorstep of Dracula's castle.
Next year, in the Italian-speaking Ticino region of Switzerland, the 10 or so remaining residents of Corippo will complete a transformation of their town into a luxury hotel, with rooms in once-abandoned stone cottages and a "lobby" in the main square. The model is really taking off in Japan, where Sasayama Castle Town Hotel—five villas throughout an Edo-era municipality known for its quality beef—is now the flagship for Nipponia, a budding brand of village hotels.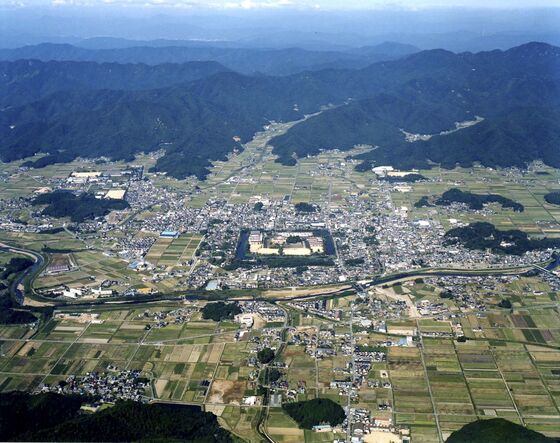 Giancarlo Dall'Ara, an Italian hotelier and tourism marketing professor, set the first and only standards for these accommodations in 2012, when he created the National Association of Alberghi Diffusi. He penned a manifesto identifying their core components: They cannot occupy new structures, the scattered buildings that make them up should be no more than 500 meters apart, and they must contribute to sustainable socioeconomic development. They must also act more like hotels than Airbnbs, with clearly marked reception areas, hot breakfasts, and other amenities. According to Dall'Ara, the concept should be able to stem depopulation and create jobs, alleviating the immediate crises facing many of these fading rural communities. "This is an emergency," he says. In some places, entire villages have been put up for sale. Towns in the Jura region of France or Galicia in Spain can be had for as little as €150,000 ($175,000), the way of life there having effectively ended.
Dall'Ara estimates there are roughly 110 alberghi diffusi in Italy, up from about 20 in 2008. The Airbnb revolution has inadvertently contributed to the rise of this sort of accommodation. The home-sharing platform has exposed travelers to off-the-beaten-path destinations where large hotels have yet to arrive and fueled the rise of so-called authenticity seekers.
"Thanks to Airbnb and thanks to the fact that travelers care more about sustainability now, this idea of 'living like a local' feels current," Dall'Ara says.
Here are four to book now.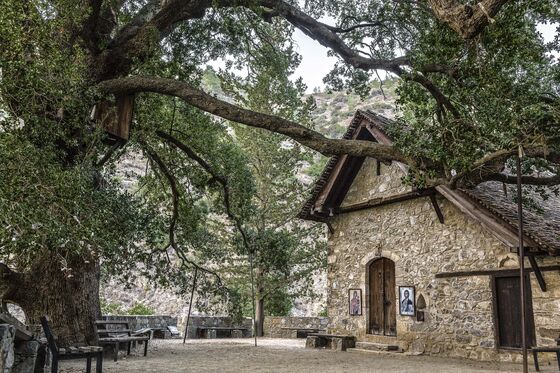 Location: One hour west of Nicosia, the capital of Cyprus
Best room: A Loutraki suite; the building has the best valley views and its own restaurant
The vibe: Hillside retreat
John Papadouris, a civil engineer by trade, grew up in Kalopanayiotis, one of the tiny towns dotting the Troodos Mountains. Pampering was the area's local claim to fame: Legend held that the Greek goddess Aphrodite bathed in natural grottoes in the nearby Paphos Forest. Kalopanayiotis itself first emerged as a spa town, thanks to the curative properties of its abundant sulfur springs.
However, it wasn't a place where anyone could find fortune—"there were poor people and merely well-to-do people," Papadouris recalls. After college, he found brighter, more profitable pastures in Dubai, a city that he helped transform from sand to skyscrapers over a long career with the infrastructure contracting company Wade Adams.
By the time he revisited his hometown in the late 1990s, most everyone had moved to Nicosia to find employment, and the cobbled streets were in disrepair. "The village had not died completely," he says. "But if it originally had a capacity of 1,500 people, only 200 remained. In another 10, 15 years, it would have been completely dead."
In 2000, Papadouris downgraded his role at Wade Adams and moved home. Not long afterward he became mayor—winning the election by six votes—on a campaign promise to bring the village back to life.
Papadouris bought a few abandoned homes, envisioning them as potential Airbnbs. The effort helped him secure European Union grants for townwide historic preservation efforts. By 2010 his renovations had morphed into a 13-room hotel, with a conference center in the former home of a prosperous family. He estimates that it cost $6 million in both private and public funding, or twice his initial budget.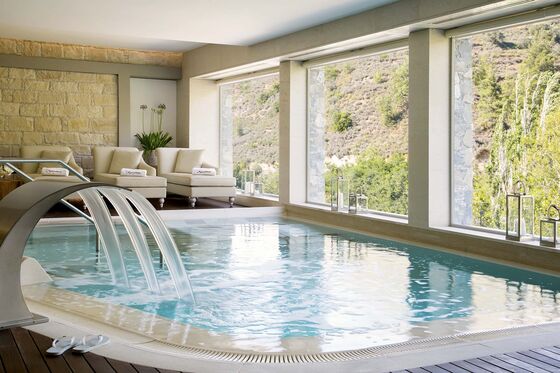 In the years since, the hotel has grown to include an additional 27 rooms across multiple buildings and a spa. Besides therapeutic bath rituals, it also offers a mosaic-tiled Rasul mud chamber (for mineral-rich scrubs) and a couples treatment room that can be booked for candlelit nighttime massages. Most recently, Papadouris added a small vineyard on the village's periphery; this summer it began bearing fruit.
"Nobody was employed in the village itself when I started," says Papadouris; locals traditionally found work, agricultural or otherwise, beyond the town limits. "Now we must have 100 or 120 people employed, half of them in my hotel."
His estimate doesn't include the thriving businesses that have sprung up to support the village's newfound tourism industry—apartment rentals, tavernas, small grocery stores, and the like. That's why last August, Nicos Anastasiades, the president of Cyprus, asked Papadouris to replicate his tourism scheme across the entire Troodos region, covering 115 dying towns in total.
As for Casale Panayiotis itself, the hotel is finally profitable, after almost a decade of breaking even. It's selling out just about every weekend of the year. Still, Papadouris cautions, "You can't treat a project like this as an investment. As a businessman, I would never do it." From $134; casalepanayiotis.com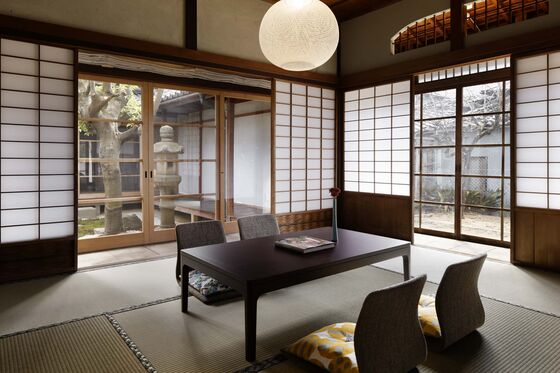 Location: 40 miles west of Kyoto, Japan
Best room: Nokon 801 looks straight onto Sasayama Castle
The vibe:  Minimalist chic
Most village hotels are one-offs—but not Sasayama Castle Town Hotel, which opened in 2015 and was expanded this August. It's the flagship of a new hotel brand, Nipponia, which is an initiative from a Japanese historical preservation developer. Set in an Edo-era trading post, the property has a cluster of 10 rooms spread across seven centuries-old homes, including the landmarked former residence of a wealthy banker and a onetime geisha house. Walking amid Sasayama's ceramic-tiled roofs, mossy gardens, and traditional pottery workshops is a time warp.
In March, Nipponia opened its second location, Sawara Merchant Town Hotel, with rooms occupying 100-year-old wooden structures in a sake- and soy-brewing town some 50 miles east of Tokyo. Guests use it as a base for taking boat rides down Sawara's willow-lined canals and enjoying indulgent, kaiseki-style meals with many, many courses, often featuring local shellfish. From $234; sasayamastay.jp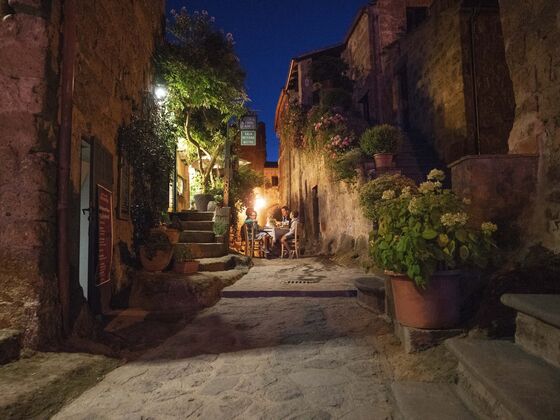 Location: Lazio, a 90-minute drive north of Rome
Best room: The Writer, which features a dark, floral wallpaper reproduced from Virginia Woolf's London home
The vibe: Magical realism, Italian-style
One of the smallest and most picturesque alberghi diffusi sits on a hilltop that juts out of the earth like a divine throne. Corte della Maestà makes up the majority of a town called Civita di Bagnoregio, founded 2,500 years ago by the Etruscans as a trading post.
Time hasn't been especially kind to Civita: Earthquakes and erosion knocked out the bridges that once connected it to neighboring communities, leaving its chestnut-lined, cobblestoned streets and pastel buildings accessible only by a narrow, 300-meter-long catwalk.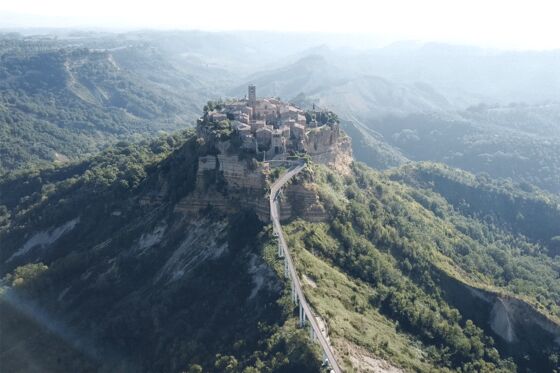 Among Civita's 10 full-time residents are poet and psychiatrist Paolo Crepet and his wife, Cristiana Melis, who moved here to raise their daughter "surrounded not by richness but by beauty." He says that when a real estate agent offered him the grandest building in town, a towering structure from the 15th century that was once the archbishop's residence, "I thought she was crazy—I'm not that type." But the original frescoes in the private chapel, now his living room, inspired him to undertake an ambitious restoration. "The whole thing took 20 years, and it was just the beginning," Crepet says with a laugh.
Eventually an elderly neighbor decided to move closer to the conveniences only a city could offer. So the couple bought her home, too, with the idea of turning it into a guesthouse. "Cristiana and I had space enough, but we decided, why don't we think about it as a place to welcome somebody?" he says. Inside the Maestà Suite, the kitchen walls are festooned with copper pots and pans, the living room's historic stone fireplace and wood floors have been refinished, and the bedroom upstairs is lined with rare French wallpaper.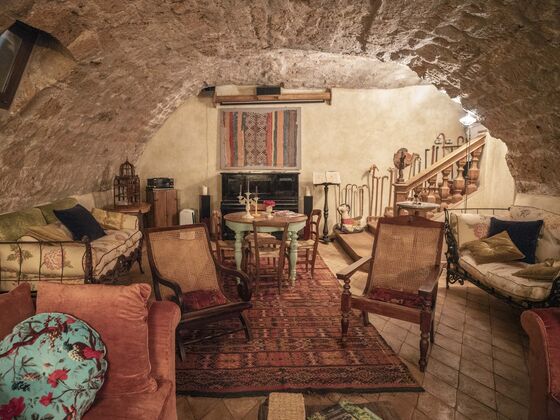 The narrative played out a few more times, and Corte della Maestà now has five suites around town, most of them clustered around the archbishop's former garden. Crepet claims that none of the buildings he owns—or any of the structures in town, for that matter—were built after the 1700s. "There's no other village that can say that in all of Italy," he adds.
Today he and Melis serve their guests breakfast in the garden, send them on olive oil tastings or horseback rides during the day, then hire local women to cook rustic dinners in the archbishop's old canteen before arranging late-night glasses of wine in the village square. "It's not a hotel," Crepet says. "It's part of our home." And it's busy, booking up with corporate retreats, families, and honeymooners from early March through November. From $350; cortedellamaesta.com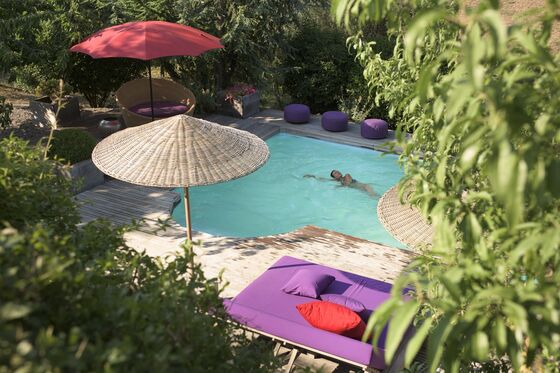 Location: Southern France, 40 miles from the Mediterranean
Best room: The former grape pickers' home, Maison de Famille, has its own pool
The vibe: Oenophile oasis
Assignan, a tiny town in the wine-producing Languedoc region, is the ideal of countryside charm. On any given morning, you can stroll its sun-dappled streets and stop at its quaint cafes with pastel flower boxes so impeccably manicured, you may as well be in Belle's village from Beauty and the Beast. The population numbers 120, many of whom are engaged in agriculture and winemaking. (According to local lore, the nearby vineyards are older than the Roman Empire.) The family with the longest connection to the area has lived here since the 10th century.
These days, almost as many people work at the village's hotel, Chateau Castigno, as in the wine trade. The resort, which opened in 2016, employs up to 20 percent of the town depending on the season. It occupies a 12th century castle—where its owners live—plus a dozen other buildings, all of them blissfully free of Wi-Fi. Dinner is at any of the property's three restaurants: a fine-dining spot called La Table; the Asian bistro Le Thai; and La Petite Table, a wine bar.
"This might look like a typical French village," says property director Elsa Manelphe de Wailly. "But behind the scenes it has nothing to do with a traditional French village. We speak Spanish, English, German, Italian. It's kind of a laboratory of hospitality." From $304; villagecastigno.com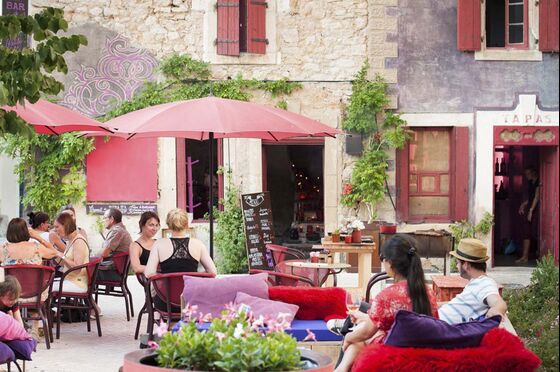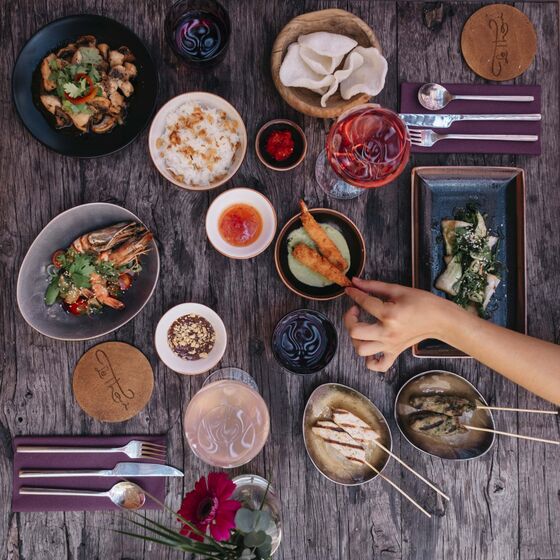 To contact the editor responsible for this story: James Gaddy at jgaddy@bloomberg.net, Chris Rovzar