France's Latest Plan to Save Businesses Has Europe Intrigued
(Bloomberg Businessweek) -- Emmanuel Macron's government is digging deep into its policy toolbox to find ways to transition the economy back to normality and fulfill the president's pledge to support businesses and workers, "whatever the cost."
A plan being prepared in Paris would deploy state guarantees to back €20 billion ($24 billion) of so-called participative loans.
The instruments, conceived in France during the 1970s but never used on such a large scale, would offer investors a blend of equity and debt. They are similar to equity in that they are subordinated to all other debts and often come with a share of profits. But, like loans, they have a fixed interest rate and afford the creditor no voting rights.
Finance Minister Bruno Le Maire wants the loans to have a duration of at least eight years and as long as a decade for some projects, with repayments starting after four years. Officials expect to announce the final details in the first week of March.
Several European Union countries have contacted the French National Treasury to find out more about the plan, and the European Commission, which considered rolling out a solvency-support instrument during last summer's torturous negotiations on the bloc's recovery fund, is also interested, according to a French official who could not be named as she is not authorized to speak about the deliberations. Spain is considering a similar proposal.
France's finance ministry is also looking at easing conditions on €132 billion of existing state-guaranteed loans and has said it might even consider converting some of the loans into grants.
Such efforts respond to worries about the approaching cliff edge for businesses. As vaccinations increase and the pandemic ebbs, pressure is mounting on governments to replace indiscriminate support for companies with more targeted measures.
Yet institutions such as the European Central Bank and International Monetary Fund have repeatedly warned that ending aid too soon will stymie the recovery.
That's a very real concern in France, where corporate debt has surged faster than in other European economies during the crisis. A too-rapid withdrawal of government support could trigger a wave of defaults, swelling the ranks of the unemployed and possibly engulfing weak banks. Those businesses that managed to survive might be too burdened by debt to invest and grow.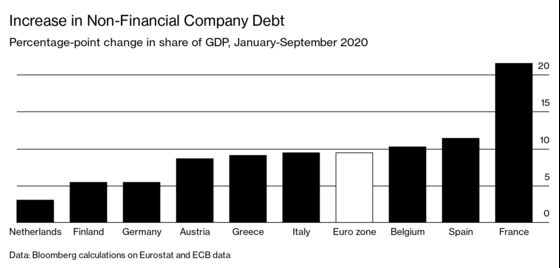 The French efforts go some way toward overcoming those risks. It's a delicate balance, though: Supporting companies that would otherwise be doomed in the post-pandemic world risks diverting resources away from more productive recipients, stunting economic potential and wasting public money.
The Bank of France estimates that as much as 6% of state-guaranteed loans could turn bad. A recent survey by the CPME, an industry group that represents small and midsize businesses, revealed that 45% of the companies that took one of the loans might not be able to repay the funds.
"The moment of truth is approaching fast, because loans granted nearly a year ago need to be renewed, extended, or restructured," says Jean Pisani-Ferry, a French economist who is a senior fellow at Bruegel, a think tank in Brussels, and at the Peterson Institute for International Economics in Washington.
Participative loans were added to France's arsenal of financial instruments as part of a 1978 law that aimed to channel household savings into companies but largely fell out of use in the 1990s. They made a smaller-scale return in the aftermath of the global financial crisis via a government program to help small companies.
The new plan would have private lenders offer the loans to businesses. The banks would keep a small portion of each loan on their books while transferring the rest to a dedicated fund financed by institutional investors and backed by a state guarantee of up to 35%.
Rolling out the program will test the capacity of the traditional banking sector, which isn't used to distributing such products to small companies. "It needs to be as efficient as the state-guaranteed loans and will require banks to mobilize their private equity specialists," says CPME President Francois Asselin, who has had a say in the design of the program.
There is also uncertainty over how participative loans will be reflected in credit ratings—from a legal stand point they are assimilated to capital, but accounting rules view them as debt.
The plan needs approval from the European Commission, which oversees rules on state aid. The French official says Paris is "very confident" it will get that backing.
"France is doing something a bit innovative; they are doing it in an over-engineered French way," says Ludovic Subran, chief economist at Allianz SE, one of the world's largest insurance and asset management companies. "But the risk of not doing it is a huge surge of defaults in Covid-19 debt."
 
Read next: The City of London Is Now at the Mercy of Brexit's Tug of War