JetBlue's Founder Is Preparing to Launch a New Airline in a Global Pandemic
(Bloomberg Businessweek) -- Among the strong and freely offered opinions of David Neeleman, America's most successful living airline entrepreneur, is that the world has largely overreacted to Covid-19. "I think people who wear masks outside when they're social distanced are complete morons," he says. Double-maskers drive him particularly nuts: "I just want to go up and shake them and go, 'What the f--- is wrong with you!' " On the sunny March day when we met, in an indifferently furnished office suite in Darien, Conn., Neeleman did have a mask with him. Plain and black, it didn't bear the logo of his new airline, Breeze, or his next-newest one, the Brazilian carrier Azul SA, of which he remains the chairman and controlling shareholder (and in whose satellite office we were talking). Nor was it from JetBlue, which he founded in 1999 at the age of 39 and ran until he was pushed out as chief executive officer eight years later.
Indeed, with his mask on his broad, still impish face, the 61-year-old looked like anyone else doing their part to end a global pandemic. But then, grinning, Neeleman unhooked the ear-loops and showed me the fabric: a mesh with holes so big they just might keep out mosquitoes. "It lets me breathe," he explained, setting his Potemkin face covering in front of him on the conference table. Neither of us had been vaccinated yet. Still, the medical-grade mask I was wearing felt suddenly conspicuous. I took it off.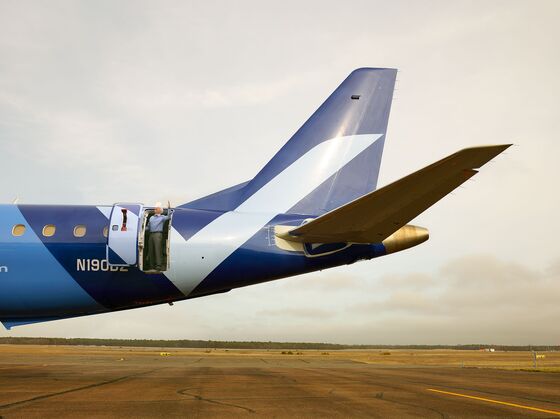 Neeleman was there to tell me about Breeze Airways, a budget domestic carrier, headquartered in his hometown of Salt Lake City, that will start flying by summer. The business plan borrows from previous generations of low-cost airlines: a point-to-point network of smaller airports, as pioneered by Southwest Airlines Co. in the 1970s and 1980s; trips limited to the days of the week when vacationers are most likely to travel, a discipline perfected in recent years by Allegiant Air Inc.; and a shiny, state-of-the-art fleet manned by young, low-cost crews, not unlike JetBlue Airways Corp. in its startup days. Neeleman has dubbed Breeze "the world's nicest airline." He also likes to call it "a technology company that just happens to fly airplanes." Those two things may or may not be in tension.
Breeze is launching at an uncertain moment for the industry its founder helped reshape. The acute trauma of the pandemic—cushioned at its worst by a $50 billion government bailout—has eased. On April 18 the Transportation Security Administration counted just under 1.6 million people flowing through its airport checkpoints—only two-thirds the traffic on that date in 2019 but an order of magnitude more than a year ago, when the number was hovering around 100,000. And yet, even as vaccination rates climb, airlines, like many other companies, are trying to figure out whether the disruptions of the past year were a grim anomaly or the acceleration of longer-term shifts. After the pandemic ends, will people travel as regularly as before? How comfortable will they be on airplanes and in airports? Will large companies return to sending their salespeople, consultants, conference presenters, and deal-closers around the world?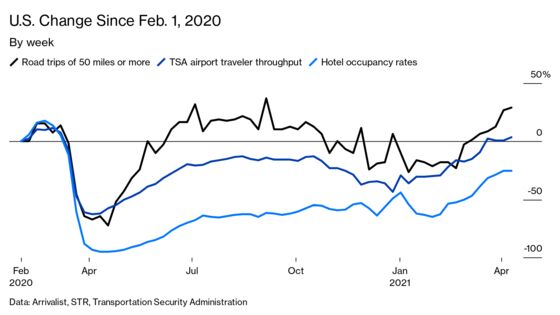 At the very least, it's an environment in which comfort with upheaval is an asset. It would be wrong to call the airline industry stable, exactly—not with its rich history of bankruptcies, takeovers, and ruinous price wars—but it's very hard to break into. Neeleman has made his career and fortune doing just that. "After deregulation, the failure rate of new airlines has been in the mid-90s or up," George Hamlin, a longtime industry consultant, points out. "Most people have done one new entrant—and failed. A few have maybe tried another one. David has been involved in four successful startups. It's unmatched." That record is all the more striking given Neeleman's temperament, one seemingly ill-suited to managing complex, highly regulated enterprises vulnerable to the vagaries of fuel prices, business cycles, and global health disasters. Azul CEO John Rodgerson was one of several executives Neeleman lured away from JetBlue to help found the Brazilian carrier. "It's like working with an 8-year-old that's a genius," Rodgerson says. "He's onto one thing, he's onto another thing. You want to strangle the 8-year-old at times, but he's generally right."
Neeleman started his first travel company as an undergraduate at the University of Utah. Like many of his classmates, he was Mormon, tracing his lineage to ancestors who knew Joseph Smith. But he'd also spent the first five years of his life in Brazil—his father fell in love with the country while serving his church mission there and went back for a stint as the São Paulo correspondent for United Press International. When the time came, the younger Neeleman, too, served his mission in Brazil, and two years proselytizing in the favelas gave the already extroverted kid a profound faith in his sales skills.
One day, after he was back at college, a classmate mentioned a friend of hers with some Hawaiian timeshares he couldn't fill, and Neeleman offered to take on the job. "I started getting phone calls, and I'd book them. I'd pay him 135 bucks, I'd collect 400 bucks, and then I'd just keep the difference," Neeleman recalled in 2019 on the National Public Radio podcast How I Built This. In the wake of the 1978 deregulation of U.S. airlines, new carriers were cropping up. Neeleman hired a sales staff and started offering cheap vacation packages with flights from Los Angeles to Honolulu; Utahans were more than willing to make the 700-mile drive to the coast for the right price. By the time Neeleman dropped out of college to run the company full time, it was doing $8 million a year.
Then, a few days before Christmas 1983, Neeleman's preferred airline, Hawaii Express, abruptly ceased operations, taking his company down with it. He was left doing the books at his father-in-law's drapery business and working the register at his grandfather's grocery store to support his growing family. His rise and fall, though, had caught the attention of a successful Salt Lake City travel agent named June Morris. When he finally returned her phone call—"I didn't want to be in the travel business anymore," he told me—she cajoled him into coming to help her run her company. Soon the two were filling weekly charter flights straight from Salt Lake City to Honolulu on an old Douglas DC-8. Rather than have the plane sit idle the rest of the week, they added flights to Los Angeles, too.
Within a few years, Morris Air Service and its growing fleet were ferrying passengers all over the American West and as far north as Alaska. "They had a contract with the church, so they were flying out all these Mormons going on missions," remembers Michael Lazarus, whose private equity firm, Weston Presidio, backed Neeleman and Morris. "They were also flying in all the ski bums in weather where Southwest would not. The business was very, very profitable." In 1992 the charter service got its operating certificate and became a scheduled carrier—it was the first in the business to allow passengers to fly without an actual paper ticket. A year later, Southwest bought the airline for $129 million. Neeleman made $24 million and found himself working for his idol, Herb Kelleher, one of the most revered founders and CEOs in modern aviation. (Kelleher died in 2019.)
Neeleman often talks about having attention deficit disorder and the ways it's shaped his life. He credits his short attention span for some of his best-known ideas, like JetBlue's seatback screens showing live television—"I really wanted something that could keep you occupied"—and he blames it for his difficulties in traditional workplaces. Whatever the cause, at Southwest he gave the impression of someone trying to shake up a company already considered the best run in the industry. He would sit in meetings of the executive planning committee writing notes to himself to remind him to keep his mouth shut, then helplessly blurt out something. After five months, in May 1994, Kelleher took him to lunch and fired him. "He reached across the table and held my hands," Neeleman recalled on How I Built This. "I was crying, and he said, 'It's just not going to work. Everybody, even the people who are your biggest supporters, said you've got to go!' "

For the next couple years, Lazarus, who was based in San Francisco, visited Salt Lake City regularly to see what Neeleman was up to. Despite a five-year noncompete agreement from Southwest that kept him out of the U.S. airline industry, he was up to a lot. Neeleman founded a company called Open Skies (later Navitaire LLC), which lucratively commercialized Morris Air's electronic ticketing system, and he helped start WestJet Airlines Ltd., a Canadian budget carrier that would become the country's second-largest. All along, though, he was plotting his return to America's skies. One morning at a coffee shop in downtown Salt Lake, he told Lazarus his plan. "We're going to bring humanity back to air travel," he announced. The key, he said, was to fly out of New York City. Lazarus asked why. Neeleman glanced theatrically over his shoulder, leaned in, and delivered the punchline: "That's where all the people live!"
Domestic air travel out of New York was almost entirely reliant at that time on LaGuardia, an overburdened airport only desultorily upgraded since the days when it served Pan Am seaplanes. Delays were endemic, and the scarcity of landing slots allowed legacy carriers such as US Airways and Delta Air Lines Inc. to keep budget airlines out. Fares in and out of New York were some of the highest in the country. John F. Kennedy International Airport was bigger, but farther from Manhattan, the distance exacerbated by soul-crushing traffic. As a result, it was used almost exclusively for overseas flights. Its terminals and gates were silent much of the day. Neeleman, who'd enticed people to drive 10 hours for a cheap flight to Hawaii, figured he could get them to an airport in southern Queens.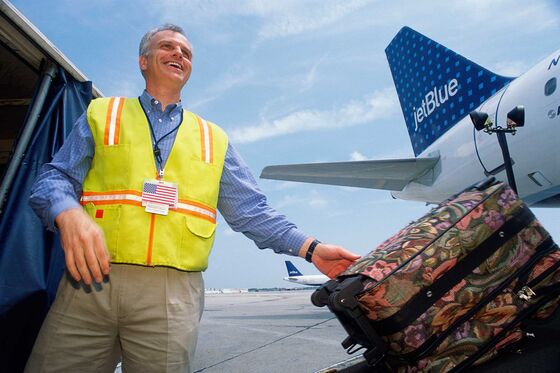 Lazarus helped Neeleman raise an unprecedented $130 million for the startup airline and came on as chairman. There were talks with Richard Branson, ultimately fruitless, about being part of Branson's Virgin Group. Neeleman and his wife moved east with their nine children to Connecticut, where they built a gabled estate out of stone brought from Utah.
Up until then, most U.S. carriers flew Boeings, but Neeleman became convinced that the electronic control systems of the planes made by Airbus, Boeing Co.'s bitter European rival, made them safer. He ordered 25 fuel-efficient new Airbus A320s, with an option for 50 more. The Boeing sales executive he hired away to outfit the fleet found a company that could broadcast satellite TV on planes.
For years legacy airlines had been stripping amenities from economy class, even as they competed to lavish more luxuries on business- and first-class travelers. (Southwest leaned into its frugality, offering peanuts, and only peanuts, to flyers to remind them how little they'd paid for their seats.) This new airline would be different. "We told the world we were building a company that brought humanity back to the skies," remembers Amy Curtis McIntyre, the startup's marketing chief. "Behind closed doors we just said, 'Let's make coach suck less.' "
Within six months of its first flight, on Feb. 11, 2000, from JFK to Fort Lauderdale, JetBlue was profitable. News stories enthused about the fares, the TVs, the extra legroom, the leather seats, the unlimited bags of heirloom blue potato chips handed out instead of meals. The stories usually mentioned Neeleman himself, sitting in the last row when he flew and walking the aisle to ask everyone about their flight.
Even Sept. 11 barely slowed the momentum. JetBlue's smaller size and ample war chest allowed it to recover quickly. So did its lower-earning workers. The reservations staff, many of them part-time, worked from home, and Neeleman managed to keep his entire workforce nonunion for years. When the airline went public in April 2002, Neeleman's stake in the company was worth more than $140 million. In the years after the initial public offering, profits thinned and the stock price stagnated, but over a span when Delta, United Airlines, and US Airways all sought Chapter 11 bankruptcy protection, Neeleman kept adding planes and destinations.
On Feb. 14, 2007, an ice storm settled over JFK. As a rule, JetBlue was loath to cancel flights, so it left its outbound passengers idling on the tarmac, some of them for 11 hours, waiting for a break in the weather that never came. The disruptions caused by that one bad day snarled JetBlue's network for a week. Unlike its competitors, the airline didn't yet allow customers to rebook online, and as cancellations mounted, the phone lines were overwhelmed. The software used to assign crews to their rescheduled flights glitched, and there turned out to be no system for tracking lost bags, which collected in ceiling-high piles among the marooned passengers. A thousand flights ended up being canceled in what came to be known, hyperbolically, as the Valentine's Day Massacre. "This will be an aberration," Neeleman said in an apology posted on YouTube, "because we are going to make some major changes in our organization to make sure it doesn't happen again."
Three months later, the board asked Neeleman to step down as CEO. "It took me years to get over that," he says. It's not clear that he entirely has. David Barger, Neeleman's longtime lieutenant and chief operating officer, took his place. "The guy that was in charge of operations, they hired him to be the CEO!" Neeleman said to me in Darien. "Which was ridiculous."
Since then, Neeleman has found some measure of vindication overseas. He'd always maintained a connection to Brazil, buying planes made by the its Embraer SA aerospace conglomerate for JetBlue. The air industry there had long been dominated by two carriers, TAM Linhas Aereas (now Latam Airlines Group SA) and Gol Linhas Aéreas Inteligentes, with the high prices and limited service that economists would predict from a duopoly. Airports built all over Brazil by the Cold War-era junta sat unused; multiday bus trips were the only way to get to much of the sprawling country. Laws against foreign ownership of airlines complicated efforts for competition. Brazil, Neeleman remembers thinking, was like the U.S. in the 1960s, its airline industry still placidly undisrupted. With his Brazilian citizenship and fluent Portuguese, his fortune, and his experienced, loyal band of airline veterans, he found it an irresistible target.
Today, Azul ("blue" in Portuguese) serves 118 cities. Last year the users of TripAdvisor anointed it the best airline in the world, and before the pandemic it was one of the most profitable. As Neeleman can't resist pointing out, Azul's 30% market share in Brazil is six times JetBlue's in the U.S. When Azul went public in 2017, it issued two classes of stock. Neeleman made sure to retain a majority of the voting shares, ensuring that the board can never wrest control away from him.
Building off of his foothold in the Portuguese-speaking world, in 2015, Neeleman led a consortium that ended up buying almost half of TAP Air Portugal. Replacing its aging fleet with new Airbuses and quadrupling the number of U.S. cities it served, the formerly state-owned airline helped attract a new generation of American travelers to Lisbon. Neeleman's group had almost finalized a deal to sell the company to Lufthansa when the pandemic brought global air travel to a halt.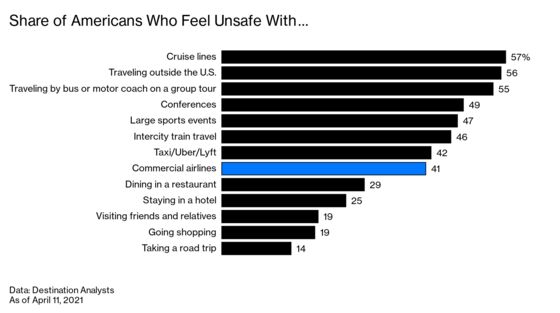 The drop in Azul's stock price over the past year has cost Neeleman tens of millions of dollars. The pandemic also pushed him to delay the launch of Breeze, which he had planned to fund with some of the $250 million he says he would have made from the TAP sale—when TAP's value collapsed, so did the deal, and the airline ended up renationalized. The way Neeleman sees it, much of this could have been avoided. And with more time at home, he has, like many of us, found an outlet for his frustrations on social media.
Last March his previously dormant Twitter account sprang to life. There were news stories and charts from Sweden, where public-health authorities eschewed the broader lockdowns instituted elsewhere in Europe. "No worries about a second wave," Neeleman tweeted about the country last May. He posted praise of Republican governors such as Florida's Ron DeSantis and South Dakota's Kristi Noem, who were particularly aggressive about keeping their states open. ("President Noem?" he tweeted in July.) He castigated Anthony Fauci, celebrated vaccine breakthroughs, and shared a YouTube video contending that masks don't work. (There's overwhelming evidence that they do.)
He also touted the work of John Ioannidis, a renowned medical researcher who'd co-authored a study suggesting the disease was much milder than previously thought. First published in April without peer review, the paper was later revised in response to heavy criticism. In May, BuzzFeed News reported that Neeleman had donated $5,000 to help fund the study and had exchanged emails with the researchers about how to sharpen their conclusions. Neeleman, who freely admits the donation, says the implication that he in any way directed the findings is "the most absurd thing ever written."
During our maskless chat, I asked Neeleman about Sweden. Last fall and winter, the country did have a second wave. It's seen a far higher death toll than its Nordic neighbors, even as its economy has done no better. Neeleman counters that Sweden's Covid numbers still compare favorably with those in some wealthy northern European countries that pursued harsher strategies—he mentions Belgium. But there's a philosophical point he wants to make, too. "I think there's a social benefit to being free and saying, you know, I'm responsible for me," he says. He points to his own parents. "We had them wear masks, and we wore masks, and we kept socially distanced. If they wanted to come to a family party, they'd be in the car and people would come out and see them." Neither got sick. (Neeleman and I didn't infect each other, either.)
Overall, though, his family's infection rate has been high. Divorced from his second wife, Neeleman spent the pandemic in his slopeside house above Salt Lake City in the luxury ski resort of Deer Valley; this winter he would ski out his door when he felt like it and do a few runs between calls. He saw his children often, along with his growing brood of grandchildren, and the clan spent much of the past year boating, skiing, and, apparently, giving each other Covid. "All my kids pretty well have had it, and I've been around them nonstop," he says. "I don't know if I have had it." All of the cases were mild.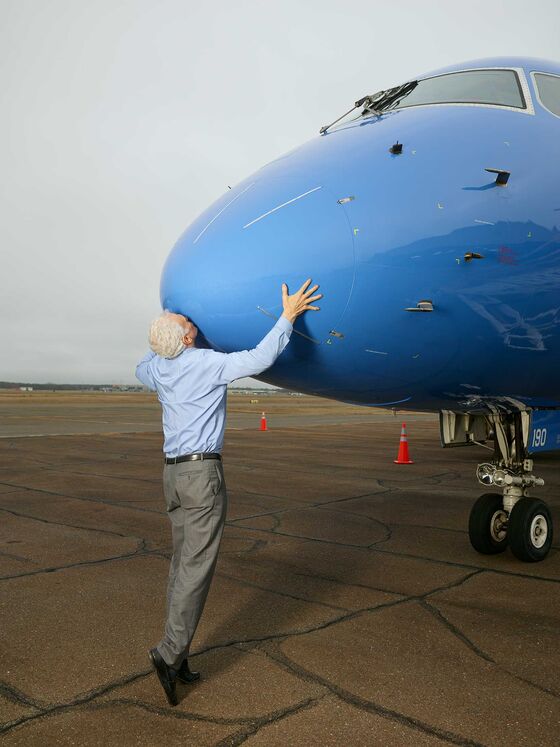 There could be worse times to start an airline than the last chapter of a pandemic, if that's in fact where we are. When Neeleman started putting together the team and the money for Breeze (he ended up raising money from two Salt Lake City private equity firms), the airline industry faced a skilled labor shortage, particularly of pilots. Neeleman set up the airline to try to trim labor costs as much as possible. The customer service personnel will work from home, just as at JetBlue, and be minimal in number. Passengers will be encouraged to do everything from checking bags to rescheduling flights through the Breeze smartphone app. The flight attendants will be college interns, supplied through a partnership with Utah Valley University. They'll get a scholarship, a salary, free lodging, and one paid trip home per month. "And then when they graduate, they can apply for another job in the company," Neeleman says, "or they have some great work experience and they can go and do something else." Breeze, for its part, will have a cheap, dependent, continually replenished onboard workforce in an industry where wages climb with seniority—Breeze gets older, to paraphrase Richard Linklater, while the flight attendants stay the same age. Industry analysts have raised questions about the sustainability of the model. "Are people going to stand up at some point and go, 'This is not fair?' " asks Holly Hegeman, publisher of the industry newsletter PlaneBusiness Banter. "Do they get dropped when their GPA drops?"
After all the buyouts and early retirements of last year, the airline labor landscape looks very different. Pilots come cheap today. So do airplanes. Breeze will start off flying Embraer 190s and 195s that the airline will lease (some from Azul) at favorable rates. Later this year the first of its fleet of new Airbus A220s will start arriving. The strategy is to use these midsize planes to go into markets that today have little or no air service. Breeze will announce just which cities in the coming days, as soon as it receives final certification from the Federal Aviation Administration.
In airline math, plane size is a key variable: With bigger planes you can spread your costs over more seats, but you need to fill them. Smaller planes are easier to fill, but more costly to operate per seat. "It's just kind of a natural curve," says Lukas Johnson, Breeze's chief commercial officer and architect of its route strategy. In today's domestic market, he argues, there's opportunity in the size gap between smaller regional jets, mostly flown for legacy airlines, and the larger planes that make up Southwest's and Allegiant's fleets.
At the same time, with lucrative business travelers still in short supply, existing airlines may be particularly loath to lose the more cost-conscious leisure and VFR ("visiting friends and relatives") travelers Breeze is focusing on. Another budget carrier, Avelo Airlines, will also start flying this spring; its CEO is one of Allegiant's founders. And in a fare war, Breeze could be at a disadvantage, as competitors with bigger planes and more seats might more easily absorb the losses from extra-low fares. "Any breathing soul that has money to spend and wants to take an airline trip," says Henry Harteveldt, president of the travel consulting firm Atmosphere Research Group, "is someone the airlines are going to fight very, very intensely to capture."
Breeze will start flying before Memorial Day. "I think the timing is just about perfect," Neeleman says. He's not worried about the competition. He's not worried, either, about another Valentine's Day Massacre should his extra-lean operation come up against something unforeseen. "The technology will work," he says. After a year of limbo, he's eager to get back to launching and running things. "Humans weren't meant to live this way," he says. "They want to go see live music, they want to go to sporting events. They want to travel. And, you know, there's risks inherent in living life." Earlier this month, as preparations for Breeze ramped up, Neeleman got married again.
"He doesn't see downside," says Rodgerson, Azul's CEO. "He kind of wills his way into his own reality. And a lot of times David lives in his own reality." It's a trait that serial entrepreneurship tends to select for. (Epidemiology, on the other hand, does not.) "The people who have worked closest with him forever," says McIntyre, who's a brand adviser for Breeze, "always say that the most inspiring and frustrating thing about him is his ability to oversimplify. He oversimplifies, which leads him to the possibilities. You're the frustrated, stressed-out maniac going, 'It doesn't work that way!' And then, all of a sudden, you're doing it." —With Peter Robison, Mary Schlangenstein, and Justin Bachman