The Bronco Is Back, Thanks to a Group of Obsessed Ford Employees
(Bloomberg Businessweek) -- Dan Schaffer, a four-wheel-drive engineer at Ford Motor Co., gets into an SUV, points it up a steep and slippery dirt hill, and hits the gas. It lurches into action, but halfway up the 45-degree climb it bogs down. Schaffer pounds the pedal, and it continues its ascent, as if it had just been catching its breath.
At base camp below, a group of middle managers hoots and hollers as the vehicle tops the hill at this off-road course north of Detroit. "Did you see that?" says Tom Patterson, an advanced product strategist. "That was amazing. To see it in action, in motion, that's just so sweet."
They're cheering on a Ford Bronco—now available in "cyber orange"—and they've been waiting awhile to do it. The group, known as the Bronco Underground, has agitated for years inside Ford for the return of the SUV, which has been out of production for more than two decades and is best known for the white model that O.J. Simpson drove that June day in 1994. In their free time, and without any boss's approval, they sketched and modeled a reborn Bronco that played on its '60s heyday; they drew up business plans, begged for space in factories, and tried to convince management that there was still life left in the brand.
The project seemed doomed because of recessions, fluctuating fuel prices, and changing consumer tastes—until gas got cheap a few years ago and Americans fell in love with the Jeep Wrangler and other retro SUVs. But Ford, which had made an ill-advised bet on small cars a decade ago, didn't have one. That gave the Bronco Underground an opening.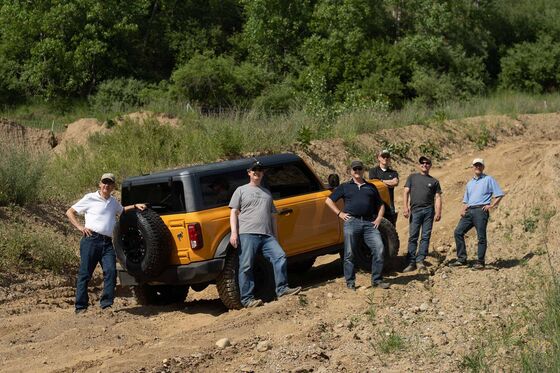 Bringing back the Bronco is part of a broader strategy to play off Ford's greatest hits. Its F-150 pickup is getting Tesla-like hands-free driving technology, and the Mustang is going electric. The Bronco, unveiled on July 13, has a removable roof and doors, a familiar chrome bucking horse emblem on the tailgate, rubberized floors with drain holes so the interior can be hosed down, and a dashboard with mounts for cameras or phones for riders to show their followers how much fun they're having.
"So many people doubted us," says Mark Grueber, director of advanced product marketing, who pushed relentlessly for the Bronco's revival. He spoke as Schaffer kicked up a dust cloud turning doughnuts after descending the hill. "They all said Ford would screw it up."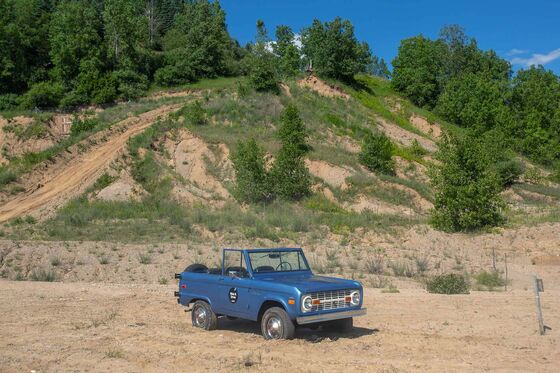 In 1999, three years after Ford stopped production of the Bronco, the Underground initiated a secret program to resurrect it. The plan was to move away from the boxy rendition that by then had unshakable cultural baggage. "We looked back at the original Bronco, and we saw it"—the new one—"as being a back-to-basics vehicle," says Moray Callum, now Ford's chief designer, who led the project in the automaker's Dearborn, Mich., studios.
The program was code-named U260, "U" for utility and "2" for two-door. The "60" comes from a separate code name, T6, for Ford's small Ranger pickup, which would provide the mechanical underpinnings for the new Bronco. This "platform sharing" is a critical way for automakers to keep costs down, and though Ford had looked at building the Bronco on the chassis of a Land Rover—the fancy British SUV brand it purchased in 2000—that was deemed too expensive.
Callum's team developed two-door and four-door versions with a minimalist design and low price aimed at young buyers. He had the two-door painted bright red and invited then-Chief Executive Officer Jac Nasser to check it out. "He loved it," Callum recalls. The next step was to show it to potential buyers in marketing clinics, the industry's version of Hollywood test screenings.
But before that could happen, Ford was embroiled in a safety scandal involving faulty Firestone tires on its Explorer SUV; more than 250 people died in rollover crashes. A congressional investigation and a massive recall followed, leading to lawsuits and losses. Nasser was fired, and the Bronco became collateral damage. With budgets under pressure, Ford killed the program. "After the Explorer event, things were getting tight," Callum says. "Programs got more scrutiny, and if the business case wasn't strong, they went cold."
Stinging from the U260's cancellation, Ford's then-chief designer, J Mays, took another whack at the Bronco. Mays was too senior to be in the Underground, but he was a sympathizer. He ordered his styling studio in Irvine, Calif., which specialized in futuristic concepts, to design the Bronco of its dreams, hewing to the original but with a healthy dose of 21st century industrial design.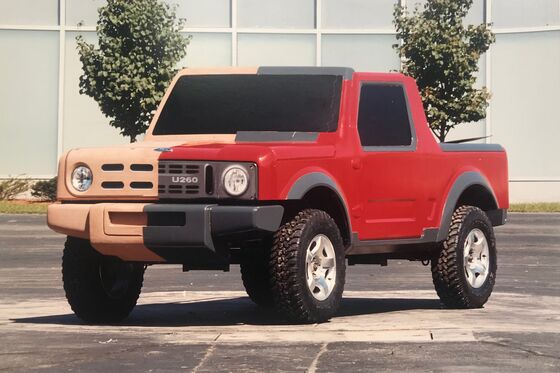 The silver Bronco that rolled onto the stage of the 2004 Detroit auto show, looking carved out of aluminum, was a sensation. It seemed like Ford's answer to the Hummer, based on the Humvee military vehicle that was deployed in both Iraq and Afghanistan. The new Bronco was such a star that it was eventually cast as Dwayne "The Rock" Johnson's ride in the movie Rampage.
But it was more idea than reality. Unlike the U260, the show car wasn't designed to fit atop the Ranger. Without a platform to build the Bronco on, the concept car was going nowhere. "It gave us a lot of hope and a lot of frustration," Grueber says. "It confirmed what the Underground believed—that there was a customer out there for another Bronco."
The Underground was getting desperate. Patterson, the marketing strategist, stewed that company execs weren't taking advantage of the Bronco's popularity at the auto show. "We were just kind of scratching our heads," he says. "And we resolved to never give up."
The Bronco's brand of old-school SUV was becoming a dying breed, however. Rising gas prices and aging buyers led SUVs to morph into curvy, comfy, fuel-friendly cars known as "crossovers," because they were part sedan, part truck. "As all the crossovers came in, there was this portion of the buying population that just sort of felt like their SUV had been neutered," says Will Neafsey, a Ford consumer research specialist. "Those people wanted a true sport utility vehicle. They were always out there, and they just grew more frustrated."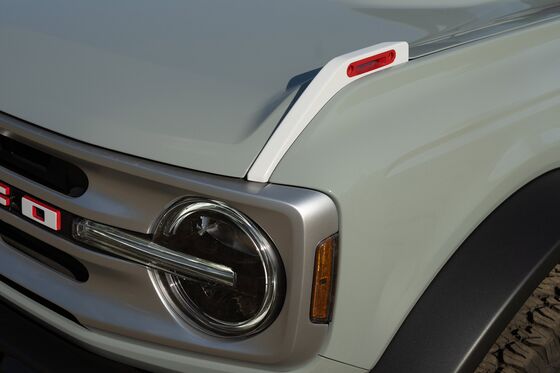 Further complicating efforts was Ford's plan to stop selling the Ranger in the U.S., because the market for small, cheap pickups was dying. But they were strong sellers overseas, and Ford designed a new one for those markets.
The Underground seized on that to make another run at reviving the Bronco. In 2006 designer Melvin Betancourt reworked the auto show concept to fit the underpinnings of the Ranger being sold overseas. Then Patterson persuaded a Ford factory in South Africa that was already building the Ranger to make space on its assembly line for a new Bronco that would be shipped to the U.S.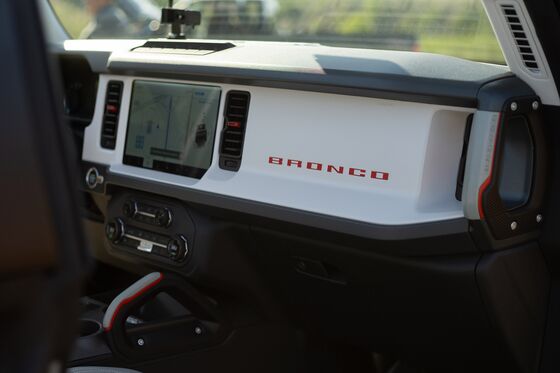 But the brass rejected the plan to import it. It was seen as too risky and expensive with fuel prices soaring because of the war in Iraq, sales of gas-guzzling SUVs stalling, and the economy beginning its slide into the Great Recession. "There was always somebody in the room," Patterson says of the naysayers. "There were definitely some that were on board, but it was just never enough of the right people. And the business case with importing it was just not going to work."
Ford would soon have plenty of other problems to worry about. It needed a lifesaving $23 billion loan to survive the recession in 2009 without resorting to the bailouts and bankruptcies that befell crosstown rivals General Motors Co. and Chrysler.
Management didn't want to hear any more about the Bronco. In company discussions about Ford's portfolio, it was the name that couldn't be uttered. "We were literally forbidden from using the B-word," Grueber says. "The leadership got so tired of us talking about it, they would say, 'We're not doing a Bronco. What don't you understand?'"
The brand fell into such disrepute that the company almost lost control of it. In 2013 the trademark was expiring; Ford had to use the name to retain ownership. Grueber, who was in charge of naming rights, says he told Patterson, "Hey, we're going to lose this. If that happens, then we're dead forever." The Underground devised a plan to slap a Bronco badge on the back of a "special edition" Ford Expedition that was displayed at trade shows in Las Vegas and Florida. They didn't want it to attract too much attention, and it didn't. Just putting the emblem on the Expedition was enough to keep the trademark alive. Legally speaking, the Underground had provided a legitimate use case.
An unexpected turn reversed the Bronco's fortunes in 2015. Ford's leadership decided it was time to bring the Ranger pickup back to America after watching GM rack up record sales with a pair of new small trucks. But the Ranger wasn't expected to sell enough to fill up an entire factory's worth of capacity. The company needed another vehicle to build in the suburban Detroit plant that had been selected.
Ford's then-president of the Americas, Joe Hinrichs, asked his team to come up with ideas for a model that could be built alongside the Ranger. When word got to Grueber, he asked his boss, Ed Ostrowski, who was in charge of developing future products, "Can we do whatever we want with the second product? When he said, 'Yep,' it was like winning the lottery."
 
Even 21 years after the slow-speed chase on that Los Angeles freeway, there was still concern that the Bronco name was irreparably damaged.
Ford did intensive consumer research. Focus group participants were asked about their impression of the word "Bronco," without any indication whether it was in reference to the car, the Denver football team, or an untamed steed. And though the O.J. association came up, it didn't overwhelm the discussion. The subjects mostly associated the word with being wild and free. "It confirmed for us that the brand was still solid and we could bring it back without being weighed down by O.J.," Grueber says.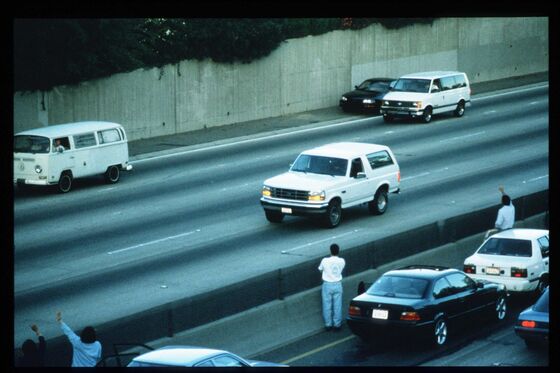 The Underground got help from Ford's chief operating officer, Jim Farley, who happened to be taking the 405 Freeway home from work on the day of the pursuit. Like other waylaid motorists, Farley stood beside his car and watched as the white Bronco rolled by, followed by an armada of police cruisers.
At the time, Farley was a junior executive at Toyota Motor Corp. One of his last big projects at that company was the FJ Cruiser, a small SUV with retro-military style and aspirations of taking on Jeep. But shoppers said it looked like a toy, and Toyota pulled it from the U.S. market five years ago. "The FJ design was trying too hard, and its usability was compromised," Farley told the Underground. "So let's make sure the Bronco is really usable in the real world, a super-authentic off-roader."
Farley's boss, CEO Jim Hackett, desperately needs a hit. The company, slogging through a turnaround, has been on a bad run for three years, with mounting losses, a botched release of the new Explorer, and a stock in free fall. Now smitten with the Bronco, the company has expanded its lineup. There's a two-door and a four-door version, as well as a smaller Bronco Sport model based on Ford's compact Escape SUV. They can be customized with doors that have oblong-shaped cutouts that allow riders to feel the breeze and with seats wrapped in the same water-repellent fabric used on boats. And though Ford isn't offering an electric or hybrid version, it's hinting that this could be an option down the line.
The introduction was going to be elaborate, with unveilings at auto shows in New York and Detroit and an event in the California desert at the site of King of the Hammers, an off-road race. The coronavirus pandemic forced Ford to scrap all those plans for a televised debut in July instead. The company settled on the 13th. That was after Tanya Brown, sister of Nicole Brown Simpson, O.J.'s murdered ex-wife, complained about an earlier date that Ford had picked. Unintentionally, the company said, it had chosen July 9—O.J.'s birthday.
 
Read next: Elon Musk Now Richer Than Warren Buffett on Billionaires Ranking