Florida Cracks Down on Violent Crime at Strip Mall Casinos
(Bloomberg Businessweek) -- Almost as soon as he entered the Lucky Charms Arcade, Lawrence Hall aroused suspicion. An employee would later tell police in Jacksonville, Fla., that she watched as Hall, who was slight of build and covered with tattoos, moved from one game to the next, scrubbing down everything he touched with what looked like disinfectant wipes. It was a Wednesday afternoon in January. She took out her phone and texted her boss, who was working remotely: "Check the cameras."
Moments later, police say, Hall drew a handgun and instructed the employee to empty the register and put all the money from the machines into his backpack. Then he ran out the back door.
Located on a sun-beaten commercial strip in east Jacksonville, Lucky Charms was not a traditional arcade like, say, Dave & Buster's. Rather, customers visited it to play games that mimic the look and feel of Las Vegas slot machines, or to play "fish games," in which participants "shoot" schools of digital sea creatures to amass points that can be exchanged for cash.
These "adult arcades," "game rooms," or "sweepstakes cafes," as they're variously known, have taken root in strip malls all over the U.S., operating next to convenience stores, laundromats, and vape shops in jurisdictions where casino gambling is illegal. The game rooms exist in a legal gray area. Proponents see them as harmless fun and as a source of steady employment in a difficult retail environment. Critics see them as ersatz casinos that prey on the poor and the elderly.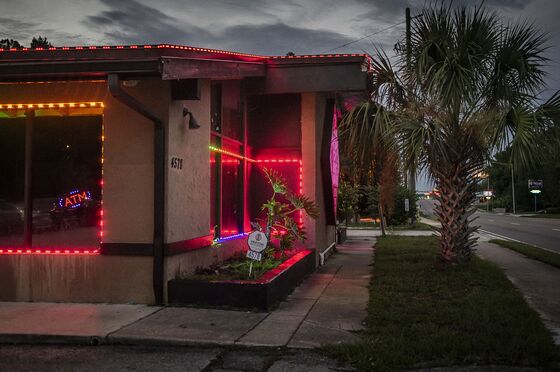 What happened after Hall left the Lucky Charms was tragic and awful. According to prosecutors, he broke into a nearby house and took an elderly man hostage. Then he stole a Dodge SUV and led police on a high-speed chase, during which he struck and severely injured an officer who was setting up tire-deflating spikes. After blowing through a busy intersection, the driver lost control, slamming into a utility pole, which dragged down power lines. The SUV was engulfed in flames.
Officers arrested the driver and rushed the hostage to the hospital. The hostage, an 84-year-old Navy veteran, died from his injuries a few days later.
In July, Hall was indicted on multiple felony counts, including armed robbery, kidnapping, grand theft auto, attempted murder in the second degree of a law enforcement officer, and first-degree murder for the death of the elderly hostage, which carries a possible death sentence. Hall, who's 27 and currently in jail in Jacksonville, did not reply to an interview request. He has pleaded not guilty and is awaiting trial.
After Hall's arrest, Jacksonville authorities noted that the incident at the Lucky Charms wasn't an aberration—it was the second time the arcade had been held up in recent months. From Jan. 1, 2018, to mid-April 2019, there were more than 500 emergency calls to the Jacksonville Sheriff's Office regarding incidents at adult arcades. The catalog of violence included multiple armed robberies, homicides, and assaults. Reports of similar violence at arcades made local newspapers and TV newscasts in California, Ohio, Texas, and North Carolina.
Now city officials in Jacksonville are testing a novel method to stop the mayhem. They're alleging that the game rooms are a threat to public health and are shutting them down under public nuisance laws. If it holds up to legal and political scrutiny, the crackdown could threaten the existence of these types of arcades around the country.
What wilderness is to Alaska, strip malls are to Jacksonville. The sprawling city is the largest by area in the contiguous U.S. and has a vast acreage of roadside retail. In early 2019, city officials said there were more than 200 adult arcades in Jacksonville. Gaming industry analysts have estimated that thousands of similar cafes may exist around the country.
These parlors have proved irresistible to would-be robbers, who regularly attempt to pull off dime-store versions of Ocean's Eleven, sometimes after losing money in the very same establishments. To protect themselves, the game rooms have taken to stationing armed security guards on the premises. This being Florida, which leads the nation in concealed weapon permits, shootouts frequently ensue.
Around 9 p.m. on a Tuesday night, I handed a cashier at the Suited Jax Arcade three $20 bills and my driver's license. The Suited Jax is on the city's southwest side, and its main room is roughly the size of an elementary school gymnasium. The cashier set me up with an account that had a numerical ID and password; a few minutes later, I was sitting at a desktop computer—alongside 40 or so others trying their luck at an array of slot machine-style games with such titles as Merlin's Money, Medieval Riches, and Vegas Aces.
My 60 bucks got me 6,000 "sweepstakes entries," which are basically scrip for the casino-like games. Using the computer's mouse, I repeatedly clicked on a red rectangular icon at the bottom of the screen marked "REVEAL," which set the rows of symbols—four-leaf clovers, pots of gold, lucky 7s—tumbling. As with a Vegas slot machine, the more points I wagered on each spin, the greater the potential rewards. While on a temporary lucky run that night, I lined up several cheerleader hieroglyphs in a game called Gridiron Paydirt, resulting in a bonanza of 1,830 points, the equivalent of $18.30. I was still down, but it felt good—and I wasn't thirsty, thanks to the bottomless Styrofoam cups of free fountain soda.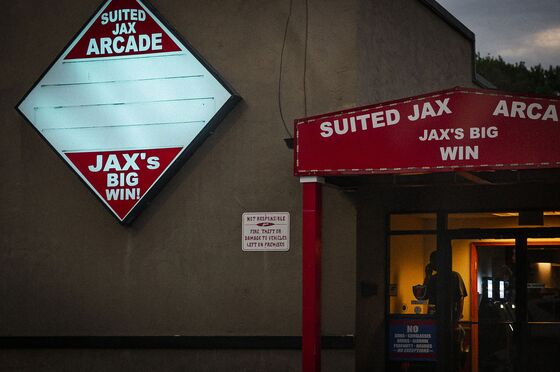 Hanging on one wall was a digital display showing a constantly updating value (then $13,500) of the "grand community prize." The cashier told me that anyone actively playing the games was eligible to win the entire thing. It's a major incentive to keep going—and a staple of every sweepstakes cafe.
In an adjacent room, a handful of customers were sitting around flat, rectangular video cabinets roughly the size of pool tables, playing fish games. With names like Magical Ocean and Crab King, the games first took off in Asia years ago and recently gained popularity in the U.S. To start, players feed cash into the machine; in exchange, they receive ammunition credits, with $20 buying 2,000 credits. In the middle of the table, a jumbo video screen teems with a mélange of digital sea creatures.
Using a joystick to aim, each player at the table shoots into the communal gallery of fish. If you kill one, you get points that can be converted back into more ammunition or redeemed for cash. As with the slot machines, the more you wager per shot, the larger the prizes you can win.
The games are simple and hypnotic, which makes it easy to go through significant amounts of money in a hurry—I blew through my $60 in an hour. Most customers pay with cash, which means the arcades have a lot of hard currency—at least compared with most retail establishments—and less security than a bank branch. A thief can walk away with several thousand dollars for a few minutes of high-risk work. For years, sheriffs across the U.S. tried to get rid of the parlors, but they've rarely succeeded for long. County attorneys confidently issue press releases and bring charges—only to find themselves in drawn-out court battles with much-better-paid industry lawyers who argue that the games are no different from any other sweepstakes, such as the long-running McDonald's Monopoly game. Customers, they claim, are actually buying access to the internet via the desktop computers, which comes with free "sweepstakes entries." What I'd experienced at Suited Jax, they suggest, is the illusion of gambling, not the real thing.
That's how Jacksonville ended up with the public health gambit, arguing that the game rooms are a hazard and can be targeted under broader nuisance laws. In March, Al Ferraro, a Jacksonville city councilman who runs a lawn-care business, introduced a bill that would define the "simulated gambling devices" as a public nuisance and would prohibit their commercial use. "I've got police officers getting run over," Ferraro said at a council meeting on May 10. "I've got people getting shot. We've got murders."
Toward the end of the meeting, Kelly Mathis, a lawyer who had served as president of the Jacksonville Bar Association, got up to speak. Mathis, representing several arcades, argued that the public safety issues that the council was discussing were covered by a 2010 ordinance regulating, among other things, security requirements and hours of operation for sweepstakes cafes. The law, Mathis said, helped turn the parlors into a safe, revenue-generating sector of the city's economy. "The crime problem, the calls, went way down," said Mathis.
The real problem, he continued, was that the city had stopped enforcing its regulations, leaving the public safety issues to go unchecked. A "proper response," said Mathis, might be to implement a regulatory framework similar to the 2010 ordinance. Mathis left out the saga that had caused the local arcade regulations to languish, though plenty of people in the room remembered the drama well. It was a dispute that made national headlines and nearly ruined Mathis's law career. The cops called it Operation Reveal the Deal.
The dispute began in 2013, when a team of federal and Florida state law enforcement officials raided dozens of sweepstakes cafes and arrested 57 individuals as part of a gambling, racketeering, and money laundering probe. In the center of the investigation was one of Mathis's clients, Allied Veterans of the World.
At a press conference, authorities from the Jacksonville Sheriff's Office, the Florida Department of Law Enforcement, and the Internal Revenue Service accused Allied Veterans of running a bogus charity pretending to benefit U.S. military veterans; in reality, they said, it was the front organization of a massive, illegal gambling operation stretching from Florida to Oklahoma. They further said that they had seized bank accounts containing tens of millions of dollars, several boats, three Porsches, and a Maserati. Mathis, the authorities said, was not just the lawyer for the illegal scheme, he was also its mastermind. Mathis was arrested, and many of the sweepstakes cafes closed up shop, fearing prosecution. Mathis contended he'd done nothing wrong and vowed to fight the charges.
In September 2013, the case went to trial in Sanford, Fla., and a jury found Mathis guilty on 103 of 104 counts, including possessing slot machines, conducting an illegal lottery, and racketeering. He received a six-year sentence to state prison.
It looked like a huge success for police, but in 2016 a Florida appeals court found that the judge in the original case had erred by prohibiting Mathis's defense team from calling several witnesses during the trial. It threw out the conviction. The state dismissed the charges. Mathis was reinstated as a member of the Florida Bar, and the sweepstakes cafes started reappearing.
By the summer of 2017, the industry was thriving. "It actually doesn't give me pause," says Mathis, when asked if he has any reservations about working with for the sweepstakes-cafe industry again. "One, I was completely exonerated. Two, people are entitled to have lawyers represent them." He is seeking $50 million in damages in a lawsuit that claims several state officials were part of a conspiracy to maliciously prosecute him. Defendants in the suit have said the allegations are without merit.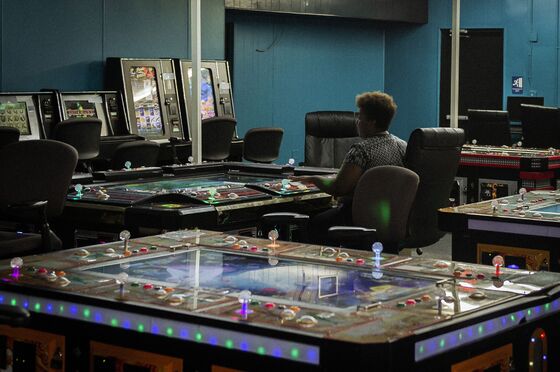 Several miles north of Suited Jax is the Dream Arcade, a cozy little sweepstakes parlor next to a scrapyard. When I pulled up, the darkened front windows were covered with type: "Fun, fun, fun. Win, win, win." There was also a not-entirely reassuring handwritten sign asking patrons not to bring their firearms inside.
A few weeks earlier, a man dressed in black had entered the arcade on a weekday evening, pulled a gun, and demanded the cash. A regular customer, a 47-year-old Marine veteran named Douglas Cox, tried to intervene. The gunman shot and killed Cox and fled.
The tragedy carried a lesson for Lisa Flores, the manager: Don't be a hero. "Even the owner says it's not worth it," said Flores, who carries a concealed handgun, just in case. "There's not enough money that's worth your life."
Flores, who was handing out complimentary cookies and potato chips, told me that city politicians had been using the game rooms as a scapegoat for the city's ills. The parlors weren't a public nuisance, she argued; they were a refuge from difficult circumstances. Convenience stores get robbed all the time, she pointed out. Should the city shut them down, too?
The air conditioning was blasting, and a Jacksonville Jaguars clock showed that it was a few minutes past 5 p.m. A TV hanging overhead was tuned to the evening news. An extreme heat wave was threatening to drive temperatures to record highs, a patch of a nearby swamp was on fire, and a boom in hepatitis A was sweeping through Florida.
I asked why the game rooms were so popular. "Who do you think gambles the most?" said Flores. "People in poverty. Because they want to change that. They need that little bit of hope."
Also, she said, shutting down the arcades would be unfair. Entrepreneurs had invested a lot of money in them. Not long ago, an investor offered her an ownership stake in his company if she would manage several game rooms, including the Dream Arcade. She accepted. "That's my nest egg," she said. "That's my future."
At around 5:30 p.m., a customer said she wanted to cash out. "You want it in big bills?" Flores asked.
The woman, who was limping and had a purple cast on one arm, laughed. "Big bills, one-dollar bills, your bills, my bills, phone bills, medical bills. It doesn't matter," she said. "I'm leaving out the door. I'm gone."
"You have a nice day," said Flores.
"Thank you, baby," said the woman. "God is good. Take my cookies and run. I'll be back when I'm off of work tomorrow."
On May 28, the Jacksonville City Council voted unanimously in favor of the bill classifying "simulated gambling devices" as a public nuisance. The ordinance would kick in on Aug. 1, but 94 cafes in town, including Dream Arcade and Suited Jax, which held official "certificates of use" from the city, would be given until Feb. 1, 2020, to get rid of the games.
But then, in early October, the council voted to move up the deadline, citing continued violence, including the fatal shooting of a security guard at the High Score Arcade in August. "It's a dangerous precedent to deem something a nuisance and then say, 'Oh, but you have time to continue with that behavior,' " says council member LeAnna Cumber, an attorney, who introduced the bill. "We don't tell the sheriff's office, 'Oh, by the way, when you go into a drug house, they've invested a lot of money in the fentanyl, so give them 48 hours to unload the stash.' "
Advocates for the game rooms protested, saying the 2,700 people the industry employs in the city could be out of work. Dozens of people marched in town carrying signs that said: "Save our jobs Jacksonville! Save our Arcades!" Kelly Mathis filed a motion in federal court, seeking an emergency injunction to freeze the enforcement of the ordinance. But U.S. District Judge Brian Davis denied the request.
On Oct. 14, inspectors fanned out across the city, posting cease-and-desist notices on the front doors and windows of the arcades, giving the operators five days to close or face $250 fines, per device, per day. "Do Not Enter," read the signs. "Unsafe structure. Violators will be prosecuted."
The inspectors were accompanied by agents from the U.S. Department of Homeland Security, who told the arcade owners that the fish games from China might pose some sort of unspecified national security risk, according to people familiar with the raid. A spokesperson for DHS confirmed the agency's cooperation, but referred questions to the Jacksonville Sheriff's Office, which did not respond to a request for comment. The inspectors also posted orange "Condemned" signs.
"It's shocking," says Mathis.
In late October, Mathis refiled a lawsuit on behalf of multiple game rooms, this time on a non-emergency basis, challenging the city's ordinance on constitutional grounds; it argues, in part, that the city's definition of simulated gambling devices is "overbroad and vague." The lawsuit is ongoing.
For now, the adult arcades in Jacksonville remain closed. But for those looking to play at arcades—or, inevitably, to rob them—options remain. Some cafes are still open in the surrounding jurisdictions. On the morning of Oct. 23, around dawn, a masked man entered the 8th Street Arcade in Fernandina Beach, a community on the northern outskirts of metropolitan Jacksonville. He fired several shots inside the cafe and made off with a pile of cash. Nobody was injured.
To contact the editor responsible for this story: Max Chafkin at mchafkin@bloomberg.net, Silvia Killingsworth