Golf's Slow Pace Challenged by an Electric Bike That Caddies, Too
(Bloomberg Businessweek) -- Even before the global coronavirus pandemic steamrolled ­leisure activities, the golf industry was brainstorming ways to entice younger players to the game. Whether arcade simulators to enhance teaching or par-3 courses that emphasize play over score, courses have been grasping at just about anything to add more fun to the sport—and to make it go a bit quicker.
At first glance, the Finn Cycle seems an unlikely bet. Billed as a faster alternative to golf carts, the two-wheeled electric bike-slash-club-carrier looks more like the puttering mopeds I saw as a boy in Seoul than a breakthrough for a sport dominated by wealthy older men.
Its unique design allows you to strap your bag to the crossbar, which you straddle as you scoot off to your next lie. And just so you know it's really for golf, the kickstand is shaped to look like the head of a driver.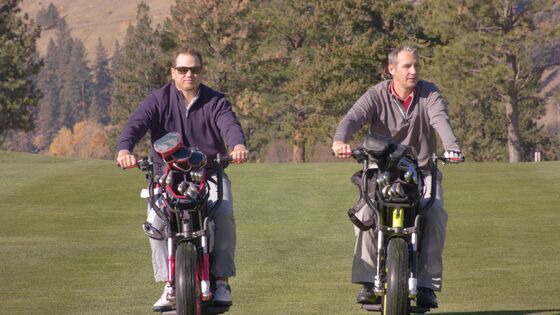 The bike is the brainchild of Rick Reimers, the 67-year-old chief executive officer of Sun Mountain Sports. He's long been consumed with finding more efficient ways to get around the course: His Sun Mountain golf bags were the first to feature a two-pronged stand, and the company was also instrumental in popularizing the three-wheeled pushcart.
His impetus for the bike, which he views as hip and edgy, was simple: "Golf is too slow and too boring, and it needs to change." On the Finn, he says, you can complete 18-hole rounds in less than two hours instead of the usual four.
The concept got an unexpected boost this spring, when golf emerged as one of the social activities that can be enjoyed amid a pandemic, because players can keep a safe distance from one another. A high-profile change to club rules was that only one player at a time can use each golf cart. The Finn, which can't hold more than one person, was suddenly apropos.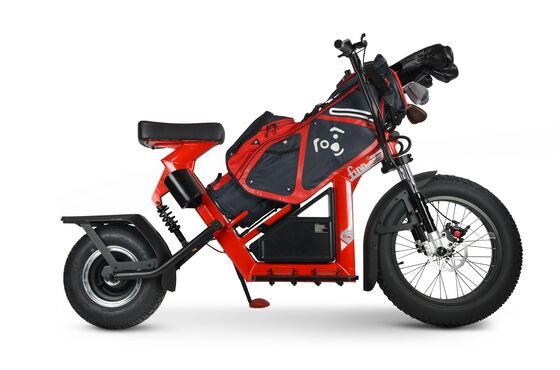 Graham Gilmore has 16 bikes at his Pine Needles Resort in Southern Pines, N.C., and says they've allowed him to meet demand. Regular foursomes usually take two carts to get around the course; now they need four. The Finn, he says, helps keep cart supply flowing and social distancing possible.
I prefer to walk the course, but I couldn't resist the chance to test out a Finn near my home in Ohio. Its low profile makes it easy to get on and off, and the strapped clubs are nestled through a dip in the handlebars, which stabilize the center of gravity and make it almost impossible to jackknife and topple over.
A thumb-­operated "throttle" rests on the right side of the handlebar, and on the left side is a brake. The bike is lightweight enough, at 92 pounds, including the lithium battery, to drive directly onto a green without damaging the course the way a traditional cart does. With a top speed of 15 mph, it feels as much like a motorcycle as a golf cart does a Ferrari.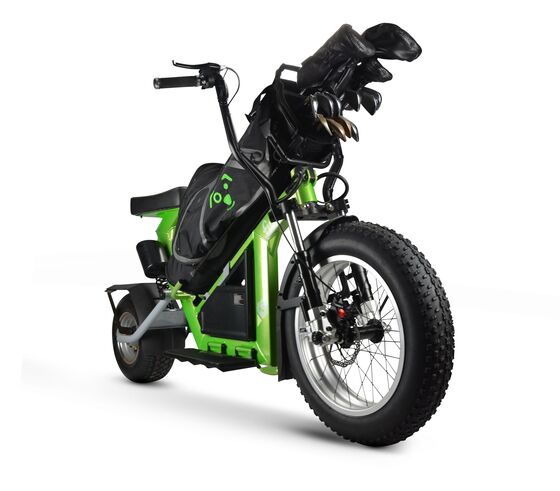 The main problem? Although the Finn can increase your pace of play by allowing everyone to roam quickly and independently, those gains are negated when the course is busy or if you run into a group that won't let yours play through. Brian Jorgenson of Nashville Golf & Athletic Club tells me he's had to learn when to let golfers out on the bike because of how fast they play. Pine Needles' Gilmore has restricted their use to early morning or late evening.
There's also the issue of its appearance. During my test, some curious groundskeepers peppered me with questions about this novelty. Younger people were interested, but I kept picturing the patriarch of a blue-blooded family trying to clamber onto one of these. It felt like a lost scene from Caddyshack.
Then again, the Finn isn't necessarily for current golfers but for future ones who may not know it yet. I tend to agree with Doug Davis, who has four of them at his course in West Lafayette, Ohio: "People enjoy it as an alternative, but it won't be for everyone. I've got 27 holes out here," he continues, "and one guy came out and took the cycle out for 18 holes and brought it back and said, 'That's enough for me. Too much on and off.'"
I'm holding out hope that the Finn spurs courses to get creative with tee times, maybe even having lunch-hour "Finn lightning rounds" to lure more golfers and maximize margins. We'd still have enough time left over for a post-round hot dog.