Fiat's Small-Car Bet Falters With Americans Embracing Big Trucks
(Bloomberg Businessweek) -- When the lease was up on Ed Kim's 2015 Fiat 500L, he and his wife went through four Los Angeles area dealerships before they found one willing to take back the car. Three had dropped the Fiat brand from their stores—including the one that originally leased him the car. "We had this orphaned car in our driveway that we needed to bring back, with no dealership willing to take it in," says Kim. "It was such a weird and bizarre situation."
Kim's troubles are a sign of just how much Fiat Chrysler Automobiles NV's American experiment with stylish Italian microcars has failed to live up to expectations. Fiat brand sales in the U.S. peaked at about 46,000 in 2014, with the addition of the roomier 500L, and have been in free fall ever since. They were down 45 percent year-over-year in the first quarter of 2019, after a 41 percent plunge last year to 15,521, the lowest level since the brand's reintroduction to the U.S. in 2011.
Fiat's misadventures in the U.S. are perhaps a lesson in the futility of trying to get Americans to buy compact cars. A decade ago, as gas prices shot above $4 a gallon and General Motors and Chrysler teetered on the edge of bankruptcy, small cars seemed like a gaping hole in Chrysler's lineup and the key to a more stable, environmentally friendly future. A decade later, trucks, SUVs, and vans make up 70 percent of new U.S. car sales, and the Italian-American automaker is as dependent as ever on American demand for pickups and sport utilities to turn a profit. "The Fiat brand is 99 percent dead at this point," says Alan Haig, president of Haig Partners LLC, a brokerage that helps dealers buy and sell franchises. "My guess is Fiat Chrysler is just going to pretend this problem doesn't exist and let it solve itself—and let people eventually close the doors of Fiat dealerships."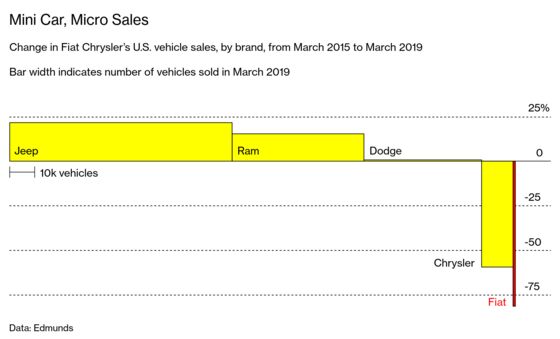 Officially pulling the plug would be a costly exercise for the automaker, since franchise laws dictate that it would have to buy back inventory from dealers to terminate the brand, Haig says. Fiat Chrysler declined to comment for this article.
Fiat Chrysler offers four models in North America: the Fiat 500, 500X, 500L, and the 124 Spider, and it's coming out with a 2019 500X with an all new turbo-charged engine and a special edition of the Spider this spring. The company's five-year strategic plan calls for trimming the Fiat lineup to focus on premium models and a fully electric family of cars designed around the 1950's-inspired Fiat 500. People familiar with the plan said the company would focus the brand on Europe, Brazil, and emerging markets, implying a potential withdrawal from the U.S. and also China, where the small cars have failed to gain traction.
Fiat's China website still shows three models, though a dealer at Beijing Changyi Auto Sales and Service Co. said the cars haven't been available in Beijing for some time, while another at Zhongshan Zhongmeichang Auto Service Co. in Guangdong said she'd been told by Fiat Chrysler that the brand was withdrawing from China.
Sergio Marchionne, the late chief executive of Fiat Chrysler who spearheaded Fiat's return to the U.S. market, insisted on costly standalone stores, dubbed Fiat studios, and ad campaigns featuring Jennifer Lopez and Charlie Sheen. Marchionne himself acknowledged his folly a year into the Fiat initiative: "We thought we were going to show up and just because of the fact people like gelato and pasta, people will buy it," he told reporters at the Detroit auto show in 2012. "This is nonsense."
Today, there are only six standalone Fiat stores left in the U.S., compared with 30 when the brand was reestablished there. The remaining 377 Fiat franchises are attached to Chrysler Dodge Jeep Ram dealerships or Alfa Romeo stores, the result of a 2016 consolidation to help dealers cut costs and boost sales.
Bill Golling, who owns two Fiat franchises outside Detroit, said the brand is the victim of cheap gas prices more than anything else, something that's afflicted the entire U.S. small-car segment. Fiat Chrysler's marketing budget for the brand is "on pause," he says. "If gas was $6 a gallon, we'd be brilliant having Fiat here," he says.
Fiat can't place all the blame on gas prices and consumer whims. Earlier this year, the brand ranked dead last among 33 in Consumer Reports magazine's brand report card. The 2019 500L was named the worst car in the compact-car category. The company says the ranking was skewed by "limited models and sample sizes."
"Fiat has consistently bad reliability, the owner satisfaction is low, and they don't do well on [road] tests," says Jake Fisher, director of auto testing at the magazine. "Really the only advantage to many of them is the fuel economy is fairly good. But we're in a world where fuel costs aren't very high." —With Yan Zhang
To contact the editor responsible for this story: James Ellis at jellis27@bloomberg.net