Fewer Young Men Are in the Labor Force. More Are Living at Home
(Bloomberg Businessweek) -- Are young men living at home because they're not working? Or are they not working because they're living at home? Hard to say, but either way, the trends are clear: More American males aged 25-34 are living in a parent's home, and fewer are participating in the labor force. Here are the charts: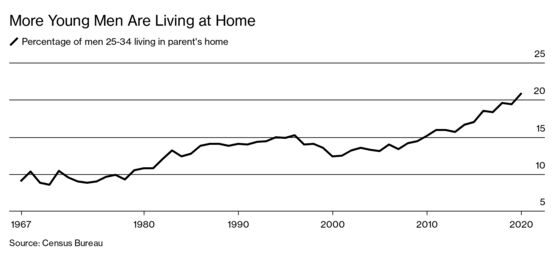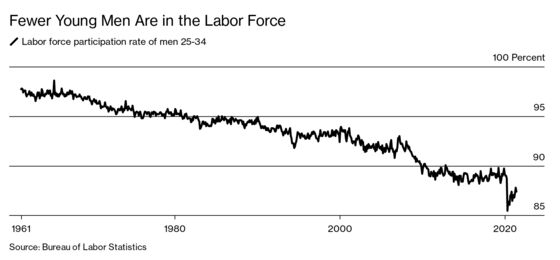 There's no way to tell from this set of data what the overlap is: i.e., how many young men are living in the home of a parent or parents while also being out of the labor force. But there's undoubtedly a connection. The parental home can be a refuge, but also a trap that keeps young men from launching their careers. (Labor force participation by women of the same age increased rapidly for decades, though it has sagged recently. They're also less likely to live in a parent's home at that age.)
The Conference Board, a business-supported research organization, has created a chart breaking down the living-at-home contingent by educational attainment. For those with a bachelor's degree or more, the increase has been modest, from around 10% in the mid-1990s to around 13% this April. For those with less than a bachelor's degree, the increase has been steeper, from around 15% in the mid-1990s to nearly 25% this April.
The Conference Board states unequivocally: "A growing percentage of young men without a bachelor's degree are living at home. This trend is contributing to a lower labor force participation."
To be out of the labor force means that you don't have a job and you're not actively looking for one. Improvements in video-game technology help account for young men's detachment from the labor force, according to a 2017 paper by economists from Princeton, the University of Chicago, and the University of Rochester. It found that an increase in the playing of video games by men 21-30 accounted for somewhere between 38% and 79% of the differential in the decline in their time spent on paid work vs. the smaller decline of work by older men. 
Make no mistake, though, for a young man who's not working the couch isn't a bed of roses. "About half of prime age men who are not in the labor force may have a serious health condition that is a barrier to working," the late Princeton economist Alan Krueger wrote in the Brookings Papers on Economic Activity in 2017.
Added Krueger: "Nearly half of prime age men who are not in the labor force take pain medication on any given day; and in nearly two-thirds of these cases, they take prescription pain medication."