Fevertree Takes Its Drinks Playbook to the U.S., With a Twist
(Bloomberg Businessweek) -- The trip Tim Warrillow took in 2004 was epic: He flew from London to Nairobi, then hopped a flight to Kigali, then another to Kamembe. From there, he persuaded a taxi driver to take him through rural Rwanda and across the Congolese border. Along the way, he paid off militias armed with rocket launchers and gangs wielding nail-studded boards. Almost 24 hours after leaving his home in west London, he got to his destination, a cinchona plantation in eastern Congo. What was he after? Tree bark.
The bark from the cinchona tree contains quinine, the bitter chemical compound in tonic water that balances the citrus from lemons and limes. As interest in artisanal gin surged, Warrillow had dreamed of creating a lineup of premium mixers. He sought an opportunity to displace giants such as Schweppes, which had sat atop the tonic business for decades, and he saw real quinine from Congo as key to standing out. The fact that most low-end tonic was—and still is—flavored with artificial quinine was perplexing to Warrillow. "When you stop and think that three-quarters of that gin and tonic, at least in the U.K., is tonic, why aren't more people interested in the tonic water?" says Warrillow, 46, co-founder and chief executive officer of Fevertree Drinks Plc, which today owns Britain's top brand for tonic.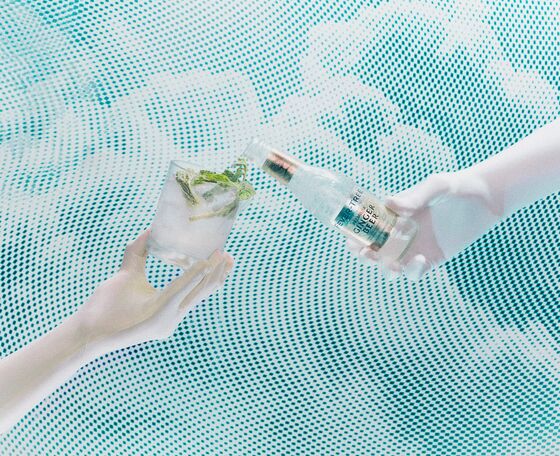 Since its 2005 launch in the U.K., Fevertree has employed a combination of natural ingredients, sleek packaging, and deft marketing to overtake rivals. The purveyor of mixers branded Fever-Tree is betting a similar playbook—with a twist—will let it replicate its U.K. success in the U.S., the world's largest spirits market, where a burgeoning cocktail culture has opened the door.
In the U.K., Fevertree made its debut espousing similar values as the makers of craft liquor. "Spirits were talking about provenance, quality, and flavor, and the mixer category was really quietly focusing on cost engineering and manufacturing efficiency," Warrillow says. The company spent years working to establish the brand, win over bartenders, and build out the distribution, and it steadily took over store shelves and bar fridges. Copycat efforts such as Schweppes's 1783 premium tonic have failed to gain traction, and rivals including Double Dutch and Fentiman have remained much smaller. Fever-Tree has become the mixer of choice in about 40% of gin and tonics in the U.K., according to figures from data tracker Nielsen. Schweppes, in second place, is mixed in about a third of them. Fevertree's U.K. revenue soared to more than £130 million ($183 million) in 2019, from £1.7 million in 2009, as it expanded beyond tonic into other mixers. Fevertree, with a current market value of about £3 billion, saw a sharp drop in sales on its home turf during the pandemic, which upended its business with bars and restaurants.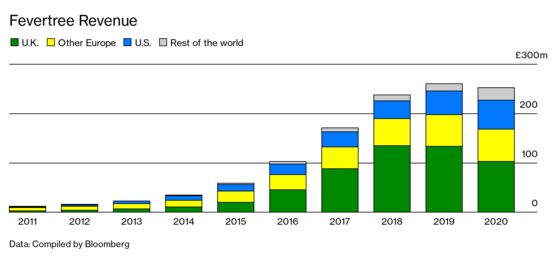 Even before the coronavirus outbreak, the company's sales growth in the U.K. was starting to level off, prompting it to turn its focus to the other 80 countries where its mixers have a presence—particularly the U.S., where it puts the premium spirits market at about 11 times the size of the U.K.'s. "So many great quality spirits are destroyed by poor quality mixers, and the opportunity to transform every drinking experience in North America was just irresistible," says Charles Gibb, previously the head of Belvedere vodka, who joined Fevertree in 2017 to run its North American business. Fevertree is hoping to benefit from a growing preference for mixed drinks in America. A broader shift in the liquor industry also helps: After steadily luring drinkers away from beer and wine in the past decade by playing up the craftsmanship and lower calorie count of their products, makers of hard alcohol such as Jim Beam are promoting the notion that such liquids are improved when cut and mellowed with mixers.
Fevertree's initial foray into the U.S. was bumpy, mainly because its products were too expensive. It's had to lower its prices to 3 to 4 times the mainstream price—what it calls an "affordable premium" price—from 6 to 7 times. The company entered the U.S. in 2007 and has gradually expanded the business, securing a national distribution agreement and partnerships with Delta Air Lines, MGM, and Wynn Resorts. Fever-Tree has recently overtaken Canada Dry to become the second-largest brand of tonic water there, after Schweppes.
The fastest-growing spirits sales in the U.S. are tequila, cognac, and bourbon and other domestic whiskeys, so Fevertree has adapted its product line of sodas and mixers to suit. Its Madagascan Cola and Smoky Ginger Ale are challenging the likes of Coca-Cola Co. and Canada Dry, albeit from a very low base. Sales of its two most recent entrants—a sparkling grapefruit soda and a lime and yuzu mixer, which were promoted alongside popular tequila brands such as Herradura and Milagro to make palomas and margaritas on Cinco de Mayo—helped the company's U.S. sales, excluding bars and restaurants, soar 38% in the first quarter from the same period a year earlier. The scale of the U.S. market is part of why U.K. investor Royal London Asset Management is a shareholder, says senior fund manager Craig Yeaman. "If we look at where Fevertree can get to in the U.S., that's the great unknown, but it's not inconceivable that Fevertree could grow to at least five times its current size," he says.
As drinking venues reopen, Gibb is seeking to unseat "the biggest competitor to us there—that horrible soda gun." He says the passionate work of distillers is routinely being destroyed when, for example, a gin is mixed with an industrial tonic that unceremoniously travels through the same hosepipe thousands of times a night. "No bartender really wants to be spraying drinks with a gun."
 
Read next: Key Ingredient of Luxury Skin Cream Yields $11 Billion Fortune