FEMA Aid Helps White Homeowners Most
(Bloomberg Businessweek) -- Junia Howell, a professor at the University of Pittsburgh whose work deals broadly with race and socioeconomic inequality, once lived in a depressed area of Houston and saw how frequent flooding affected her neighbors. She studied the impact of natural disasters on wealth in the long term and found that extreme weather events are exacerbating inequality—not just because of who the victims are, but also because of how society distributes disaster relief. Thanks to insurance payouts, white, college-educated homeowners who were affected by a large-scale disaster generally saw an increase in their long-term wealth. Most black victims, on the other hand, ended up worse off. Those patterns extend to disaster payments from the Federal Emergency Management Agency, which disproportionately help white homeowners in higher-priced areas, according to Howell. "FEMA aid is constructed to restore property," she says, "not people's lives."
"FEMA does not base disaster assistance on race, color, sex, political affiliation, religion, national origin, age, disability, language proficiency, education level or economic status," says Jessica Nalepa, FEMA's director of external affairs. "FEMA case workers do their absolute best to work with families after a disaster when many decisions are being made about recovery."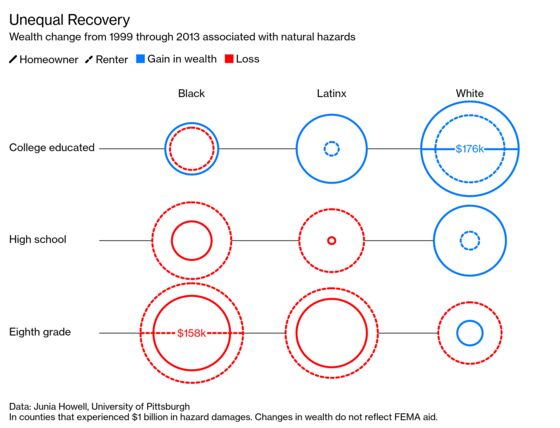 • FEMA paid out 95,235 flood loss claims in 2017, up from 12,907 in 2014.
• Disparities in the distribution of FEMA aid left less economically stable victims, regardless of race, worse off.
• Howell found that white people were the most likely to benefit, except for those with the least education.
To contact the editor responsible for this story: Jillian Goodman at jgoodman74@bloomberg.net