This Is Jerome Powell's Shot at a Volcker Moment—in Reverse
(Bloomberg Businessweek) -- The pundits are coming for the Federal Reserve and Chair Jerome Powell. Mohamed El-Erian, chief economic adviser to Allianz SE and a Bloomberg Opinion columnist, recently said the central bank has made one of the worst inflation calls in its history. Writing in the Financial Times, the economist Willem Buiter called on the Fed to abandon the more flexible inflation target it established last year. The White House is feeling the heat: Polling on the handling of the economy is dismal, with inflation a key contributor. There's plenty to make voters unhappy: Prices for gas and food are up. Rents are rising. Used-car prices are surging.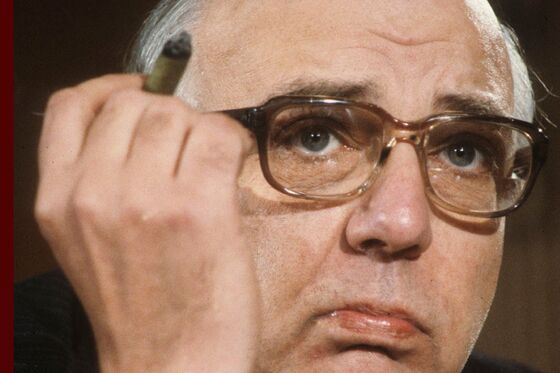 For many of today's leading policymakers and economists, the 1970s inflation and the discontent it caused are hard to forget. Among this group, former Fed Chairman Paul Volcker is regarded as a brave public servant—the one person who had the will to break that inflation through a series of politically unpopular rate hikes that induced a recession. And now there's pressure for Powell to pull a Volcker of his own and pivot hard to fighting higher prices. It seems like the obvious lesson of history.
But what would pulling a Volcker actually look like in 2021? Perhaps it would be the exact opposite of what people imagine. Because despite elevated inflation, the Fed is nowhere close to maximum employment, which it's mandated to promote alongside stable prices.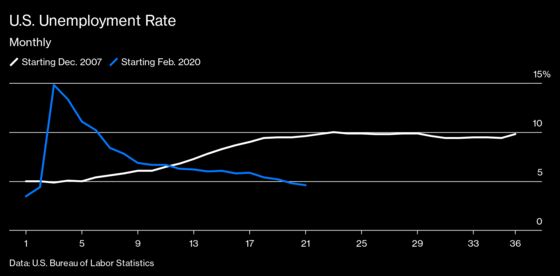 The unemployment rate right now is 4.6%, vs. 3.5% pre-Covid. But that gap, which captures people who say they are looking for work, disguises a much bigger hole. Total nonfarm payrolls stand at 148 million, 5 million below the 153 million before the pandemic. Assuming the economy was going to keep growing before the coronavirus kicked it off course, the actual shortfall may be closer to 8 million. Labor force participation among prime-age workers, 25 to 54 years old, is 81.7%, compared with 83% pre-pandemic.
The shortfall in employment comes after a decade of a painfully slow recovery for workers following the financial crisis. So it's not just that there's still a hole left to fill on the jobs side. There's been a broader recognition at the Fed that for years it missed its employment goals or underestimated how strong the labor market could get without triggering sustained inflation.
At the 2020 Jackson Hole conference, Powell unveiled "flexible average inflation targeting," the central bank's new approach to thinking about when to raise rates. It was aimed at avoiding past errors: the premature tightening cycles that slowed job growth. The idea was that after a long period of inflation coming in low, it would be all right to let prices run a little hotter—to average things out—before raising rates to cool things down. Since then, Powell has stressed the Fed's commitment to achieving maximum employment before allowing rates to lift off again. Then the consumer price index rose 6.2% in October over a year earlier, bringing inflation anxiety to a boil.
Let's go back to Volcker. His tenure looms large in the minds of modern central bankers, economists, and pundits—not just because inflation declined under his watch, but also because he cemented the notion of "credibility." Central bankers love to talk about the credibility they earned (by demonstrating a willingness to fight inflation at every turn) as a reason for years of mild price increases.
This credibility is cherished. Powell now has the opportunity to redefine it so it applies to both sides of the Fed's mandate—not just to inflation but also to labor. Since the pandemic hit, he has made a commitment to delivering maximum employment, and it's paid off with a fast recovery from what could have been a worse economic disaster. Pulling a Volcker now might entail ignoring politicians, Ph.D. economists, and various editorial boards who all want a fast turn to inflation-fighting mode. Pulling a Volcker might mean having the confidence to see through pandemic-driven, elevated CPI numbers until the job is done getting people back to work.