Fear of Gun Control Laws Might Help Replenish the NRA's Coffers
(Bloomberg Businessweek) -- The National Rifle Association may be about to reap a bounty from an unlikely source: congressional Democrats.
If history is any guide, a Democratic push for gun control measures once the party assumes control of the House of Representatives in January would send money pouring into the NRA's coffers before the 2020 election. "They're going to be growing when their issue is under threat," says Richard Feldman, a former NRA lobbyist who supports gun rights but has been critical of the organization. Democratic control of the House produces that kind of threat.
It couldn't come at a better time for the NRA. While the organization won't release 2018 funding numbers until later this year, it saw a huge drop in revenue in 2017, to $312 million from $367 million in 2016, the group's most recent tax filing shows. In the 2018 midterms, the NRA and its PAC spent just $10 million backing or opposing candidates, a 64 percent drop from the $28 million it contributed to races in 2014 and a small fraction of the $55.6 million it spent in 2016.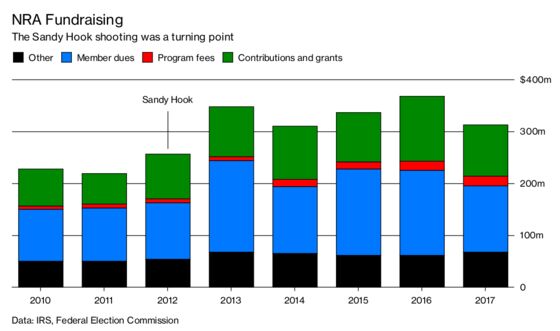 "To gun people it was all about guns," Feldman says of the 2016 election. The NRA played a critical role supporting the candidacy of Donald Trump, whose low-budget campaign didn't start buying television ads in battleground states until August. The NRA filled the gap. Starting in June 2016, it ran ads attacking Hillary Clinton for everything from her position in favor of greater gun control to her alleged responsibility for the 2012 terrorist attack in Benghazi.
The NRA's record run of spending began several years earlier, and dues from NRA members reached a 10-year high of $175.6 million in 2013. The increase came in the wake of the December 2012 shooting at Sandy Hook Elementary School in Newtown, Conn., that left 27 people dead, including 20 children under the age of 8. The NRA raised $348 million overall in 2013, $91.7 million more than during the 2012 presidential election year. 
The massive growth in membership revenue coincided with the record demand for guns, ammunition, and associated products that occurred during President Barack Obama's second term. As his administration pressured Congress to pass gun safety laws in response to Sandy Hook, sales exploded. Guy Lemakos, owner of Phoenix Ordnance in Pinellas Park, Fla., says he couldn't keep items in stock, while others became so expensive he wouldn't carry them even when they were available. "We probably did 10 years of business in four," he says. That slowed quickly after the 2016 election, something he and others weren't prepared for. "Everybody expected Hillary to win," he says, which would have prolonged the boom.
Instead, the industry went into what's been called the Trump slump: With little prospect of new gun control measures, including bans on semiautomatic rifles such as the AR-15, buying slowed. The NRA recruits members through gun shows, at gun dealerships and shooting clubs, and via retailers that sell associated goods such as hunting clothes. Some of its certified instructors, who teach basic pistol courses and concealed carry classes, also recruit members, in exchange for a portion of the revenue they generate. "Make freedom your business," the group's website says, promising as much as $25 for every new recruit or renewal submitted.
Many in this recruiting network who spoke to Bloomberg Businessweek insisted on remaining off the record. They called Newtown a major turning point in the U.S. gun rights movement, with the current funding slowdown perhaps less a slump than a return to pre-Sandy Hook fundraising levels. In the five years after the shooting in Newtown, the NRA took in an average of $335 million per year, $97 million more than in the five years prior. One recruiter who works gun shows in Virginia, who asked not to be identified because he's not authorized to speak for the group, says that as business dwindled, so did the numbers of those signing up for or renewing memberships. Fewer people attending shows meant fewer sign-ups, he says, and the pace didn't pick up before the midterms. 
The NRA sent an email pitch a few days before Christmas, under the signature of Oliver North, its president, that didn't point to any specific bills or laws to watch for in the next Congress, though if Democrats push the issue, that will soon change. Instead, the letter asks members to recruit more. "My mission is to double our membership," the pitch reads, "and make NRA stronger in the battles to come." Included in the email is a link to a form on the NRA's website that members can use to sign up their friends and family. 
To contact the editor responsible for this story: Jillian Goodman at jgoodman74@bloomberg.net