Facebook Watch Isn't Living Up to Its Name
(Bloomberg Businessweek) -- Three long years ago, when the world knew little about Cambridge Analytica and laughed off the specter of fake news, Mark Zuckerberg had a very different kind of problem. Facebook wasn't adding many more users in key ad markets, so it needed to figure out how to wring more money from its existing audience. Although the company accounted for an impressive 45 minutes of its average user's day, that wasn't in chunks big enough to send them the ever-growing number of ads at the heart of the company's business model. The average Facebook session lasted less than 90 seconds, according to people familiar with the matter—while you were waiting in a checkout line, trying to avoid eye contact between subway stops, or sitting on the toilet. Zuckerberg and other executives decided to try to boost that number by pushing their way into a much older kind of advertising model: TV. Like a lot of things at Facebook these days, it's not going great.
You're probably not watching much Facebook Watch. The company committed about $1 billion last year to buying shows for its streaming video tab, reasoning that even a single hit could leach a significant piece of the average two hours Americans spend in front of the TV, or the Facebook-level amount of time they spend on Google's YouTube. It hasn't produced a hit like the Netflixes, Amazon Primes, and Hulus of the world. So far, some of its biggest names have been network castoffs (MTV's Loosely Exactly Nicole) and refugees from other streaming services (Comcast Watchable's I Want My Phone Back). When Facebook reports its quarterly earnings on Jan. 30, investors and analysts will mostly be listening for news about ad sales for its messaging apps and the stories feature it copied from Snapchat.
While researcher EMarketer estimates that Facebook as a whole will take in nearly double YouTube's $4.3 billion in video ad sales this year, it expects Watch to account for a single-digit percentage of that figure. "I don't think it's yet become a must-buy for brands," says Abbey Klaassen, chief marketing officer at New York marketer 360i. "They are in a stiff competition for this kind of advertising and inventory." Last summer, a year after Watch went live in the U.S., half of consumers hadn't heard of it and three-quarters hadn't used it, according to researcher Diffusion Group.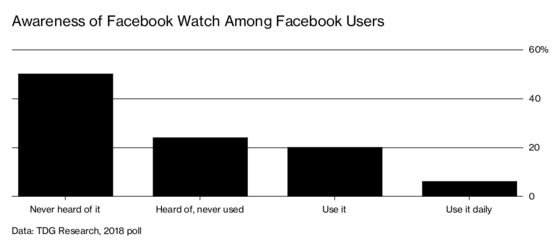 "I think we're making a ton of progress," says Matthew Henick, Facebook's head of content strategy and planning, who just pitched the service to advertisers at this year's CES, the annual consumer electronics show in Las Vegas. Seventy-five million users use Watch each day, Henick says. About 1.5 billion people use Facebook daily.
The stakes are higher for Facebook than they were a few years ago. This past July, the company warned investors to expect slowing revenue growth and narrower margins over time, due to the fact it's already signed up most humans with an internet connection, its service has fundamental problems that would be very costly to fix, and partly because it's spending a lot on initiatives like Watch. The announcement wiped out a record-breaking $120 billion of Facebook's market value in a day. All told, the company lost 26 percent of its value in 2018.
It's perhaps less of a surprise, then, that Watch is so thirsty. An annoying, persistent red notification dot over the Watch icon on Facebook's home screen produces an itch-you-can't scratch feeling, one that isn't much alleviated by the thin lineup if you do click through. The videos start playing automatically—allowing Facebook to bolster its statistics, but not helping its case that people are watching them intentionally. And the tab is packed with ads, including banner ads that appear below the video while it's playing and, in some cases, pre-roll ads that play before it starts.
This wasn't quite what Zuckerberg had in mind back in 2016. He considered Watch a direct competitor to YouTube, which in some markets was starting to beat Facebook in terms of time spent, says a person familiar with the matter. When Watch was first conceived, the CEO insisted, among other things, that there be no pre-roll ads, especially given how short the sessions on Facebook tend to be, according to another person familiar.
Now Facebook and its advertisers are taking a kitchen-sink approach to Watch revenue, including making branded videos and selling subscriptions, as the company struggles to persuade people to lounge with its social network at night. "We just haven't figured out how to make it a superpower of ours," Henick says.
Watch can still be successful if Facebook hews to a modest view of what success looks like—snatching ad dollars from cable and YouTube on the margins. Unlike big spenders like Netflix, Facebook has said it doesn't intend to pay upfront for shows in the long term. Its idea is that shows will be able to attract enough viewers on Watch so that the producers' share of Facebook ad revenue will account for their compensation.
That's assuming, of course, that people are watching. Facebook still has a lot to prove on that front, says Jeff Ratner, chief media officer at ad agency iCrossing. "It's been up and running for a while now, but there's no indication it's getting major traction from users," says Ratner. And as Mark Wagman, a managing director at consulting firm MediaLink, notes, even Facebook can't coast on its size if it can't differentiate itself from all the other streaming TV options online. The big question for advertisers, says Wagman: "Am I buying into something I can't get anywhere else?" —With Gerrit De Vynck
To contact the editor responsible for this story: Jeff Muskus at jmuskus@bloomberg.net