Facebook's Profit Margin Is Shrinking, But Not for the Reason You Think
(Bloomberg Businessweek) -- Mark Zuckerberg has repeatedly told investors and Congress that Facebook Inc. will spend so much to safeguard its social network against foreign propaganda, hate speech, and data thieves that it will seriously hurt its bottom line. The message: The company will do the right thing, no matter the pain it causes.
It would be nice to believe that Facebook would give up a touch of profit to repair the damage it's done to the world. But reality isn't so simple. The company's profits are squeezed because it's spending more on everything, and many of those costs are unrelated to dragging social networking out of its cesspool. Mostly, it's the cost of being Facebook that's driving up expenses and hurting the profit margin.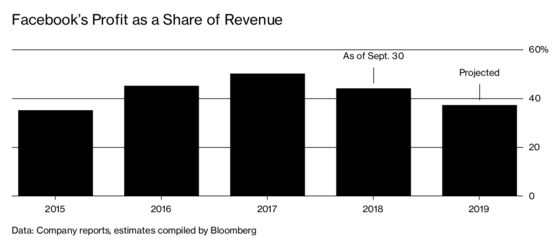 Facebook says it has consistently cited multiple factors for the increase in spending, which has grown by $7 billion, or 47 percent, this year through Sept. 30. The biggest reason is a category called cost of revenue. That includes operating the company's computer equipment and undersea cables to push data between continents, plus money for web video programs that air on Facebook's televisionlike digital hubs. Cost of revenue does not include hiring contractors to flag hate speech in Myanmar or developing artificial intelligence to spot accounts trying to manipulate elections.
Yes, Facebook is spending more on its nobler missions, such as creating a system to verify the identities of people buying political messages on the network. But it's also spending on marketing and engineering. The causes of its rising expenses are more complicated than the feel-good tale that Zuckerberg's company is selflessly digging into its profit pile to protect the world.
 
● Smooth Sales Pitch
"I want to be clear about what our priority is: Protecting our community is more important than maximizing our profits." That's what Zuckerberg told the House of Representatives in April.
 
● Spending Spree
Cost of revenue contributed $2.7 billion to Facebook's expense growth in 2018 through Sept. 30. That's up 71 percent from 2017.
 
● Spread the Wealth
Facebook's spending is up this year across the board. The next-biggest growth areas were marketing and sales (up 60 percent) and general administrative costs (up 35 percent).
 
● Leaner Times
The social network's profit margin has increased steadily in the last few years. That's likely to end in 2018, and next year could see a further squeeze. Stock investors are anxious about the hit to Facebook's margin, which has been among the plumpest in technology.
 
Ovide is a technology columnist for Bloomberg Opinion.
To contact the editor responsible for this story: Jillian Goodman at jgoodman74@bloomberg.net