Deleting Facebook Is Harder Than Attacking It, Lawmakers Find
(Bloomberg Businessweek) -- For years, Nancy Pelosi has been so fed up with Facebook's "shameful" behavior that the company's lobbyists are banned from her office. But if you want to watch her weekly press conference, you have to click over to her Facebook page, the only place where her livestream is available to the public.
Facebook is so crucial for reaching voters—and raising money—that it's hard for elected officials to quit the platform, even as they bemoan its corrosive influence on public discourse and American democracy. Pelosi, the speaker of the House, has shunned the company since 2019, when it declined to remove a doctored video that her opponents spread to make it appear she was slurring her words. But she still has an official page on the site with more than a million followers.
Washington's anger at Facebook has only grown since a whistleblower last month disclosed internal research detailing the individual and societal risks associated with its platforms. But even the members of Congress threatening to subpoena Chief Executive Officer Mark Zuckerberg and pushing to break up the parent company, now known as Meta Platforms Inc., use Facebook to broadcast events, interact with constituents, and add to their campaign mailing lists.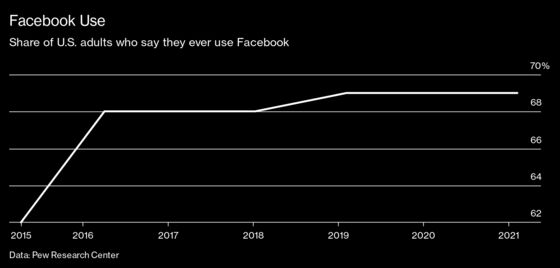 Facebook uses its omnipresence and utility to its advantage on the Hill, deploying digital consultants to offer training on new features. In pre-Covid times, Facebook staffers held office hours at the Dunkin' in the basement of a House office building. If a Democratic or Republican office in either chamber needs a livestream tutorial or help getting an official account verified, they know who at the company will pick up the phone.
For Facebook lobbyists seeking an audience with lawmakers who are often peeved about something happening on the platform, this kind of customer service is an asset. Katie Harbath, who spent 10 years at Facebook building up the team that supports congressional offices before starting her own consulting company in April, says there was a constant exchange between the policy and support teams.
Twitter Inc. and Alphabet Inc.'s Google also reach out to congressional offices, but on nowhere near the same scale, according to several aides of both parties who oversee digital strategies. The timeline-based format of Twitter and the video-only options for Google's YouTube are simpler, the aides said, and neither platform offers the constant interaction with constituents and broad scope of Facebook. In a survey earlier this year by Pew Research, more than two-thirds of U.S. adults reported using Facebook, compared with 23% for Twitter and 21% for TikTok.
Although Facebook's customer service may not earn enough congressional goodwill to stave off new regulation, the difficulty in quitting Facebook illustrates the platform's resiliency. Even with the recent onslaught of bad news for the company, the movement to delete accounts hasn't caught on in Congress.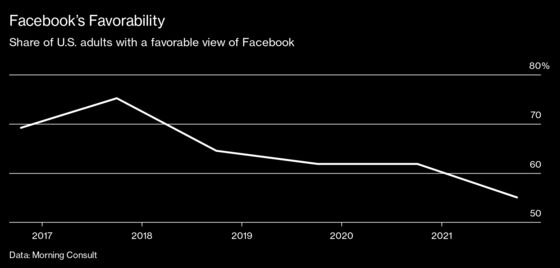 "I do have grave concerns about the impact of Facebook and Instagram on consumers, on our society, on our politics," says Senator Chris Coons, the Delaware Democrat who chairs the Senate subcommittee on privacy. "But those concerns have not led me to conclude that I should abandon using Facebook as a means to communicate with my constituents."
There are two main ways that most members of Congress use Facebook. A lawmaker's official page will often feature content designed to get her message out—videos, press releases, statements—and sometimes to get feedback from constituents. A separate campaign page will host election-focused content and will usually be the vehicle for running ads. (Facebook halted political ads the week before last year's presidential vote, a ban that mostly continued in the months after the election; it resumed selling ads on politics, elections, and social issues in March.)
Facebook still offers close support for lawmakers' official pages, but it's created some distance between its ad managers and political campaigns since the widespread criticism of its employees advising the 2016 Donald Trump campaign. Those revelations infuriated Democrats, but they haven't dampened their spending on Facebook ads. The Democratic Party has spent $12.9 million on Facebook ads since May 2018, according to the company's ad library. Pelosi's political campaign page spent $2.3 million from May 2018 to June 2020.
Republicans have their own complaints about Facebook, namely that it censors conservative viewpoints with no explanation. Still, the official GOP page has spent $15.2 million on Facebook ads since May 2018. Kevin McCarthy, the top House Republican and first hopeful in line to become speaker if the GOP wins the House next year, also spent $2.3 million. McCarthy often complains about Big Tech's treatment of conservatives and has called for legislation to revoke the legal protection shielding online platforms from liability for user content. But he says Facebook is where the voters are, and no other tool can offer the same kind of reach.
"People have been frustrated by it, but if you measure on there, you still have a lot of conservatives on Facebook," McCarthy says. "If you get mad at a phone company, how are you still going to communicate with somebody?"
Democrats have broader complaints: They say the company's platforms have been used to erode trust in democratic institutions, fuel an increase in hate crimes, and seed doubt in public health guidance during a deadly pandemic. Their disillusionment largely began with former President Trump's 2016 win, which U.S. intelligence officials say was aided by Russian operatives on Facebook. Then there was the Cambridge Analytica scandal, when a Trump-affiliated company obtained Facebook user data without consent. The Jan. 6 attack on the Capitol was partly planned and livestreamed by some users on Facebook.
Now the allegations from Frances Haugen, the former Facebook product manager-turned-whistleblower, that Facebook put profit over its users' well-being has renewed calls for tighter privacy restrictions and more transparency in how online platforms disseminate content. But none of these proposals has gotten traction so far, and tech companies are lobbying against measures they say could have unintended consequences for the broader internet.
Some talk is starting among digital strategists and ad buying companies about cutting back on Facebook ads because of ethical concerns. But it's hard for campaigns to rule out Facebook altogether, because it's the most likely place to get any demographic to click on an ad or a petition, usually handing over an email address in the process, says Beth Becker, who started her own digital strategies firm catering to liberal politicians and causes.
"There's no swath of the population that doesn't have a huge number of people who use Facebook regularly," she says. "I hear a lot of people talking about, 'Oh, we shouldn't be doing this anymore,' but I have yet to see anybody not be doing it anymore," she says.
Some have pointed out that Facebook's ubiquity is a sign of a different problem: that the company has monopolized the social media space, despite some smaller competitors. "Facebook is totally out of control, irresponsible in the manner in which they've conducted themselves," says New York Representative Hakeem Jeffries, who as chair of the House Democratic caucus advises the rest of the party on policy and communication. "It highlights the problem when you have intense market concentration by an irresponsible actor, because that irresponsible actor understands that there are no alternatives." (Jeffries's official page, which is regularly updated, has about 85,000 followers.)
One Democrat recently announced that he deactivated his Facebook account. Maryland Representative Dutch Ruppersberger said on Oct. 27 that the company's "business model sows division and disinformation." His spokeswoman, Jaime Lennon, says his modest official page had become so toxic with out-of-state trolls that their digital director avoided looking at it before going to bed.
So far, no other member of Congress appears ready to join Ruppersberger. Illinois Representative Raja Krishnamoorthi, chair of the House Subcommittee on Economic and Consumer Policy, says he so mistrusts Facebook that he wouldn't use the company's messenger service for private communication. But when asked whether he'll continue to use it in an official capacity, he says, "Absolutely."
 
Read next: Why Did Facebook Change Its Name? And Why It May Need to Do More Than That