As Lockdowns Make Vision Worse, Big Tech Eyes an Opportunity
(Bloomberg Businessweek) -- If you're squinting a bit to read this—whether on a screen or on paper—you're not alone. The pandemic has taken a terrible toll on our eyesight. Almost a third of Britons told the College of Optometrists their vision had deteriorated during lockdowns. In China shortsightedness tripled among 6- to 8-year-olds, and some 80% of high school students there now suffer from myopia. Eyewear maker Warby Parker Inc. told prospective investors in its September initial public offering that increased screen time was fostering more demand for its products.
But what's a bummer for you and the three-fourths of Americans who use corrective vision is a big opportunity for the tech industry, which has its eye on those precious inches around the bridge of your nose. The Silicon Valley companies working on smart glasses are betting it will be easier to persuade people who already sport specs to try out their vision of the future. If you wear glasses, you're a pretty good candidate for whatever whiz-bang products the likes of Apple, Amazon, and Facebook—er, Meta Platforms Inc.—are planning for a category that Verified Market Research predicts will more than triple in value by 2028, to $29 billion.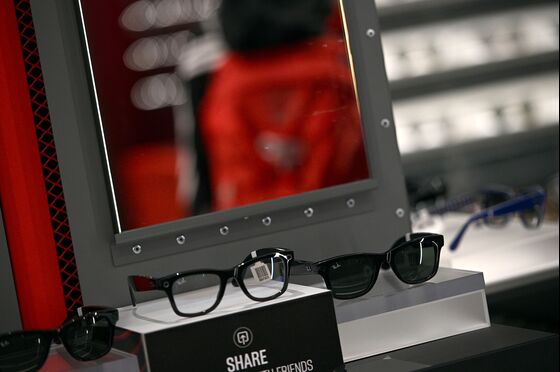 Meta in particular has started talking up the so-called metaverse. Its Oculus VR unit already makes virtual-reality goggles that immerse you in a computer-generated world. Next up is augmented reality, a more complex technology that superimposes information and graphics on your field of view. To interact properly with the environment, the image needs to be high-quality and highly responsive, as any lag can leave the user feeling queasy.
But as more models hit stores in the next few years, they're likely to be exorbitantly expensive. Microsoft Corp.'s HoloLens smart glasses, for instance, start at $3,500 (which is why it's currently aimed at the corporate market). Sure, some early adopters will splash that sort of cash, but most consumers—with scant understanding of this new product category—will want to try it before they buy. After all, it took a few years to educate consumers about smartphones, even if today they understand that the interface and software are largely what differentiate one glass-and-aluminum rectangle from the next. "If you look at Apple Watch, as cool as it was, when it first came out it was very hard to find somebody with one," says Marty Resnick, an analyst at Gartner Inc. "Glasses will be the same. You'll have the early adopters, but it will be a while before they become an accessory."
A frequently overlooked challenge for smart glasses, then, is distribution. Amazon.com Inc., of course, has unequaled reach with consumers. At Apple Inc.'s 500-plus stores worldwide, customers can buy stuff and also get to know iPhones, iPads, Macs, and more without a hard sell. Even Microsoft sold $22 billion worth of Xboxes, tablets, gear, and games last year.
Meta, by contrast, is a laggard in this respect, and its hardware efforts have so far proven something of a bust. Oculus is a long way from conquering the world, Facebook Portal smart displays have been beset by concerns about user privacy, and there are no Facebook or Meta retail outlets where would-be shoppers can sample company gear.
But Meta does have one weapon that could catapult it to the head of the pack. In September, Facebook released Ray‑Ban Stories: glasses with built-in cameras and headphones that let you make calls, listen to tunes, and shoot photos and videos. Meta benefits from Ray-Ban's styling and appeal among the hipster set, but far more consequential is the relationship with the eyewear maker's parent, EssilorLuxottica SA.
The French-Italian company's brands include Oakley and Ray-Ban, it makes glasses for the likes of Burberry, Prada, and Versace, and it owns LensCrafters, Sunglass Hut, Vision Direct, and more than a dozen other retailers. Its 8,000 locations make Apple's outlets look pretty skimpy, and its share of the global eyewear market is orders of magnitude bigger than that of its nearest rival—a big advantage in eyewear sales, which rely heavily on brick-and-mortar stores. "The buying decision is very much linked to the physical trial," says Delphine Le Louët, an analyst with Société Générale SA. "It's very hard to order online."
Just about everyone in Silicon Valley has tried to cozy up to EssilorLuxottica over the past decade, and Alphabet Inc.'s abortive Google Glass had a partnership with the company before it fizzled away. For now the arrangement with Meta focuses primarily on Ray-Ban, but EssilorLuxottica executives know they could be kingmakers. If Meta can persuade Italian billionaire Leonardo Del Vecchio—the eyeglass company's controlling shareholder—to stock its augmented- and virtual-reality glasses, it would go a long way to closing its distribution deficit to Apple and Amazon. EssilorLuxottica declined to comment. Meta praised Del Vecchio's company for its role in creating Ray‑Ban Stories but wouldn't discuss details of the partnership.
The first generation of augmented-reality glasses is likely to require tuning to users and their prescriptions, so it will be more complex than buying them off the shelf at Best Buy or dropping them into your online shopping basket. Opticians could play an essential role, as will laboratories that manufacture lenses—ideally in close proximity to the factory where the frame is made so they can be shipped together. EssilorLuxottica owns just such a manufacturing network. "If you were a sunglasses store, and you became not just the sunglasses provider but the help desk for these goggles, then you can start to see a new model opening up," says Jeff Wong, the chief innovation officer at consultants EY. "All the things a consumer-electronics store might currently do."
Del Vecchio must of course ensure that any deal is worth his while. To license the technology for Ray-Ban Stories, EssilorLuxottica pays Meta a small slice of the $299 sticker price. Meta's priority will be quickly getting its glasses into the marketplace, because plastering your smart specs with ads is a bigger potential moneymaker than the device itself. In the U.S. and Canada, it already makes $159 per user annually from advertising. So it can afford to give Del Vecchio a more generous cut, letting him preserve the 60%-plus gross profit margin that he considers sacrosanct.