Europe's Android Ruling Gives Google Rivals a Glimmer of Hope
(Bloomberg Businessweek) -- Believe it or not, there are still would-be Google challengers in Europe. One of them is Qwant, a French startup that says its search engine doesn't track users or filter search results. Earlier this year, when Chief Executive Officer Eric Leandri pitched phone makers on shipping their devices with his search engine installed on them, "the answer at that time was 'zero chances,' " he says. Following a swell of interest this summer, he's been working on a deal to install Qwant on one big brand, which he declined to name, that turned him down in March. "Something has changed," Leandri says.
That something is the European Union's antitrust landscape. The EU's $5 billion July ruling against Google's Android operating system also demanded changes to reduce the company's self-promotion on Android devices, and it's giving beleaguered rival search engines and web browsers a rare chance to compete. They aren't getting their hopes up too much, of course. Google parent Alphabet Inc. has said it would appeal the ruling before an Oct. 10 deadline. It has been so dominant for so long that hardly anyone is left in Europe to mount a credible offensive. Still, this is the best chance that potential competitors have had in many years. Google didn't respond to requests for comment for this story.
The EU antitrust ruling turned in large part on the contracts that require Android phone makers to preinstall Google's search engine and Chrome browser on their devices in exchange for the use of Google's app store, Play. The agreements essentially guarantee that the company's search engine and browser are prominently displayed when users fire up their phones. That's helped Alphabet lock down more than 97 percent of European mobile searches and almost two-thirds of the mobile browser market, according to internet traffic analyst Statcounter.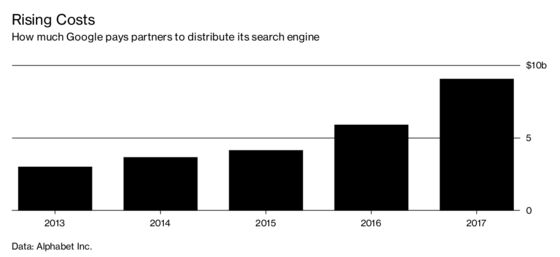 In July, the EU ordered Google to change these contracts by Oct. 28, potentially opening up billions of dollars' worth of digital real estate. Google is "still figuring out what we need to do," company attorney Tero Louko said last month. He also suggested that the company might charge manufacturers to use Android, which could come without some built-in Google apps, a cost that he noted would likely be passed on to consumers. Google still has to make the changes, even if it appeals as expected.
There are additional reasons why at least one of the largest manufacturers of Android phones will likely keep Google apps on future devices, according to a person familiar with the matter, who spoke on condition of anonymity because the company's agreement with Google is confidential. The person says the phone maker's executives believe their current deal is already flexible enough to install the apps they want on their phones, including rivals' software.
Google can also simply pay manufacturers to make its search engine and apps the default. Google will pay Apple Inc. as much as $9 billion this year for its search engine to be the default on many parts of the iPhone, Goldman Sachs Inc. estimates. In just the second quarter of 2018, Google paid $3 billion to phone makers and other partners to distribute its search engine, up from about $2 billion a year earlier. "Because Google can outpay everyone, this is where the EU ruling is pretty weak," says Marc Al-Hames, managing director for German search engine Cliqz.
Still, the dramatic rise in Google's costs is a testament to the potential for competition, according to Pivotal Research Group analyst Brian Wieser. "Various partners are exerting their power," Wieser says. The manufacturers know, he adds, that if Google doesn't pay, "then Microsoft will." At Qwant, Leandri says he's also offering phone makers a better deal, because he's not trying to build an app ecosystem that locks in users and their ad dollars. Now he and his product will just have to convince everybody else. —With Aoife White
To contact the editor responsible for this story: Jeff Muskus at jmuskus@bloomberg.net, Alistair BarrGiles Turner