Equinox Opens a New Kind of Gym, Just for Runners
(Bloomberg Businessweek) -- An exercise class called Precision Run is the most popular workout at Equinox fitness clubs nationwide. More than 500 sessions are offered at its locations every week, but that hasn't been enough to meet demand. "The classes in Santa Monica [Calif.] are completely sold out, as they remain sold out in all of our clubs around the country," says Harvey Spevak, the executive chairman and managing partner of Equinox Holdings Inc.
This spring, Equinox is officially taking Precision Run out of the fitness club and making it a standalone studio in the Flatiron district of New York City. A Los Angeles location will follow. (Anyone can sign up; one class is $36.)
Precision Run is like doing interval training but on a treadmill. Developed by creative director David Siik and launched in 2014, it's a workout that customizes the variables of treadmill running—speed, duration, incline, and recovery—to your own needs and style, and in a cool, immersive group setting.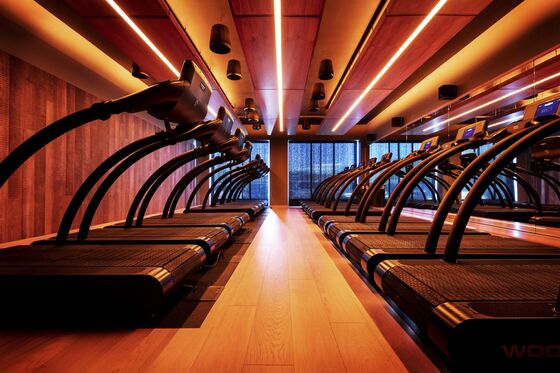 Classes can have 30 to 40 participants, each on individual treadmills, as an instructor guides the 50-minute workout. Part of the appeal is that runners determine their one-­minute personal record (PR) from which to measure their progress and build subsequent sessions.
"It's not a race against the person next to you," says sometime participant Spevak. "It's for people who want to take it to the next level, but also people who want to have a fun experience and optimize their performance."
Treadmill running was the fastest-growing exercise trend of 2018, with an 82 percent increase in classes from the year before, according to Shari Castelli, director of empowerment funding and expansion at ClassPass Inc. "New equipment companies like Woodway and TrueForm have redesigned the treadmill in a way that lets you run longer and faster without risking injury," Castelli says, "making running on a treadmill more appealing to both amateur and experienced runners."
The Flatiron Precision Run studio will feature slat-belted Woodway treadmills housing a dashboard, or interval training screen, that adapts to individual running habits by autopopulating speed and incline. There will also be dedicated apps. Inside the studio, the lights can be customized; the water can be infused with cannabidiol, if that's your thing; music setlists are programmed for maximum efficiency; and even the air you breathe is enriched with oxygen.
To contact the editor responsible for this story: James Gaddy at jgaddy@bloomberg.net, Chris Rovzar