Long-Haul Emirates Squeezes Profits From One of Its Shortest Routes
(Bloomberg Businessweek) -- Over 35 years, Emirates has built itself into the world's largest airline, its Airbus double-deckers and Boeing 777s raining down on Dubai around the clock from every corner of the world and helping turn the desert outpost into a vibrant metropolis. But one of its most profitable routes is a two-hour hop to neighboring Saudi Arabia.
Each Sunday morning, the departure hall in Concourse B at Dubai International Airport comes alive with the buzz of business travelers kitted out with dark suits, compact suitcases, and white wireless earbuds. Long lines form at the start of every week for EK 819, the most popular of four daily Emirates flights that pack in a total of about 1,600 seats. The destination is Riyadh, and the cargo is business consultants who live in Dubai on weekends but work for the Saudi government during the week in sectors ranging from education to transport to energy.
First- and business-class seats sell out months in advance. A round-trip economy ticket shoots up to 4,000 dirhams ($1,089) on average during the narrow commuting window and exceeds 5,000 for a last-minute booking, making it costlier than a round-trip ticket to London. The fare then falls to 1,500 dirhams after the morning rush and into the week. Come Thursday night, Dubai beckons, and the procession of passengers winds its way back to the city, with the price skyrocketing again.
Frequent flyers have perfected their weekly routine. To save time on arrival, few check their luggage. Many choose to travel lightly by storing their workweek outfits at their hotels in the Saudi capital.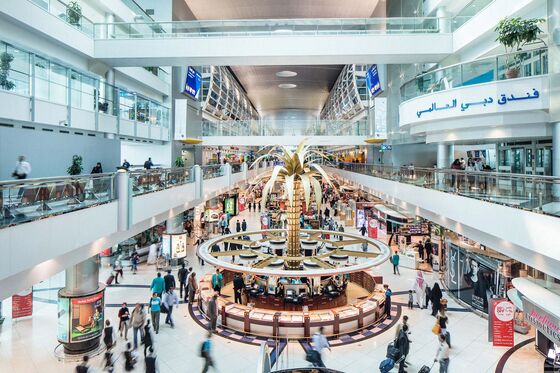 While Emirates is known for its huge global footprint, nearby Riyadh ranks as one of its top regional routes in terms of frequency, with 27 weekly flights from Dubai. Saudi Arabia contributes up to 60% of the revenue Emirates generates in the Middle East, according to the state-owned company. It began deploying the A380—a giant plane that typically seats almost 600 passengers on two decks—five times a week on that route this year.
"Any airline that is looking to run a hub the way Emirates does will naturally get drawn to Saudi Arabia to get a lot of traffic," says John Strickland, director at aviation advisory firm JLS Consulting in London. Most airlines have key routes that form the backbone of their business travel: There's Melbourne to Sydney, Bombay to Delhi, Frankfurt to Berlin. What sets apart Emirates' Dubai-to-Riyadh flight are the extremes of the operation, from the giant planes to the price fluctuations in a narrow time frame and the demand for business- and first-class seats, which sell out long before coach.
In the Gulf, laissez-faire Dubai stands out. Offering alcohol at beach clubs, bars, and restaurants, where men and women can freely mingle, it's become a major draw for expats who enjoy the trappings of low taxes and reliably warm weather year-round. In no small part, the sprawling metropolis, with its skyscrapers, amusement parks, and artificial islands, was built and is supported by migrant laborers from poor countries such as Bangladesh or India.
But recent years have been hard on Dubai. Property prices are down about a third since 2014, while tourism, a pillar of the economy, is struggling to grow. In 2018 the economy expanded only 1.9%, its weakest pace in almost a decade. This has forced more residents to seek work elsewhere. And some foreigners who moved to Dubai for high-paying jobs find themselves still living there but traveling to Saudi Arabia on a weekly basis. One of the commuters, who asked to remain anonymous, says he'd never consider moving to Saudi Arabia because even as the country loosens its lifestyle restrictions, it remains a world apart from Dubai.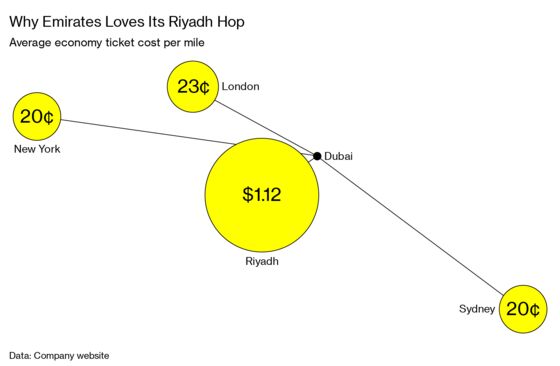 Yet what looks like a virtuous business cycle—Saudi Arabia gets expertise diversifying its economy away from oil, Emirates reaps a windfall on the flights, and consultants get to enjoy Dubai's lifestyle on weekends—is coming under scrutiny from Saudi Arabia's rulers. Keen to build a skilled domestic workforce, the wandering consultants are increasingly a thorn in the kingdom's side. In September, Saudi Arabia issued a royal order calling on government officials to hire foreign advisers only when in dire need. That could have a big impact, since Saudi Arabia accounted for almost half of the $3.3 billion of revenue generated by the regional consulting market this year, according to a study by Source Global Research.
The decree left some wiggle room on what constitutes necessary consulting work and who's considered a foreigner, given that the big firms all have local entities registered in Saudi Arabia. It's clear that Mohammed bin Salman, the crown prince and de facto ruler, wants to open Saudi Arabia to more global business and make the capital a corporate hub by easing social constraints. More local women are now testing the limits of a restrictive dress code, Western pop music and movies have become more readily available, and the government is pushing Saudi Arabia as a tourist destination. "We do see a greater willingness for consultants to move to Saudi," says Michael Stubbs, who works at recruiting firm Cooper Fitch. "With such a significant amount of the consultancy work being based there, we see more people looking at a full-time move with their families instead of spending four days a week away from them."
Emirates is keen to keep one of its most lucrative routes intact, particularly when it's focusing more on serving the local and regional market. Shorter flights are becoming a bigger slice of its business as it reconfigures its network and fleet profile after reaching the limits of global growth. With a strong business focus, the regional network is among the company's most profitable, measured by price per ticket and distance flown, with Riyadh far more lucrative than a flight to New York on Emirates.
The local focus is reflected in Emirates' fleet. Previously consisting only of massive Airbus A380s and Boeing 777s, the carrier has begun ordering smaller aircraft such as the A350 and the 787 Dreamliner, allowing more short-range trips and more flights. Cooperation between Emirates and low-cost specialist FlyDubai has morphed into a de facto merger, giving Emirates more firepower to serve the local market at different rates.
For the commuting consultants, however, budget is rarely a concern, as reflected in the stratospheric fares their employers are willing to shell out at the beginning and end of each week. Even if some choose to move to avoid the back-and-forth, the lure of Dubai is unlikely to subside soon, nor is the appeal of Riyadh as a place to do business.
"Dubai-Riyadh is important because it's a route linking two major financial centers," says Henry Harteveldt, an adviser at Atmosphere Research. "Lots of business travel, and highly profitable."
To contact the editor responsible for this story: Benedikt Kammel at bkammel@bloomberg.net, James Ellis