Elon Musk's Boring Company Finds Paradise in Town With 'Plenty of Dirt'
(Bloomberg Businessweek) -- One night two Januaries ago, Jessie Flores made a series of frantic calls and texts to his deputies, with a request: Could they clear their schedules to get to Elon Musk's offices in Los Angeles for a meeting?
Flores is the city manager of Adelanto, Calif., a scrubby, mountain-shadowed city of 37,000 in the southwestern Mojave Desert known chiefly for its prisons. Adelanto's mayor, Gabriel Reyes, is a currency trader who works out of a ramshackle strip-mall office in nearby Hesperia. But mayor is a part-time gig here, and the city manager, who's appointed by the city council, is the full-time chief executive—in charge of finance, land use, and economic development.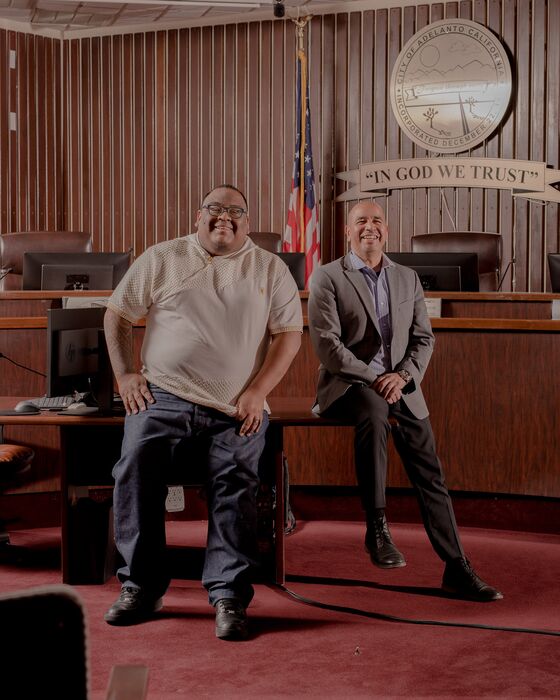 Over lunch with the mayor and a county supervisor, Flores had recently learned of an unusual opportunity. Musk—whose two companies, SpaceX and Tesla Inc., had made him either the world's richest or second-richest man, depending on the day—had a sideline in rapid transit. His Boring Co. is developing a point-to-point travel system that moves passengers in 12-foot-diameter tunnels. It recently finished a tunnel below the Las Vegas Convention Center and is in talks to build one in Ontario, Calif. The county supervisor, who'd worked on the Ontario project, mentioned to Flores that Musk was looking for a place with enough room and a flexible enough regulatory environment for the Boring Co. where it could practice digging as it improves its tunneling machines. Adelanto, the supervisor suggested, might be a good fit.
Not might, Flores shot back. Definitely! He got the phone number for Boring's president, Steve Davis, and texted him. "I said, 'Steve, we're the ones you're looking for,' " he recalls. " 'When can we meet?' " He suggested that Davis and his staff sit down with a team from the city who could answer questions about permits and the like. An aide to Davis proposed some dates, and Flores started planning for the meeting at SpaceX's headquarters, two hours southwest of Adelanto.
Flores, a wiry Los Angeles native who served in the U.S. Army during the first Gulf War and worked in security for aerospace companies before getting into local government, is not alone in his ambition. Smaller municipalities across the country have been scrambling to cater to the every need of tech billionaires and chief executive officers, especially since the pandemic fueled an exodus from high-cost cities. Musk himself recently relocated to Texas, after local groups offered Tesla at least $56 million in tax breaks to open a factory. Meanwhile, Amazon.com Inc. agreed to open a second headquarters in Northern Virginia after receiving commitments for $796 million in tax breaks and transportation improvements. A handful of Silicon Valley venture capitalists have relocated to Miami, lured by a business-friendly mayor and low state taxes.
Compared with those locations, Flores doesn't have much to work with. Adelanto has no money or political capital to spend on headline-grabbing economic incentives. "I inherited a very unstable and mismanaged city, and poorly led," says Flores, who became city manager in 2018. "If you want to quote me on that, that would be great."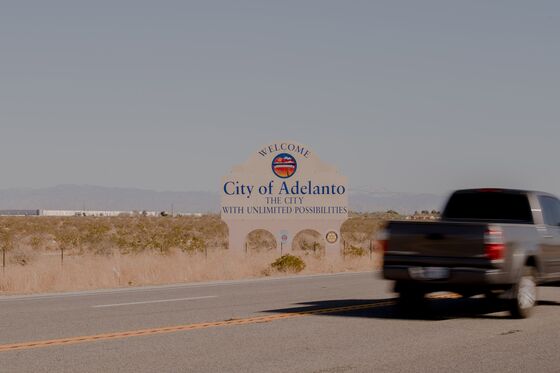 For 2021, the city has been projecting a $4.72 million deficit. One-third of its residents live below the poverty line, and its recent history doesn't inspire much confidence. Three years ago, the home of former Mayor Rich Kerr was raided by the FBI as part of a corruption probe. (Kerr says he did nothing wrong. He was never charged.) Flores himself hasn't escaped scrutiny. He was placed on administrative leave in 2019 and reinstated a few weeks later. No reason was given by the city council. "Rumors, bogus allegations," says Flores, who believes other employees were upset he was disrupting the status quo at City Hall. "It's sad." And these were only the latest difficulties: In 2008 the animal control supervisor resigned after he was accused of drowning kittens, and in 2013 some moms at a local elementary school were charged with a felony for vandalizing a classroom with paint and ketchup. (The former supervisor pleaded guilty to four counts of animal cruelty and received 90 days in jail. The ketchup moms pleaded no contest and had to pay $6,901 and perform 100 hours of community service.)
Adelanto may lack reputational pizzazz, and it may not even have a local police department (it was disbanded in 2001 amid an earlier corruption probe), but it has two important assets: vacant real estate and an extremely easygoing approach to regulation. In contrast with much of California, where it can take months or longer to get real estate projects approved, permits can get same-day turnaround here. Whenever a rule offers room for interpretation, civil servants, many of whom work on contract and know their jobs are riding on helping as many businesses as possible, tend to read it in the way that provides the least friction. "They understand that it's economic development and job creation that stimulate the economy, not government bureaucracy," says Flores, who is registered as an independent and considers himself a libertarian. "Let's keep California employed."
During a recent tour, he showed off some of the companies that have opened outposts in town—including drone manufacturer General Atomics and prefabricated construction manufacturer Clark Pacific. Cannabis has been big here since 2015, when the city council approved its cultivation for medical purposes; the council later amended zoning laws to make it even easier for growers to set up shop. Prisons are big, too. Adelanto hosts several, most notoriously a U.S. Immigration and Customs Enforcement detention center run by the Geo Group, a large private prison operator. Last year, Geo applied to expand its facility, which culminated in a contentious council debate in September, ending in a deadlocked 2-2 vote at 3 a.m. The city attorney then ruled that the expansion could move ahead anyway, based on an earlier 4-1 vote. The lone planning commissioner who'd voted against the facility in that earlier vote had been fired the next day. (Flores says the dismissal was unrelated.)
Although Flores says he'd prefer to attract less controversial businesses, he appreciates what the prisons, which account for one-tenth of city revenue, contribute locally. "They stimulate the economy," he says. "There's guards that are employed. They have families. They have obligations." While fighting for the expansion, he personally drove a letter of support to Sacramento and delivered it to an aide to Governor Gavin Newsom.
Local opponents point out that many guards commute from elsewhere, so the city gets only a portion of the economic benefit. "All of these companies are coming in and realizing that Adelanto is wide open," says Diana Esmeralda Holte-Cosato, a local activist who narrowly lost a race for city council last year and continues to fight the expansion. "If they pay, they can come in and do what they want."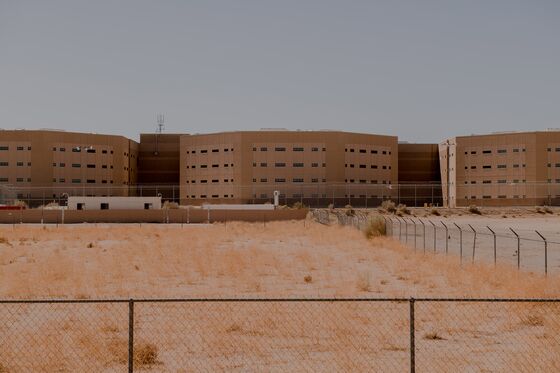 The Boring Co. got its first permits to dig in 2017, when the city of Hawthorne, which is just southeast of Los Angeles International Airport and home to SpaceX and Boring, gave authorization to Musk to begin tunneling under its roads. Boring bought a house on a side street near headquarters with a plan to shovel there, too. It held a grand opening of a test tunnel in December 2018, complete with actors dressed as knights brandishing spears and fake French accents at a Monty Python-inspired tower constructed out of dirt bricks. (The tower still stands.)
Musk pitched the company's approach as an improvement over traditional tunneling, which he said was painfully slow, comparing it unfavorably to the pace of a snail. Depending on the variety, garden snails move about 158 feet an hour—a mile in about 33 hours if the snail moves day and night. Tunnel-boring machines might cover a mile in 12 weeks or so. Musk's goal is much more ambitious: to dig through 7 miles of dirt per day.
Digging tunnels, unsurprisingly, creates a lot of dust, and in 2019 the word among Southern California politicos was that Hawthorne was getting fed up with Boring, which was how Flores and Reyes wound up on the road for their meeting with Davis. They brought along Adelanto's director of development services, Dave Martinez, who oversees the city's planning and engineering. Martinez carpooled with Brian Wolfe, the city's top engineer. An environmental consultant the city has worked with on several projects, Mark Blodgett, joined, too.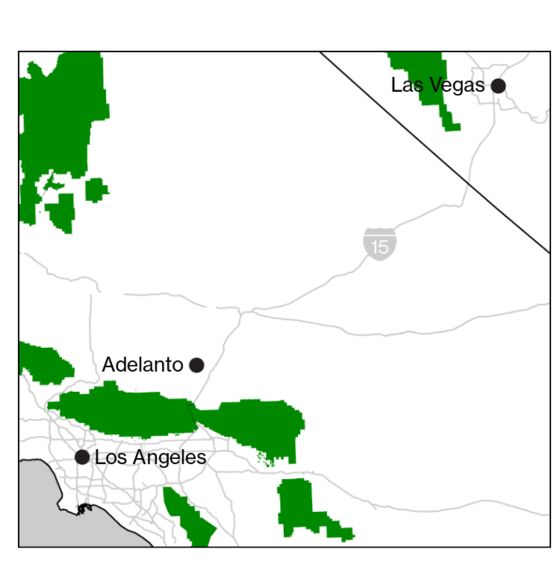 The group enjoyed a tour of SpaceX and a ride in the test tunnel—in which their cars reached more than 100 mph for a few seconds. Their pitch detailed Adelanto's proximity to Interstate 15, which connects Las Vegas to Los Angeles, as well as its business-friendly approach to development. The Boring executives, according to Reyes, were tired of hearing complaints about the soil their tunnels were kicking up in Hawthorne. That would be no problem in Adelanto, he assured them. "We have plenty of dirt," he said. "We wouldn't be able to tell if it's your dirt."
Boring needed a property that was at least a half-mile long, Adelanto had one that fit the bill: a 20-acre plot zoned for manufacturing on the eastern fringes of town, just off U.S. Route 395. Green creosote and dried grass dot the land, and literal tumbleweeds aren't uncommon. The closest landmark of note is Bravo Burger, a drive-thru about a mile north.
That the land had previously hosted the Adelanto Grand Prix, an annual motocross event, which was canceled last year because of Covid-19, meant extra good news for Boring. The property is considered previously disturbed, which meant less environmental red tape. Another bonus: Joshua trees, a protected species in California and common elsewhere in town, are largely absent from the site, which meant Boring wouldn't have to go through the costly and time-consuming process of hiring an arborist to dig up and replant them. Boring and the seller, a limited partnership in Orange County, Calif., quickly agreed on a price of $495,000.
Adelanto's team never met Musk, but in the telling of the story a year later, Flores tends to include him as an omniscient, ever-present being. A few days into escrow, according to Flores, Musk "was already rolling the boring machine on a flatbed up the 15 freeway." Tunneling machines, like ocean liners, are generally named, and Boring's approach is to christen them after literary figures. The rig in Adelanto is called Prufrock, after T.S. Eliot's poem.
Under the California Environmental Quality Act of 1970, many projects require an initial study, where owners hire an environmental consultant to check for potential issues on the site. Adelanto didn't ask Boring to get one, because officials saw no possibility of significant environmental impact. This is unusual but not unheard of, says Richard Zimmer, a planning professor at California State Polytechnic University at Pomona. "Where there is a gray area that allows room to interpret, cities sometimes interpret in favor of the developer," he says. "That's the way cities will compete."
The full explanation for the lack of an initial study remains murky. Flores and Reyes both say that Martinez handled the day-to-day discussions, and Martinez says that since city emails get deleted after four months, he can't show any written records of his exchanges with Boring. One factor that he says eased approval was that Boring said it planned to fill in the holes after it dug them.
Responding to a public-records request from Bloomberg Businessweek, the city produced permits that showed a remarkably rapid series of events. Boring applied for an annual permit for unspecified "ongoing activities" on Feb. 20. It got it the same day. Ditto a fence permit it applied for on March 4.
Boring's purchase of the old motocross grounds closed on March 26, made via an entity called Jadejams Property LLC, according to the county assessor. Then, instead of applying to erect a building on-site, it went through a much simpler process of applying to put a tent on a cement foundation. The permit was dated April 15, but it was granted retroactively. Boring actually applied for it a week later, on April 22.
While all this unfolded, Musk was chafing against local officials in Fremont, Calif., across the bay from San Francisco, where Tesla's factory had been closed because of coronavirus restrictions. He thought the closure was outrageous and wanted to reopen. "Frankly, this is the final straw," he tweeted last May. "If we even retain Fremont manufacturing activity at all, it will be dependen[t] on how Tesla is treated in the future." As the project in Adelanto firmed up, Musk himself was making plans to move his philanthropic foundation, Tesla's newest factory, and ultimately himself to Texas.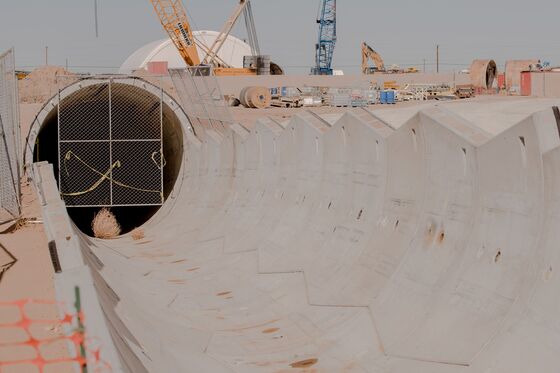 Before I came to Adelanto this past January, Flores noted that although Boring wasn't cooperating with my article, he could visit the company's facility unannounced anytime, as allowed under California regulations, with me as his visitor. But once I arrived, Flores said Boring couldn't accommodate guests that week, and sent Martinez, the development director, to show off the tightly secured facility from the outside.
A fence wraps around the property, which lacks any sign indicating that it hosts Boring. (The county offered one; the company declined.) Concrete quarter sections for lining tunnels, molded in Los Angeles and trucked in, sit outside the fence. Above, two cranes are visible, as well as the top of a forklift and a conveyor belt. The sounds of grinding metal ring through the air.
When the fence door slides open to let workers in, there's a full view of the 7,000-square-foot white tent. Martinez is fuzzy on what exactly the company is up to but says that it involves experimenting with tunnel techniques, including digging the initial portion of a tunnel at an angle, rather than digging a hole and then dropping the boring machine down to the level of the tunnel.
A site foreman comes to ask what we're doing but won't comment on the work. He says he ends up chasing away five or six lookie-loos a day. The interlopers have included a representative from the local carpenters' union.
Nor is it clear that the facility is creating many jobs in town. Staff at the Bravo Burger say they got an order for hundreds of patties the previous weekend, and Boring workers seem to be patronizing other businesses here and there. But many of the workers live three hours away in Las Vegas, where the company recently finished its convention center project, and so far there's been no wave of staff moving in. Boring sells nothing the town can tax, which means that so far the arrival hasn't helped the budget deficit.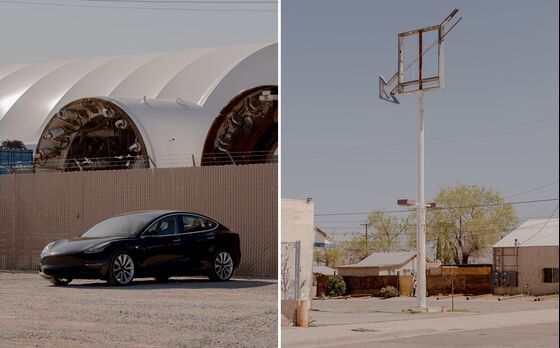 Flores says he's fine with that. He's thinking further into the future and envisions a long relationship with Musk, whom he still hasn't met. "We'll take a gigafactory, and any other factory he wants to build in our city," he says, using Musk's preferred grandiose term for Tesla plants. "Let's go back to the industrial modern revolution, right? Where we're building robotics, artificial intelligence." For now, he must settle for the news that Boring will start manufacturing its concrete tunnel liners in Adelanto.
On the other hand, what Boring does offer Adelanto is a talking point for future economic development efforts. "We brag about the fact the Boring Company is in our city," Flores says. "It truly is a privilege."
He drives down a dusty road next to an airstrip, explaining that he's hoping to persuade a local businessman to repave it. If that happens, the runway and accompanying air park could hold lots of potential for the private-plane set, he predicts.
As the sun drops low on the horizon and the sky turns pink, he crosses the city limits into neighboring Victorville, home to the old George Air Force Base. Now known as the Southern California Logistics Airport, it holds an eerie parking lot for hundreds of airliners grounded during the pandemic. It also accommodates cargo flights, in part to service nearby distribution hubs for retailers. Flores would like to see retail giants such as Big Lots Inc. and Target Corp. open hubs like that in Adelanto.
Lately, the city manager says, he's been talking with a door and window maker based in Los Angeles and some property developers. A nursing-home director scouting for a new facility told him the sweeping desert views would benefit those nearing the end of their lives. Flores says he held an introductory meeting with Amazon to pitch a logistics center. And he thinks Boring's presence got companies with existing projects in the works to speed up their timetables, like Best Western, which has a hotel slated to go up just north of City Hall.
His latest victory: The California Department of Transportation approved a traffic light on Route 395. Which, all else being equal, improves the chances that a motorist might stop in town rather than roll right through en route to someplace else. In time, Flores says, he'll make his case for the gigafactory to Musk in person. "He's amazing," he says. "At the right time, we will meet with him."