Trump Is Peeling Some Indian-Americans Away From the Democrats
(Bloomberg Businessweek) -- Although they represent only slightly more than 1% of the U.S. population, Indian-Americans are the second-largest immigrant community and one of the fastest-growing racial or ethnic groups in the nation. Not long ago this group could be assumed to be reliably Democratic: In 2008, 93% of Indian-Americans cast ballots for Barack Obama, on par with the voting pattern of Black Americans, according to the National Asian American Survey.
Eight years later, Donald Trump performed better with the community, and recent data suggest a further tilt to the right in 2020. The research firm AAPI Data found that 28% of Indian-Americans may vote for Trump, up from 16% four years ago. A recent survey by YouGov with the Carnegie Endowment for International Peace, Johns Hopkins University, and the University of Pennsylvania puts Trump's support among this group at 22%.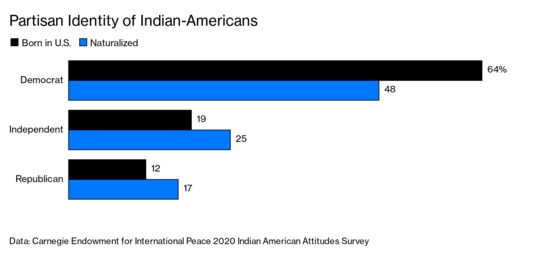 The shift has a lot to do with Indian Prime Minister Narendra Modi, his Bharatiya Janata Party (BJP), and its polarizing, hard-line brand of Hindu nationalism, or Hindutva. Modi enjoys strong support for Hindutva and for his efforts to accelerate development and crack down on terrorism. President Trump has been a close ally of Modi's. At a nonpartisan rally called "Howdy, Modi!" held in Houston in September 2019, about 50,000 people of Indian origin listened to speeches by the visiting Modi and by Trump. (Other Indian-Americans protested outside.)
Last year, Modi's government revoked the autonomy of the contested region of Kashmir, which is predominantly Muslim, and changed a citizenship law to favor members of religious minorities from Muslim-majority neighboring countries. These moves sparked deadly protests at home and criticism from abroad that India, which is about 80% Hindu, was discriminating against its 200 million Muslims. Asked about the citizenship law on a state visit to India in February, Trump said it was "up to India."
The Trump-Modi relationship is one reason some Indian-Americans, especially men who are middle-aged or older and foreign-born, have boarded the Trump train—men such as Dinesh Agrawal, a materials researcher at Penn State who voted for Hillary Clinton in 2016. "Over the last four years, I've seen Trump have the strongest and most favorable relationship with India since India's independence," he says.
Younger and U.S.-born Indian-Americans are more likely to focus on domestic issues. The dynamics are complicated by Democratic challenger Joe Biden's selection of Senator Kamala Harris, who's Black and Indian-American, as his running mate.
"Indian-Americans are as divided as Indians are" over politics, says Shekar Narasimhan, chairman and founder of the AAPI Victory Fund, a Democratic super PAC.
There are large Indian-American communities in the key swing states of Florida, Michigan, and Pennsylvania—large enough to make a difference if the results are close. Both parties are trying to reach them before Nov. 3 with targeted ads.
In their corner, the Democrats have Harris, whose mother was born in India's Tamil Nadu state and who used the Tamil word "chittis" ("aunties") in her speech at the Democratic National Convention. "The optics on Trump's side might be good, but look at the actions," Narasimhan says. "Our argument focuses on having Kamala Harris on the ticket."
According to the YouGov survey, half of Indian-Americans said the pick made them more enthusiastic about Biden, with most citing Harris's Indian heritage. But 31% said it made no difference, and 15% said it made them less enthusiastic. Of those in the last category, 20% said Harris identifies more with her Black roots, and 19% said she will weaken India-U.S. relations.
Harris expressed support last year for India-born Representative Pramila Jayapal, a Washington Democrat, who introduced a resolution in Congress to urge India to uphold human rights in Kashmir. In response, India's foreign minister refused to attend a meeting with U.S. lawmakers including Jayapal.
Courtney Parella, deputy national press secretary for the Trump campaign, says Biden having Harris on his ticket "won't fix his enthusiasm problem" among Indian-Americans, citing "Howdy, Modi!" by way of contrast.
Former U.S. ambassador to India Richard Verma and other Indian-American Democrats point to Obama-Biden trade and defense deals with India and say Trump's restrictions on visas and revoking of India's preferential trade status show that his policies don't match his chumminess with the prime minister.
But there are rumblings of discord within the party. Biden has been asked by Indian-American donors about the Muslim-American agenda page on his website, which calls to restore rights "for all the people of Kashmir" and expresses "disappointment" over India's handling of the citizenship law. A "South Asians for Biden" talking-points document seen by Bloomberg Businessweek cites voter concerns such as "Biden is anti-India" and "Biden only cares about the Muslim community." Meanwhile, Emgage PAC, the largest Muslim-American PAC, declined to endorse Democratic congressional candidate Sri Kulkarni because it claimed he was close to Hindu nationalist organizations. And the head of Biden's Asian-American outreach came under heat for his support for Modi and his father's links to the BJP.
Milan Vaishnav, director of the South Asia program at the Carnegie Endowment, predicts that U.S.-born Indian-Americans will soon outnumber new immigrants from India, changing the dynamics. But for now, many families tread carefully around political fault lines.
"It's not a coincidence Biden used the word 'inshallah' " in the first presidential debate, says Ravi Kaw, a Hindu from Kashmir who came to the U.S. in 1970 and now lives in California. ("Inshallah" is an Arabic word meaning "God willing.") Kaw sees it as a sign of favoring Muslims. Although he doesn't like Trump's divisive rhetoric, "it's only for four more years," Kaw says. Whereas "in societies like India, history is ingrained forever and ever, unless something is done to fix the situation," he says, alluding to Modi's policies.
Kaw's son, Sidharth, agrees with his father that "progressive Democrats have a very narrow view of Indian politics." But to him, he says, "ultimately, those positions don't matter as much as their domestic stances. For my parents, who are more attached to their homeland, this tension is forcing them to decide between the two."
His father says he's waiting until the last moment to decide how to vote: "I may end up flipping a coin."