Europe's Central Bank Can't Match the Fed's Jobs-for-All Push
(Bloomberg Businessweek) -- When the European Central Bank unveils the results of its grand strategy review this year, there will be at least one stark contrast with the U.S. Federal Reserve's own exercise. Inequality in the labor market, a hot-button topic of the 2020s and a core part of the Fed's conclusions, looks likely to get much more subdued treatment in Frankfurt.
That's partly because the ECB lacks the Fed's dual mandate for price stability and full employment. But it's also because policymakers in Europe don't have access to data to give them a full picture of inequality in the region, including whether racial and ethnic minorities are benefiting equally from monetary and fiscal stimulus.
Bloomberg's analysis of speeches by ECB board members shows that mentions of terms related to labor markets have declined, while references to climate change and a digital euro—both issues popular with President Christine Lagarde—have increased.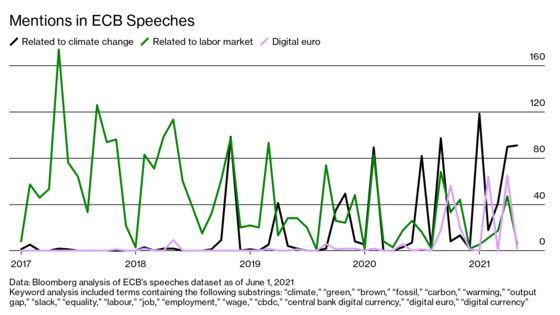 "The ECB seems to have been focusing more on the intermediate- to longer-term issues around climate than on short-term issues related to employment," says Randall Krozsner, a member of the Fed's Board of Governors from 2006 to 2009 and now a professor at the University of Chicago's Booth School of Business. "It's very important in this strategy review for them to look across all the horizons."
The risk of failing to accurately identify sectors of high unemployment is that the ECB may dial back stimulus too soon in the recovery. That could end up penalizing minorities who might otherwise have found work and detract from the bloc's economic potential.
Employment is one of 13 areas of study in the ECB review, its first in almost two decades. A year and a half into the process, the decision-making Governing Council hasn't yet formally discussed the topic and doesn't plan to do so until this month, just before the whole exercise is scheduled to wrap up, according to people familiar with the matter. An ECB spokesperson declined to comment.
The Fed made waves last year when it acknowledged that it hasn't taken proper account of joblessness in marginalized groups, which tend to lag in economic recoveries. It now reckons it can keep policy loose for longer without causing too much inflation. That was a key takeaway from the record-setting U.S. expansion, which saw unemployment fall to historic lows while price pressures remained subdued.
Lagarde has acknowledged it would be hard for her to emulate Fed Chair Jerome Powell, who has repeatedly cited high unemployment among Black workers during the pandemic as a reason to keep monetary support in place.
"It's difficult to compare the Fed and the ECB from that perspective of inclusiveness, because the employment objective that the Fed has explicitly in its mandate, together with price stability, is the instrument through which inclusiveness can be taken into account," said Lagarde at an event in April.
If central banks' responsibilities expand beyond their core mandates, there's the risk that political pressure could make them respond more slowly to signs of higher inflation, former Bank of England Governor Mervyn King argued in an Op-Ed on Monday. "Targeting unemployment rates of particular groups in society or using monetary-policy tools to combat climate change" is the domain of elected politicians, he writes, and could make central banks compromise on their core task of controlling inflation.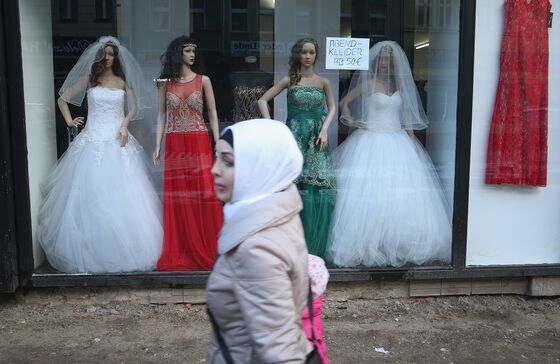 The dearth of data on minorities in the EU is a legacy of the Holocaust. Classifying citizens by race or ethnicity is taboo in many countries, including Germany and France, the biggest economies.
That's a sizable gap: The European Network Against Racism estimates that some 11% of the European Union's 450 million residents are from racial and ethnic minorities. Even so, mainstream economists often don't consider discrimination as a variable in their models. Instead, inequalities are explained away as "skill gaps."
"There is a tendency in the European Union to ignore the possibility of racial discrimination, even greater than in the U.S.," says William Spriggs, chief economist at the U.S. labor union federation AFL-CIO who has written extensively about Fed policy and Black unemployment.
Evidence of such inequality does exist. A recent report in Germany showed people with direct and indirect "migration backgrounds" were about twice as likely as those without to anticipate or experience job loss in the early months of the pandemic. A 2019 study commissioned by the French government found that at large companies, job applicants with Arabic-sounding names received on average 25% fewer responses than competitors with European-sounding names.
While the ECB has stepped up its research into economic inequality—and faces the particularly challenging task of doing so across 19 countries—its ability to study more vulnerable groups has been limited by the lack of data on race or ethnicity. A group of economists that produced a paper in March showing how the crisis particularly affected women, young people, and lower-income households called for investment in new models and data sources in order to fully grasp the effects of policy.
Central Bank of Ireland Governor Gabriel Makhlouf told Bloomberg that he'd like to see a particular focus on the "distributional aspects of economic shocks and monetary policy" under the employment workstream.
ECB policymakers have for years cited greater-than-expected labor market slack as a key reason they've been unable to increase inflation to target levels. Most still have faith that there is a hard and fast relationship between jobs, wages, and prices as described by the Phillips curve, a decades-old economic concept.
Latvian central bank head Martins Kazaks told Bloomberg in March that while he doesn't expect the strategy review to go deep into labor market data, "if you don't have the story on the labor market, you can't understand the Phillips curve."