The Durable Goods Spending Boom Is Heading for a Slowdown
(Bloomberg Businessweek) -- Even before they emerged from the Covid-19 lockdowns of spring 2020, American consumers began buying lots of tangible, durable things—initially home office equipment but soon also appliances, furniture, televisions, cars, trucks, motorboats, recreational vehicles, and even books. There's been something of a pullback recently, caused in part by supply constraints at automakers, but real consumer spending on durable goods was still running 21% above pre-pandemic levels in August, the most recent month for which data are available.
A key characteristic of durable goods is that they're, well, durable. They don't need to be replaced every month or year. Such a sharp acceleration in the pace of purchases, especially in the face of a long-running economic shift toward services and away from goods, is clearly not something that can continue indefinitely.
"If something cannot go on forever it will stop," the late economist Herbert Stein once said. The durable goods spending boom will end, and with it the port backups, product shortages, and price increases that have accompanied it. But when?
The rise of the delta variant already thwarted predictions of a big summer return to spending on travel and entertainment. Supply bottlenecks mean some consumers are still waiting on cars, bikes, or boats they ordered months ago. The prices of used cars and trucks, which were the biggest driver of the jump in inflation last spring, appear to be rising again after subsiding over the summer. It's a temporary situation, sure. It just keeps refusing to go away.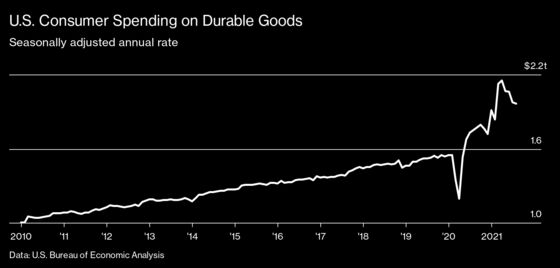 ● SHOPPING SURGE
Consumers spent 13% more on durable goods from March through August 2020, adjusted for inflation, than if the trend of January 2010 through February 2020 had continued. In August spending was 21% above trend.
● LESS SERVICE
Services' share of U.S. consumer spending rose from 39% in 1950 to 69% in 2019. In August it was just under 66%.
● PICKUP AND GO
Used light trucks saw the biggest non-inflation-adjusted spending gain since February 2020, $63.8 billion annualized, followed by furniture, jewelry, sporting equipment (including guns), and computer software and accessories.
● TRAFFIC JAM
Real durable goods spending is down 8% since April, but two-thirds of that decline is in new motor vehicles, the manufacturers of which have been unable to keep up with demand because of semiconductor shortages.