Drug Sales Reps Stow the Sample Case and Turn to Zoom
(Bloomberg Businessweek) -- In April, just weeks into the coronavirus-prompted shutdowns, Kevin Bordelon, a sales representative for drug giant Sanofi, looked up from a video call with a dermatologist to spot a redheaded blur in the background. It was his 3-year-old toddler, racing in with "nothing but underwear on and peanut butter all over his face," he recalls, laughing. "And there's just nothing you can do at that point to stop it, you know? You just kind of let it happen."
Bordelon's toddler disruptions while working from home are a far cry from the iconic image of a polished pharmaceutical sales rep barging into a doctor's office with briefcase and a spread of drug samples in hand—think Jake Gyllenhaal peddling Viagra pills in the 2010 romantic comedy Love & Other Drugs. But the pandemic has changed things, even in the world of sales. The 40-year-old Bordelon used to spend his workdays traveling across the U.S., meeting with doctors and other medical providers. Lately, though, he's swapped the fieldwork for a home-office setup, virtual meetings, and some rowdy new co-workers: his 3-year-old and 6-year-old sons.
Plenty of professionals around the world have made the shift to telework during the pandemic, but it's an especially big change for America's 65,000 pharmaceutical salespeople, who have long relied on personal office visits and events. Stuck at home like everyone else, they've turned to emails and virtual meetings. But the new formats have left sales reps struggling, more limited in how many clients they can meet in a day and navigating other fresh obstacles.
Commanding customers' attention digitally is getting harder. "Initially the doctors were opening emails, because they're sitting at home with not a lot to do," says Pratap Khedkar, managing principal for the consulting firm ZS Associates, which tracks data showing email opening rates for sales reps. While the rates for some drug companies doubled after lockdowns began, now "it's been 10 weeks," Khedkar says. "How many emails are you going to send that are new?"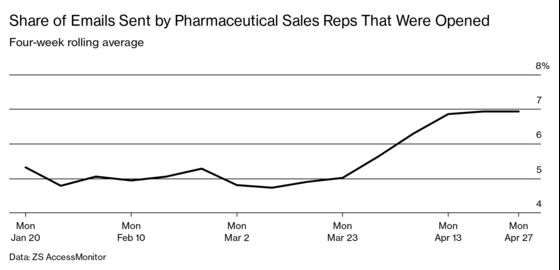 Recognizing the tough realities of selling pharmaceuticals from home, drug manufacturers have postponed as many as one-third of product launches since the pandemic began, hoping for more favorable conditions later in the year. The public-health crisis has also pushed them to reinvent their marketing pitches, from digitizing product pamphlets to FaceTiming nurses.
For people in sales, the advent of social distancing is likely to force changes even after states reopen, experts say. Salespeople will have to become adept at working across "a combination of personal, virtual, and digital" interactions, says Khedkar. "Sales reps are still valuable, and will still be there, but their job will have to change. It's a big change for pharma, to be very frank."
Executives at U.S. drug giant Bristol-Myers Squibb Co., which has been investing in digital marketing platforms since about 2013, believe they're well-prepared for virtual sales. As of March 12, when the company grounded its entire U.S. sales force, many of its employees had already been deploying those platforms "for years, not months," says Chief Commercial Officer Chris Boerner.
Still, the company has had to remain flexible. Some doctors want to use its new in-house digital capabilities, while others have said, "I'm not going to mess with that, just call me," says Marty Whalen, head of oncology sales. "You've got to meet them where they are," Boerner says, whether it's by phone, email, FaceTime, Zoom, or another method.
Bristol-Myers has conducted workshops with virtual role-playing to train reps to be more effective answering questions and making sales pitches on camera. It's also using data analytics to determine which virtual channels fare best with certain customers, Boerner says.
Not everything works as well remotely, though, including presenting completely new, complicated information to customers who may already be distracted by the public-health crisis, Bristol-Myers has found. After data showed fewer patients were starting treatment on new drugs in March and April, the company postponed the release of its multiple sclerosis medicine, Zeposia, to June. The plan is to start using remote marketing and, over time, add in-person pitches to physicians and hospitals, Boerner says.
When Covid-19 shut down most scheduled medical procedures earlier this year, dermatology drugmaker Galderma Pharma SA saw about 93% of the U.S. medical spas and clinics that buy its aesthetics products—such as fillers, a Botox competitor, and a collagen booster—suddenly go on hiatus. Figuring that clients had plenty of time on their hands, company sales reps ramped up their virtual programming.
The drug manufacturer organized 22 webinars, which some 25,000 doctors, nurses, and other providers have attended, for training that otherwise would've happened in person. Some taught anatomy, to better help clients identify where and how Galderma products could lift or shape a patient's face, says Craig Donghia, a senior regional sales manager for aesthetics who's based in Florida. Company-affiliated physicians virtually trained other doctors on how to inject the products. Galderma has also taken to Instagram, where executive Alisa Lask hosts a weekly live session with a cast of different medical providers called Lask Call.
During the shutdowns, Galderma began preparing to launch a lip filler called Restylane Kysse. Sales reps scheduled educational webinars at different times for various time zones to get clients up to speed, says Carrie Liakos, an Arizona-based senior account manager in the aesthetics and corrective division. "It's going to be hard to go back to something different at this point, because ultimately we had every injector business owner trained at once," she says.
Now that states are reopening, some sales visits to doctor's offices have also restarted, albeit with masks, regular symptom and temperature checks, and other restrictions. Some practices are meeting marketing reps outdoors to reduce risk, or having them wait in their cars until a scheduled appointment time. Drugmakers are distributing fewer pamphlets, and samples are often shipped instead of being hand-delivered by a sales rep.
Bristol-Myers's Boerner says digital marketing will remain a valuable tool. But "the reality is, health care relies on significant in-person engagements, whether between the health-care provider and patients or between the industry and key parts of the health-care system," he says. "I don't see that fundamentally changing."
 
Read more: Work From Home Isn't Working for Call Centers