Eleven Un-Magical Secrets I Learned While Working at Disney World
(Bloomberg) -- In the 1960s, Walt Disney had a dream: He'd turn a San Francisco-size swath of swampland and orange groves in central Florida into a version of utopia, where childhood fantasies could spring to life. The Magic Kingdom opened on Oct. 1, 1971—50 years ago last week—beginning a fairy tale that's panned out just as intended. Over the decades, Walt Disney World has lured millions of pilgrims to a place where dreams come true, not just for visitors but for employees, too.
In fact, there are no fans more devout than the people working at Disney's four theme parks. Called "cast members," they are ambassadors of happiness who delight in perpetuating a mythology that never breaks the fourth wall of the Cinderella Castle. In their minds, Tinkerbell is real, there are actual ghosts in the Haunted Mansion, and—most important—there is only one Mickey.
They gave me a chance to become part of their world as the parks staffed up in preparation for Walt Disney World's golden anniversary, allowing me to discover exactly how the fairy dust is sprinkled on every guest experience. From shielding characters against overeager fans on Main Street, to making elaborate birthday cakes for hippos at Animal Kingdom, to practicing Be Our Guest cutlery choreography, here's what I learned during a week working at the Busiest Resort on Earth.
No One "Plays" Cinderella, But She Has a Lot of Friends
If there is a hierarchy of Disney employees, on top are those who dress as Characters (that gets a capital C at Disney). But no one is hired to "be" a princess; instead, a team of casting directors holds large-scale open auditions to find a "friend of Ariel" or "friend of Cinderella," an official term that reinforces the idea that the princesses are real and not merely costumed laypeople. Those actors move through the park on a careful rotation, so guests never see different "Ariels" at the same time.
Hiring cast members for other roles like greeters or restaurant workers has become more inclusive as of late, and the House of Mouse has relaxed rules about uniforms to allow for things like tattoos and larger sizes. But characters who look like real humans—think Belle or Aladdin—are hired primarily based on their height, size, face shape, and skin tone, which must closely resemble those of the animated originals. "They line you up in rows of 10, and you stand there silent and smiling," says a former Character, who—like many alums—requested anonymity even in retirement. (Disney is fiercely protective of its image.)
Anyone who can't fit into their (shared) costume gets demoted from, say, princess to princess handler, at least temporarily. The same rule applies if an injury—a broken arm, maybe—could distract from a convincing depiction.
Most princesses "age out" by their mid-20s, says the former Character. Mary Poppins has become a go-to transitional role when a Snow White begins to go a little Snow Gray; most of the time, however, cast members move to another department for a decade or two before returning as a fairy godmother.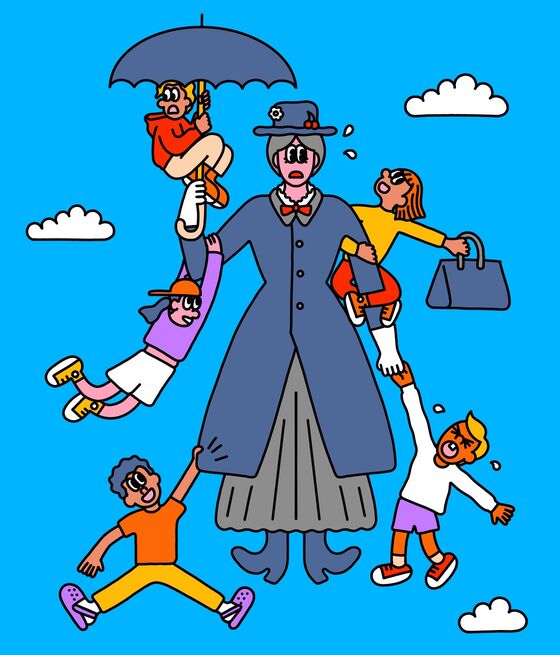 Adult Guests Either Become Babies or Try Making 'Em
"On more than one occasion, I've seen parents just leave their children with Mary Poppins and wander off," says a former Character. Adults often embrace their inner children at the parks rather than watch their own. "It's like, 'Here, stay with her, she'll take care of you—she's a governess!' " Inevitably, Miss Poppins has to stay Chim-Chim-cheery despite missing breaks to take her disoriented wards to the Lost Child Center.
Even more frequently, parents bully their kids into taking photographs with villains, says a former Character. "I pay $20,000 for you to go to Catholic school to not be afraid of the devil—now smile for mommy!" one woman screamed at her petrified daughter in an attempt to make her pose with Narnia's White Witch. (The child pulled down her mother's pants in protest.)
If some adults behave like babies, others try to make them. "It happens on any attraction that's dark enough and slow enough for a little action," a cast member says, amused that visitors are still surprised to learn that rides have video cameras for safety purposes. Midride souvenir shots are rigorously screened to expunge any overly magical moments. "I can't believe I'm saying this," " says Kerstin Cote-Crosson, a former attraction operator who'd watched the cameras, "but I once had to kindly ask a young woman on Splash Mountain not to spit bodily fluids into the flume."
On Any Given Day, There's a Circle of Life
Aaron Crecraft, a guest experience manager at 2,416-room Coronado Springs Resort at Walt Disney World, estimates that 75% of guests are visiting the parks to celebrate a milestone, from baby gender reveals (will it be a Mickey or a Minnie?) to memorials. On a day with official PhotoPass photographer Tyhra Heintz, we spent 30-minute private sessions shooting graduations, quinceañeras with elaborate costume changes, and engagements. Marriage proposals happen almost daily, and some go wrong. "We shoot it anyway—it's still something to remember!" Heintz's assistant says.
Weddings are where people pull out all the stops. The most elaborate request, at the Four Seasons Orlando at Walt Disney World Resort, involved a bride who was particularly fond of Belle from Beauty and the Beast—she had the catering team learn the choreography to Be Our Guest so they could dance out like cancan-ing cutlery during meal service.
Even death finds room for celebration, particularly at the Haunted Mansion. "I'd venture to say, if the Haunted Mansion is temporarily closed, it means someone tried to spread grandma's ashes and we've had to bio-vac the entire place," a former cast member says. The ritual happens often—at least once a month. And you thought the hologram ghosts were spooky.
You Don't Want to Be a "Treasured Guest"
Sleepy, Grumpy, Dopey … they're not just the names of the Seven Dwarfs—they're also the prevailing attitudes among guests around 3 p.m. on any given day. "It's hot, humid, everyone's needing a sugar bump," says Kenzie Palm, my skipper trainer on the Jungle Cruise attraction, a favorite place to sit down and recharge. It's also the holy grail of dad jokes, since the skippers also double as comedians. (See that sandstone cliff? "Don't take it for granite!")
A skipper's job, in many ways, is to turn Grumpy and Sleepy back into Timon and Pumbaa. "When someone answers a business call or if a teenager's zoned out on TikTok, I usually put in a joke request for them to order me a pizza," Palm says. Elsewhere in the park, complaints range from the mundane ("My kid dropped her Dole Whip soft serve!") to the insane ("Where's the dome over the park for when it rains?").
Those who act like wicked stepsisters—and get passed between cast members to resolve trivial gripes—are called "treasured guests," as in, staff want to bury them like Jack Sparrow's booty. Screamers get cajoled into a furnished "quiet room" off Main Street or, worse, taken to security backstage to await municipal authorities. (While its movies include plenty of whimsical prisons—Rapunzel's tower, Quasimodo's belfry—Disney doesn't have a jail.)
Everyone Is "Chris From Orlando"
The most important piece of a non-Character costume is the name tag denoting a cast member's first name and hometown.
"In each group of new cast members there's always at least one person who weeps tears of joy when they get their name tag, handed to them by Mickey," says Megan Matsumoto, a training facilitator. "I definitely sobbed hard when I got mine."
Cast members treat their little plastic rectangles (always worn over the heart) as though they're sacred relics. But even the most consummate professionals sometimes leave theirs at home—in which case they become "Chris from Orlando," the perfect neutral alias.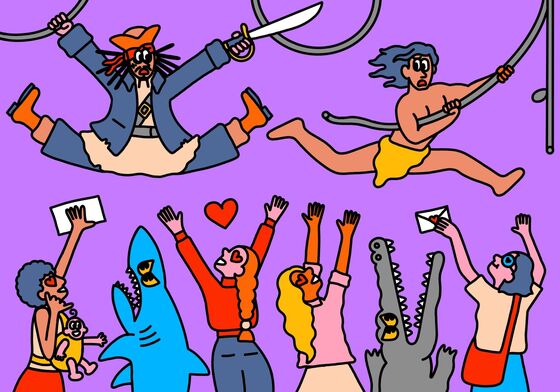 While Characters such as Cinderella and Snow White have long been the object of fans' desires—much to Prince Charming's chagrin—it's not the princesses who get hit on the most. "Back when we debuted Jack Sparrow from Pirates of the Caribbean, he was mercilessly felt up all the time," says another former cast member. "Women were putting their hotel key cards in his pocket every day, usually saying something like, 'I know you're not Johnny Depp and I don't care' or 'Come find me later—and keep your costume on.' " Scantily clad Tarzan had a similar problem, which is probably why he rarely roams the parks these days.
But Disney goes to great lengths to avoid unwanted advances on its staff. An entourage of handlers keeps rowdier guests at bay—one of my jobs was to help ensure social distancing at performances of the Dapper Dans barbershop quartet—and nonverbal Characters are trained to politely bow out of any tense situation by using a special crossing of the arms over their chests as a distress code. (The posture isn't allowed under any other circumstances.)
Hippos Are Pickier Eaters Than Humans
Five thousand animals call Walt Disney World home—everything from African elephants and okapis (unicorns from Congo) down to stamp-size jumping spiders. It takes 120 people to train every critter and facilitate research with more than 600 conservation nonprofits.
During a shift assisting Jill Magee, an Animal Kingdom zoologist, I was responsible for feeding a hippo named Henry; his daily meal is a full 40-pound bale of hay plus colorful fruits and vegetables. "Everything's restaurant-grade and grown on site," Magee says.
"Henry loves bananas and strawberries but hates turnips and eggplant," she adds. His favorite is watermelon. "It's like Snickers bars for hippos." For his birthday, Hankopotamus got a seven-tiered cake made from frozen melon, apples, and bean paste—he ate it in one bite. 
Don't Mess With the Plaids
Guest services staffers, nicknamed the "plaids" for their vests, get the unique privilege of escorting celebrities and dispersing fans. The best strategy, notes plaid Philander Butler, is loudly breaking the disappointing news to celebrities (again and again) that "we don't have time for selfies," which "keeps clients from coming off as mean" and gets guests' focus back on Pocahontas.
Surprisingly, A-listers usually bring hakuna matata vibes; one chanteuse is such a joyful regular she's befriended a few friends-of-princesses, even inviting them to Vegas to watch her perform.
Disney Has Its Dirty Words
Cleanliness has been at the forefront of Disney's strategy since it reopened in July with heightened sanitation protocols, mask mandates, and gallons of easily accessible Purell. But even in non-pandemic times, the parks have to look utterly pristine, as any errant piece of litter could detract from the magic.
The resort's cleanup crews spend the most time picking candy wrappers, ice cream, and popcorn off restaurant terraces and streets, especially after a parade plows through. At night, larger maintenance issues get resolved with pressure hoses and ladders.
Christine Fougère, a cleaning-support manager, says hazardous spills command code names—which I luckily never heard in the line of duty. And yet, they're not uncommon. Code V is for vomit, and Code H is for human waste. (Sometimes kids—and even a few adults—have trouble holding it in when they're waiting in line.) Code Winnies are called when resort pools turn slightly yellow; oddly enough, it's not used for the Pooh.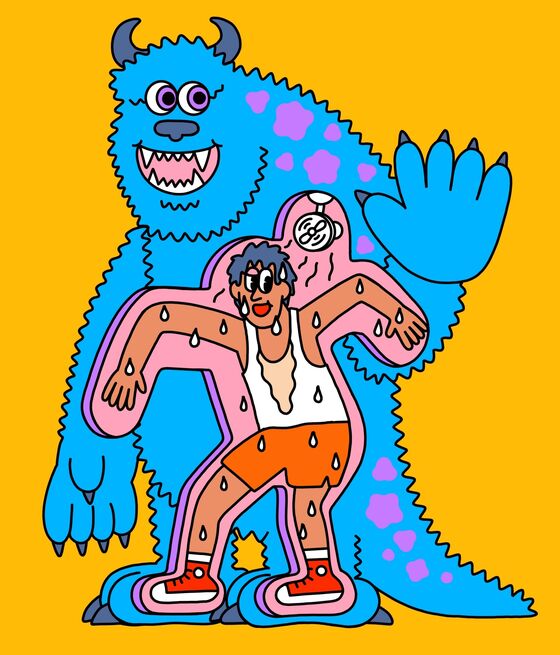 You'll Never Know Who (or What) Is Hiding Inside Mickey
While nonhuman Characters require their "friends" to be specific heights—no taller than 5 feet for Donald Duck and around 6 feet for Goofy—what's really essential in these roles is strength.
According to a friend of Sulley, the costume for the shaggy blue character from Monsters Inc. weighs about 80 pounds; his fiberglass arms, held by internal handlebars around the elbows, are 15 pounds each. And Goofy is constructed such that the person inside has to bend their head downward; vision is accessed through sheathing in the mouth. "Once, I was having allergies onstage, and my screen got completely smeared after a sneeze. I was basically blind!" says a former friend of Goofy.
Between 30-minute shifts in the Orlando heat, "Fuzzies" retreat to ultraprivate break rooms hidden behind building facades on Main Street where they can undress without ruining the sanctity of their personae. (Even Disney employees would be shocked to see Chip and Dale without their heads.)
All costumes are vigorously laundered after each shift, which for Goofy includes black tights, black shorts, a white T-shirt, special body pads for the gut and butt, suspenders, pants, then the sweater and giant shoes—plus, of course, the head.
"We're all responsible for disinfecting our heads with a spray at the end of the day, then they all go on a rack all together. It looks bizarre," a former Character says. "Back in the '90s everyone had to share undergarments as well," he continues. "An outbreak of scabies put an end to that."
Magic Is Preserved at All Costs
Ultimately, the most difficult—and crucial—part of being a cast member is preserving the magic, no matter what happens. Training for that begins on the first day of orientation. All newbies—from sanitation to retail—learn to say things like, "Have a magical day" and respond to inane questions with wonder.
But the most important duty is to buy into the fantasy that there's just one Mickey or any other Character—that's why guests are strictly prohibited from wearing costumes in the parks. "My best advice for when someone asks you who is in the Mickey costume or how many Mickeys are there is to play dumb," says training facilitator Matsumoto. "Mickey's costume? Do you mean his shorts?" Like the Tinker Bell effect, if everyone believes it all hard enough, maybe it will actually be true.