Cable Guys Team Up as the Global Streaming War Intensifies
(Bloomberg Businessweek) -- Over the years, Discovery Inc., the owner of Animal Planet and steward of Shark Week, has mesmerized TV audiences with all sorts of Darwinian marvels. Alligator snapping turtles. Giant Tasmanian crayfish. Tree kangaroos. Now, Discovery is trying to pull off its own evolutionary leap, crawling out of the choppy seas of basic cable to invade the fertile land of streaming TV. On May 17, Chief Executive Officer David Zaslav sat alongside John Stankey, the CEO of AT&T Inc., at a hastily convened investor call and provided a blurry snapshot of their newly hatched, multiheaded entertainment hydra.
The executives disclosed that AT&T, just three years after completing its costly acquisition of Time Warner and renaming it WarnerMedia, would be spinning off its media assets, which include CNN, TNT, TBS, and the Warner Bros. studio, and merging them with Discovery. Zaslav will lead the new, as yet unnamed, entity. Its portfolio will include a mix of highbrow brands such as HBO—known for creating lavishly expensive scripted programming like Succession—along with a slate of middlebrow, basic cable networks, including HGTV, Food Network, and TLC that are adept at churning out low-cost reality shows like 90 Day Fiancé. "There is no reason why this can't be the broadest, most successful direct-to-consumer platform in the world," Zaslav said.
AT&T and Discovery have struggled to master the streaming ecosystem. Launched a year ago, AT&T's HBO Max got off to a slow start, but it's since gained traction after striking key distribution deals with Roku and Amazon and showing Wonder Woman 1984, Godzilla vs. Kong, and other Warner Bros. films on the same day as their theater premieres. HBO Max and the traditional HBO channel together have about 44 million subscribers in the U.S. and 64 million total worldwide. Discovery's new streaming service, Discovery+, started in January in the U.S. By late April, the company said it had 15 million streaming subscribers, many of whom get Discovery+.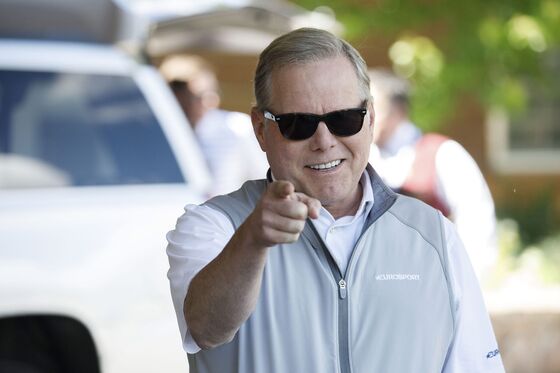 The AT&T deal may have been inevitable given the current state of streaming TV. The market is increasingly global in its outlook and inhospitable to minnows. Netflix Inc. remains the megalodon, with 208 million subscribers worldwide and a pipeline of hits such as Lupin that are popular across continents. But Walt Disney Co., which two years ago bought Rupert Murdoch's entertainment empire for $71 billion to gain more scale, is catching up fast, with more than 100 million subscribers to its service, Disney+.
WarnerMedia and Discovery are just starting to expand streaming services overseas. Both faced obstacles in catching up with the behemoths. WarnerMedia, for now, can't launch HBO Max in the U.K. and other key European markets because of existing deals HBO made with pay-TV provider Sky. And Discovery lacks the buzzy movie franchises of Warner Bros. studio. Their tie-up is "an explicit acknowledgment that neither company believes it can succeed in the streaming future alone," says Todd Juenger, a media analyst at Sanford C. Bernstein.
Among the new breed of alpha streamers, massiveness is seen as key to survival. After the announcement, Zaslav boasted to reporters that the new entity would have planet Earth's "deepest programming and film library," with more than 200,000 hours or programming including "scripted movies and series, animation, sports, news, nonfiction" and children's programming: "All areas where we have the talent and strength to compete and win."
Zaslav went on to talk up the width of the combined entity's "marketing funnel," the reach of its international "content pipelines," and the consistency of its "franchise tentpoles." "Big loud films," he said, would "act as beacons," keeping customers "engaged and nourished on the platform," while creating "a steady free-cash-flow machine" for continual reinvestment in programming.
But other companies that claimed to have unique synergies—simultaneously owning media properties and the means of distributing them—have seen their hopes for media supremacy dashed. Earlier this month, Verizon Communications Inc. announced it will sell its media division to Apollo Global Management Inc. for $5 billion, abandoning its hold on several once-dominant online brands, including AOL and Yahoo. And while telecom giant AT&T will maintain a stake in the new, unnamed company, it's essentially ending its broader ambition to use media ownership as a way of reducing churn among its wireless customers, bringing to a close an expensive Hollywood misadventure. "The fact of the matter is, direct-to-consumer is a global opportunity that is rapidly evolving, and the pace of that evolution is accelerating," AT&T's Stankey said on May 17.
The fast-twitch demands of the streaming-TV business have quickly proven to be out of sync with the circadian rhythms of telecom executives. Traditionally, they've been accustomed to luring subscribers with enticing smartphones from the likes of Apple and Samsung, which come yoked to long-term contracts customers may not scrutinize for years, freeing executives to focus on technical upgrades to wireless infrastructure—engineering challenges that glacially play out over decades.
The home-entertainment business, by contrast, requires navigating a market that's subject to much more short-term volatility and requires constant tweaking of programming, cajoling of customers, and fluffing of talent. Richard Plepler, HBO's former longtime CEO, who spent his early professional years in Washington, mastering the playbook of Capitol Hill, used to tell colleagues they were in a permanent campaign to win over customers. To survive, HBO had to win an election every month.
The streaming world is even more demanding. Netflix, Disney+, and HBO Max have to win their subscribers' attention every hour, every day, every week, or risk losing their fickle consumers to whatever streamer has the hottest new drama, blockbuster action movie, or true-crime docuseries.
Zaslav, 61, who has a penchant for sweater vests and is known affectionately in the industry as "Zas," has spent most of his career in the now-fading cable-TV business. His mentor is John Malone, 80, an early trailblazer of the U.S. industry. As CEO of Discovery since 2007, Zaslav was among the last of the big media chieftains to make his channels available to the growing legions of cord-cutters.
But while he's relatively new to streaming, Zaslav is well-versed in the complexities of running an international media business. Discovery gets about a third of its revenue from outside the U.S. Its shows are seen in more than 220 countries, and it owns a broadcast TV station in Poland. It specializes in the type of unscripted programming that can easily cross borders. Not much of Shark Week gets lost in translation. Discovery has also become a significant player in European sports, with long-term rights to broadcast the Olympics as well as tennis, golf, and cycling across the continent.
One question is whether the new company can afford to pay for all the programming it will need to compete in streaming. Before the deal, the two companies spent about $20 billion a year combined on content, according to Zaslav. That's more than the outlay of Netflix, which plans to spend $17 billion this year. But the company will be burdened with $55 billion in debt, which it will try to pay down using cash from a declining cable business—all while investing in programming for streaming services that will likely lose money for years to come.
Zaslav may also possess something WarnerMedia's old bosses at AT&T didn't: a keen understanding of how to recruit, nurture, and pamper talent. Known for being well-connected, he throws an annual Labor Day party at his home in the Hamptons where everyone from Jon Bon Jovi to Katie Couric shows up. He takes pride in pointing out that Discovery hasn't lost any big-name stars to Disney, Netflix, or Amazon Prime. When Fixer Upper stars Chip and Joanna Gaines left HGTV, Zaslav flew multiple times to their home in Waco, Texas, and wooed them back. "The entertainment business is about talent," Zaslav says. "I love people."
The new company will enjoy one immediate advantage. Its portfolio of brands will include CNN, one of the leaders in cable news. Neither Disney+ nor Netflix can offer subscribers access to a major news outlet as part of their monthly package. Playing up the strategic importance of CNN, Zaslav cited his experience years earlier at NBCUniversal, where he helped start the cable news channels CNBC and MSNBC. "I've seen the value of those assets," Zaslav says. "It's extremely powerful. And in a world where there is so much content, live news and live sports becomes a real palpable currency."
The deal between Discovery and WarnerMedia is likely to accelerate consolidation in the broader industry, as the owners of other second-tier streaming services look for similar ways to pack on pounds of programming mass. Before the deal's announcement, Comcast Corp.'s NBCUniversal was seen by many as the most likely destination for AT&T's media assets. Having missed out on the big meal, Comcast will likely cast a hungry eye elsewhere, perhaps spinning off NBCUniversal and combining it with ViacomCBS Inc. Elsewhere, according to multiple news outlets, Amazon.com Inc. is deep in talks to potentially buy studio MGM, whose stream-friendly library of titles ranges from The Wizard of Oz to the James Bond and Rocky films.
Should Discovery or its ilk stumble, there will be a pack of deep-pocketed, ravenous technology companies ready to pick their bones. But they, too, could find a complex business that isn't easily disrupted in the Netflix era.
"Over the past year, we couldn't have been more clear in our concern that the pivot from linear networks to [direct-to-consumer] models was filled with great risks and under-appreciated pitfalls," analyst Michael Nathanson wrote in a note to clients the day after the AT&T announcement. "Even the best-in-class companies like Netflix and Disney require constant updating of sexy new content, deep reservoirs of glossy titles, and the commitment to spend dearly until monthly subscriber churn drops to a low enough level that signals it is time to start raising prices. As we saw yesterday, few had the mettle to stare into this abyss and keep going."