Digital Ballot Advocates Use the Blind to Champion Their Cause
(Bloomberg Businessweek) -- Lou Ann Blake took the microphone in a crowded auditorium near Macon, Ga., last August and articulated a position that puts her at odds with almost every cybersecurity professional in the U.S.
An election accessibility director for the National Federation of the Blind, Blake was testifying before a committee formed by then-Georgia Secretary of State Brian Kemp to recommend how to replace the state's computerized voting equipment, which cyber experts have called the most hackable in the country. Georgia shouldn't adopt the hand-marked paper ballots pushed by computer experts and good government groups, Blake said, because the blind can't use them. And if the blind can't use them, neither should anyone else.
Her statements were a crisp summary of the NFB's position. Over the next six months, Georgia politicians used them to sell the state on a pricey system of computerized voting machinery. "We are going with the most secure system we can, under the ADA," Republican state Representative Barry Fleming told lawmakers last month, bringing the Americans with Disabilities Act to bear on Blake's comments.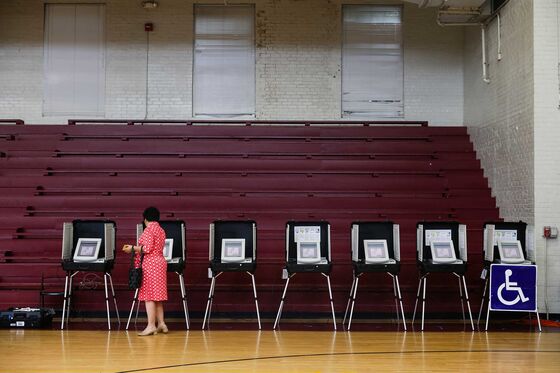 Passed in 1990, the law protects access to state and local government services. Neither the ADA nor a subsequent federal law extending the protections to polling places requires a universal system of identical voting machines, says Susannah Goodman, director of election security for the watchdog group Common Cause. "There is nothing in the federal law that says everyone has to vote on the same equipment," she says.
The conflict between disability and security advocates dates to the 2000s, when the country began replacing voting equipment thanks to millions in federal dollars made available by the 2002 Help America Vote Act. This year, with governments across the U.S. tapping more funding made available under HAVA to buy more-secure voting machinery, there's a new sense of urgency on both sides.
Election integrity advocates argue that computerized systems, no matter how well-designed, are too easy to hack. By their logic, hand-marked paper ballots are the safest way to vote because they provide the most reliable paper record of a voter's intent and enable accurate audits. Seventy percent of U.S. voters currently vote this way, recording their votes with pen on paper and then feeding them into a computerized scanner, according to the election security advocacy group Verified Voting. These polling places typically have computer-assisted voting machines on hand for the disabled.
Blake and other disability advocates say forcing blind and sighted voters to use separate systems constitutes a privacy violation, since ballots marked by most of the computerized ballot casters on the market look different than those marked by hand. Poll workers may also delay setting them up until needed, creating a longer wait, says NFB spokesman Chris Danielsen. Advocacy groups don't want the disabled "to be singled out—I get that," says Susan Greenhalgh, the National Election Defense Coalition's policy director. "But that's akin to saying that because some people can't walk upstairs, now everybody has to use the elevator."
Georgia's 17-year-old voting system has been called the nation's worst because of its age and the lack of an auditable paper trail, and because the same machines are deployed in every precinct across the state. A federal lawsuit last year aimed to force the state to abandon them before November's midterm elections—and while the judge in the case declined to order their immediate replacement, her ruling recognized the constitutional significance of secure elections.
Because state law mandates that Georgia polling places use this equipment, a new law is needed to replace it. Kemp, who's now the state's governor, convened his advisory committee after a previous effort at drafting legislation failed, with lobbyists for vendors and election integrity advocates at a stalemate. The commission's 18 members included local elections officials, legislators, and one cybersecurity expert, Wenke Lee, a computer science professor and co-director of the Institute for Privacy and Security at Georgia Institute of Technology.
At a final meeting in December, Lee urged the group to endorse hand-marked ballots supplemented by voting computers for the disabled, saying no other option was justifiable. "From a cybersecurity point of view, that's the best available solution," he said.
The commission ignored him, recommending computerized ballot markers for use across the state in January. The $150 million proposal—which will be the largest ever contract for an election vendor in the U.S.—passed the Georgia House in late February. It passed the state Senate on March 13 in a party line vote, and Kemp is all but certain to sign the bill into law.
The approved machines create a paper record that voters verify, but use computers to do it, adding both cost and risk, says Rich DeMillo, a cybersecurity expert at Georgia Institute of Technology: "You still have a hackable computer between you and your vote."
To contact the editor responsible for this story: Jillian Goodman at jgoodman74@bloomberg.net, Flynn McRoberts