Democrats' Senior Surge Could Help Joe Biden
(Bloomberg Businessweek) -- Joe Biden enters the Democratic primary field facing plenty of headwinds: his proneness to gaffes, his handsiness with women, and a record on everything from busing to criminal justice issues to his treatment of Anita Hill that's out of step with the modern Democratic Party. Given that young, female, and minority voters are increasingly setting the party's agenda—and soaking up media attention—he's often portrayed as a hopeless dinosaur. Lots of these young people express qualms about the old, white, male former vice president. As a group, they turned out in record number in last fall's midterm elections.
Luckily for Biden, old people did, too. 
Although it gets much less attention than the jump in youth turnout, 2018 saw an historic "senior surge" that helped Democrats win 40 House seats—and that, were it to continue, could give Biden an unexpected boost in the presidential primary.
"The senior surge accompanied a swing towards Democrats among older voters," says Tom Bonier, CEO of TargetSmart, a Democratic political data and data services firm. "While the Democratic primary electorate generally skews older than the general electorate, it appears seniors are poised to play an even more influential role in the 2020 primaries."
Biden, perhaps not surprisingly, is most popular with older voters. An April 7th Morning Consult/Politico poll found that he was the top choice among Democrats 65 and older (42 percent) and 55 to 64 (37 percent), but fared much worse with young voters, who prefer Bernie Sanders.
Since last fall, as state election officials began releasing final midterm turnout numbers, Bonier and his team noticed that the reports showed staggering numbers of senior voters. While seven states are still outstanding, the numbers from the 43 states TargetSmart has analyzed illustrate the senior surge: those states produced 35,105,556 voters age 65 and above, easily eclipsing the number in the 2014 midterms (25,057,194) and nearly reaching the 36,021,434 who voted in the 2016 presidential election—a number that Bonier says will almost certainly be surpassed once all 50 states are counted.
As this chart from TargetSmart shows, the share of senior voters in the midterm election also shot well past the share in the last presidential election: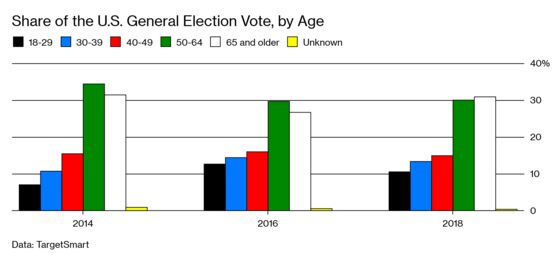 Given that presidential elections historically draw many more voters than midterms among every demographic group, the composition of the Democratic midterm electorate has to be encouraging news for Biden. 
Over the long term, the Democratic Party is becoming younger and more diverse. But last fall, the graying of the electorate was one key to the Democrats' success. If it keeps up, Biden could have more staying power atop the presidential primary field than most analysts are currently expecting.
To contact the editor responsible for this story: Jillian Goodman at jgoodman74@bloomberg.net