Daring Deal by French CEO Sets Japan's Takeda on Global Path
(Bloomberg Businessweek) -- Back in 2013, Christophe Weber was offered a job as Takeda Pharmaceutical Co.'s chief operating officer, making him essentially the CEO-in-waiting and placing him on track to become the first foreigner to run the company since its founding in 1781. The French executive immediately reached out to auto industry turnaround artist Carlos Ghosn, a fellow Frenchman who enjoyed godlike status in Japan for saving Nissan Motor Co. They met in Paris, and Ghosn gave Weber a hint of what life would be like as a foreign executive in Japan.
Ghosn, who also has Brazilian and Lebanese citizenship, today sits in a Tokyo jail cell and faces charges for allegedly understating his compensation to the Japanese government by about $80 million. He's also been stripped of his chairmanship at Nissan. Weber, meanwhile, has just pulled off a daring—and debt-fueled— $62 billion takeover of Shire Plc, a biopharmaceutical company headquartered in Ireland that's focused on treatments for rare diseases. The marriage will create the world's ninth-biggest drugmaker by sales.
The cash-and-stock deal, the biggest overseas acquisition ever by a Japanese company, has its detractors. Takeda will issue stock, a rarity in Japanese takeovers, that will dilute the equity value held by current shareholders. A vocal group of dissidents, including a former Takeda chief executive officer and founding family members, fiercely opposed the deal.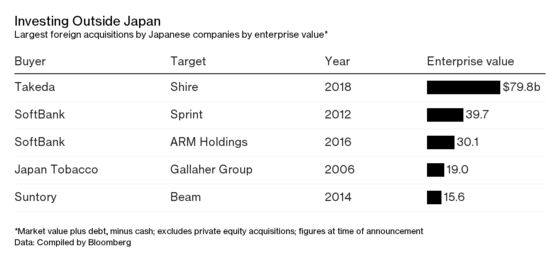 Weber won the day in a shareholder vote on Dec. 5, following a campaign during which he wooed domestic and overseas investors with increasingly detailed information about how he'd tackle issues of debt and integration and the potential long-term value to be unlocked from a successful merger. Still, whether those plans become a reality remains an open question with some investors: Takeda's stock has fallen about 11 percent since shareholders approved the megamerger, and shares were down 42 percent in 2018 through Dec. 12.
Since arriving after a long career at GlaxoSmithKline Plc, Weber has shaken up Takeda's upper ranks and recruited other foreign executives. Focusing solely on Japan is a losing proposition, he's argued. The nation's population is shrinking, and a health-care system funded largely by the government has pushed down drug prices. Also, research and development costs are increasing as the industry moves from traditional "small molecule" drug compounds to more complex biologics, derived from living organisms, which are said to target disease more effectively.
With Shire, Takeda will become a far more globalized player, with the higher-margin U.S. market representing 48 percent of total revenue, up from 34 percent now, the company says. In many ways, Weber already has introduced strategies to make Takeda far less Japanese in reach and outlook, such as expanding its research hub in Boston. That's a sensitive topic just now, given revelations that Ghosn had favored merging Nissan with its alliance partner Renault SA before his arrest in November. That deal would have been effectively a foreign takeover of Nissan.
"Clearly there's some parallels. You've got a reforming international CEO who also happens to be French," says Stephen Barker, an analyst at CLSA in Tokyo. "I think the biggest difference is that Ghosn, from all reports, was trying to push for a merger between Renault and Nissan, which would have diluted local control of a national icon. In the case of Takeda, the big deal that Weber is pursuing is an acquisition that is going to amplify the global power of Takeda, and by extension of corporate Japan."
Getting there won't be easy. First, there's the task of integrating Shire, a drugmaker with a portfolio of lucrative therapies to treat diseases such as hemophilia and ADHD. In justifying the premium price, Takeda estimates the deal will generate cost savings of $1.4 billion annually after three years, from such things as combining sales and administrative tasks and some R&D, and could triple its earnings. Hitting those numbers is crucial since the $30 billion Takeda is borrowing for the deal will raise its net debt to an uncomfortably high five times earnings, vs. a global industry average of one. In an email, Takeda said it's confident it will reduce its debt leverage in three to five years and will remain investment-grade.
Weber will also have to contend with the souring view of foreign executives stemming from l'affair Ghosn in a corporate Japan that's turned wary of managers from abroad taking big risks to justify their high pay packages. Foreign managers are typically "being scrutinized a lot more than Japanese managers," says Parissa Haghirian, an international management professor at Sophia University in Tokyo.
Putting aside the obvious differences between cars and pharmaceuticals, Weber's was the tougher path of the two CEOs. In 1999, Renault executive Ghosn had a broad mandate to save a car company considered a lost cause. Weber, meanwhile, inherited a company whose profits were dwindling after the patent expired on its best-selling diabetes medication, but it was scarcely in crisis. "If a company was about to die, every move is a good move because something must be done," Haghirian says. "But if a company is OK, and we're not quite sure if the company will be OK 10 years from now, the question is, 'What do we do?' "
Some domestic investors may continue to resist Weber's urgent push to globalize, preferring to stick with the standard playbook for Japanese pharmaceutical houses: living off the licensing fees from delivering high-quality drug R&D to global partners, while staying focused on the domestic Japanese market. But its foreign-born CEO is determined to chart a riskier path for Takeda.
To contact the editor responsible for this story: Brian Bremner at bbremner@bloomberg.net, James Ellis