Cuba Bets Big on Its Own Vaccines as Covid Surges
Aside from the shots given during the trials, more than 445,000 Cubans have received at least one dose of Abdala, President Miguel Díaz-Canel said on May 18. Soberana 02 will be added to the mix soon. When the pandemic raged across the Western Hemisphere last year, Cuba was able to keep a lid on the outbreak. But now the country of 11 million is reaching records, averaging 1,255 new cases per day—up from 165 a day in January.
"When you're talking about life or death, we believe that the elements of safety and efficacy are present that allow us to move forward," Health Minister José Angel Portal said on state-run television earlier this month as he announced the expanded vaccination program. "There's no time to waste."
While most countries in Latin America and the Caribbean are scrambling to acquire vaccines and only 3% of the region's population has been vaccinated, Cuba's government says it can have 70% of its population inoculated by August. "We'll likely be the first country in the world to vaccinate its entire population with its own vaccines," Portal said. Argentina, Brazil, Mexico, and Peru are also working on their own vaccines, but they're still in early stages of development.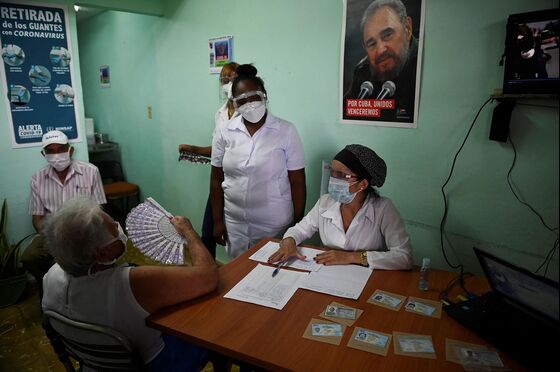 Cuba's decision not to negotiate with Covax likely comes down to finances. Even though the cash-strapped island is buckling under the pandemic and grinding U.S. sanctions, it isn't considered a low- or lower-middle-income economy by the World Bank and therefore isn't eligible for free vaccines under the program. It would, however, "qualify as a self-financing participant, should they decide to participate," the organization said in a statement. 
"Of course there's a risk when you're betting everything on your own vaccine candidates," says Amilcar Perez Riverol, a former professor of molecular virology at the University of Havana and a former researcher at CIGB, which makes Abdala. "At the same time," adds Riverol, who lives in São Paulo, "Cuba has a track record, so it's logical that it should take this leap and try to produce its own candidates." 
Although much of Cuba's economy suffers from a lack of investment, the government has always made its bioscience sector a priority, and the country has been making advanced vaccines for decades. It developed the world's first meningococcal B vaccine in the 1980s. A Cuban vaccine for the prevention of lung cancer, CIMAvax-EGF, is currently undergoing Food and Drug Administration-approved trials in the U.S. And since the Cuban Revolution more than six decades ago, the island has sent hundreds of thousands of doctors and nurses abroad as part of a diplomatic charm offensive. 
Clare Wenham, an assistant professor of global health policy at the London School of Economics, says international sanctions on Cuba have forced its medical community to be creative and self-reliant. "The quality of Cuban research is excellent," she says. "And that's allowing them to develop these vaccines that we haven't seen in the rest of the region."
The homegrown vaccines could be a financial lifeline for a country whose economy contracted 11% in 2020. Already, Bolivia, Mexico, and Venezuela have expressed interest in buying or licensing Abdala and Soberana 02. 
The Cuban government says it will administer the third and final doses of both formulations under the Phase III trial by the end of May. Then researchers have to wait to see how safe and effective the drugs are, and send their findings to the World Health Organization—or other international regulators—for independent evaluation. 
The need for locally produced vaccines is urgent, said Carissa Etienne, director of the Pan American Health Organization, at a press conference on May 19. Although Latin America and the Caribbean have become an epicenter of the pandemic, the region produces less than 4% of the medical supplies needed to fight it, which has set off a scramble for imports.
"Expanding our regional capacity to manufacture strategic medical supplies—especially vaccines—is a must," Etienne said, "both for our people and as a matter of health security."