Cruise Fanatics Eagerly Volunteer to Test Virus Protocols Aboard Ships
(Bloomberg Businessweek) -- When Royal Caribbean International announced it was looking for volunteers to help test its post-pandemic health and safety protocols, Melody Wiggins was among the first to sign up.
"No matter where [they] want me to be, I'm there," says Wiggins, 58, a life coach from Southern California who calls the 4,180-passenger Anthem of the Seas her "home away from home." After she fell in love with cruising in 2018, she's been on 16 voyages—several of them on the Anthem. Her obsession is a straightforward romance with ocean views, sunrises at sea, and the smell of salt breezes. "I miss all of that," she says.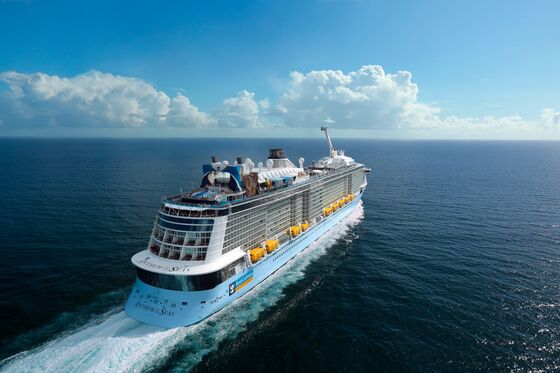 Bent Martini, chairman and chief operating officer of Hurtigruten Ltd., a European cruise line, stepped down in August after an outbreak on one of its ships in Norway. Four months later, a ship in SeaDream Yacht Club's fleet left Barbados on a trip meant to validate its increased safety protocols, including regular testing, but had to turn back after seven out of 53 passengers tested positive.
Nevertheless, Royal Caribbean's call for volunteers in November received 100,000 signatures in the first week. An additional 150,000 have jumped on board since then, all of them willing and eager to stare down the coronavirus for the chance to get back out on the water.
These so-called test cruises are one in a series of requirements from the U.S. Centers for Disease Control and Prevention before lines can resume commercial operations, an activity the agency has designated a " very high level of Covid-19" risk. Companies that succeed can get back to making money—Royal Caribbean's most recent earnings call showed a $1.3 billion loss in the third quarter of 2020. So far, it's the only one that's asked for volunteers.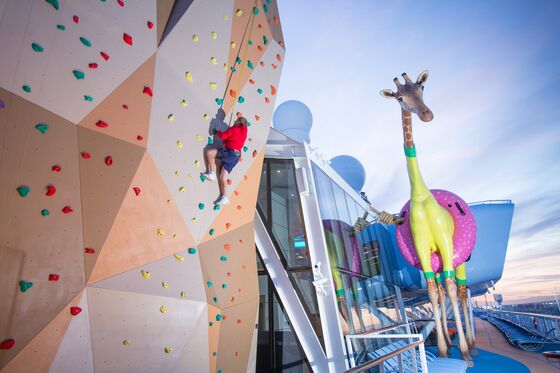 Before the CDC approves any test cruises, the agency needs buy-in from ports and local health authorities. It also must publish technical instructions for the ships to follow. After that, cruise lines will need to give 30-day written notice of their plans. Royal Caribbean and its competitors have so far suspended sailings through April—an indication of how long this process might take. A CDC spokesperson said the criteria to measure these trials' success were still being determined.
Whenever the test cruises happen, they'll encompass a handful of "simulated voyages" inspecting best practices for social distancing as well as quarantine and evacuation procedures. Royal Caribbean hasn't yet disclosed whether the itineraries will consist only of drills or if the ships will even leave the port. Spokesman Rob Zeiger, who left his post on Jan. 29, expects them to combine dockside testing in Florida with a visit to Perfect Day at CocoCay, Royal's $200 million private island in the Bahamas.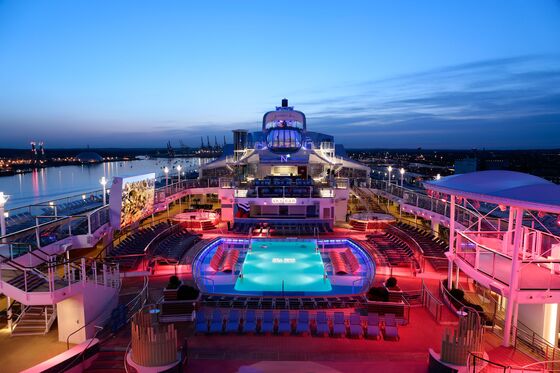 Even with so many unknowns, fans are itching to be let on board. Nancy Price Towner, a retiree from Galveston, Texas, who has 16 sailings booked for this year beginning in May, frames her desire almost in terms of civic duty. "This is not a vacation," she says. "I see this as a job. We must do all we can to help cruise lines get back to what they do best, providing a respite from the everyday world."
For Deborah Marino-Ramos, 58, a registered nurse from New Rochelle, N.Y., who had 20 cruises booked for 2020—all canceled—the test sailings are an opportunity to be part of Royal Caribbean's history. "I don't want to do it with another cruise line. I just want to do it with Royal," she says. "I trust they are not going to have a problem and ruin their industry."
Richard Fain, chairman and chief executive officer of parent Royal Caribbean Group, has offered few assurances. He's told travel agents that eliminating the virus is impossible on a cruise ship. The goal, he says, is to make ships safer than guests' hometowns and quickly contain any outbreaks that inevitably occur. Just as on dry land, testing will be key. Rapid PCR tests will be available at both the pier and on board each ship to identify and isolate sick passengers.
Some of Royal's biggest fans are offering their medical training services. Pam Merkin, 66, a registered nurse from Houston who's sailed with Royal 34 times, says she volunteered because "I believe with my medical background I could give useful feedback regarding cleaning and PPE protocol."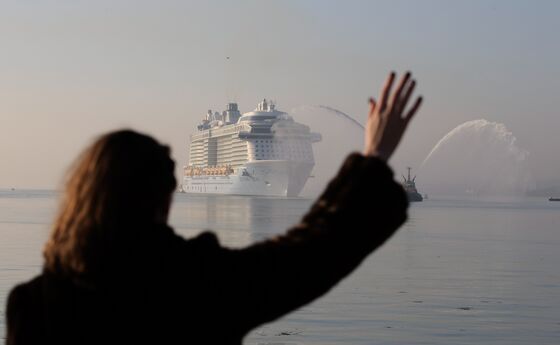 New York nurse Marino-Ramos also has firsthand knowledge on her side. She was on a ship in the Caribbean when New Rochelle was cited as a pandemic hot spot. "My husband and I looked at each other and knew we felt safer on the ship than going back home," she says. Now she expects test cruises to include social distancing, mask-wearing, ordering food from smart devices, and other measures. "It's what we have done all around in our town, but on a ship."
Matt Hochberg, 38, a cruise industry reporter who closely follows Royal on his unofficial Royal Caribbean Blog, thinks the whole gambit could be a mirage and wonders if the company's move was an elaborate publicity stunt. Instead of citizen volunteers, he suspects that the line will populate its test cruises primarily with land-based Royal employees and travel agents—the same friendly audience typically on shakedown cruises for new ships. And yet, Hochberg volunteered anyway. "I signed up immediately," he says. "I figured, why not?" (Michael Bayley, president and CEO of Royal Caribbean International, says the company's sign-up program stemmed from high demand that was coming in over social media and email.)
David Chipping, 64, is also taking the opportunity with a dose of nonchalance. A business executive with residences in Miami and London who's been on more than 150 Royal cruises, he says he'd even play-act in a simulation. "I wanted to do anything I could to assist them in a return to the seas," he says of his decision to sign up. "If I am asked to drink at a bar and be that difficult cruiser, then I will. They need to test procedures under both controlled and 'normal' circumstances. I am very versatile."