The Final Hurdle in the Covid-19 Vaccine Race Is Bureaucracy
(Bloomberg Businessweek) -- Making vaccines that are safe and effective is certainly the hard part of the race to pull humanity from the pandemic brink. Promising results are pouring in. On Nov. 9, Pfizer Inc. and its German partner BioNTech SE said early findings showed their vaccine prevented more than 90% of symptomatic infections in a trial of tens of thousands of volunteers. On Nov. 16, Moderna Inc. reported a 94.5% prevention rate for its vaccine, with a 30,000-plus test group. Today, Pfizer-BioNTech announced that a final analysis of its trials showed that its vaccine was 95% effective. AstraZeneca Plc is expected to report on its candidate vaccine in a few days.
Yet if triumph in this scientific, corporate, and nationalistic contest is defined as the first vaccine to get approved and administered on a large scale, the victory is still anyone's to win. The final phase will require navigating the maze of regulators, scattered across continents and agencies, who will determine when, which, and where shots of the most promising candidates will be approved, produced, and distributed. Indeed, simultaneously with the latest update on its vaccine, Pfizer-BioNTech said it would file within days with the U.S. Food and Drug Administration for the first U.S. regulatory approval of a coronavirus shot. 
These gatekeepers represent an overlooked logistical reality of the vaccine contest. This isn't just a single race among a handful of corporate front-runners such as Pfizer vs. Moderna vs. AstraZeneca, but a more fractured process in which individual nations hold the power of approval. Yes, the U.S. FDA is important, but the contours of a splintered final push are already coming into focus—and they are global.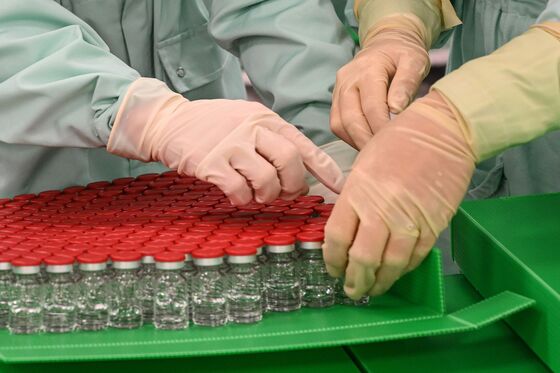 The U.K. release of AstraZeneca's shot, developed with the University of Oxford, may well be pitted against its European Union-approved identical twin. Canada (to little notice) has issued new rules that allow its regulators to more quickly approve a Covid-19 vaccine—and in the past few weeks, AstraZeneca, Moderna, and Pfizer have all applied for the Canadian authorization. Germans who funded the Pfizer-BioNTech jab may want first dibs, even though President Trump has virtually taken personal credit for it. Even New York state will have its own vaccine vetters, according to Governor Andrew Cuomo, as a backstop to the mistrust of the Trump administration's FDA. A handful of other states—including California—is following suit.
In Brazil, the vaccine quest has turned into a multinational regulatory soap opera. President Jair Bolsonaro's government has said it's spent 2 billion reais ($369 million) to develop a vaccine with AstraZeneca and Oxford, which is being tested in Brazil. At the same time in São Paulo state—run by Bolsonaro's rival governor, João Doria—China's Sinovac Biotech Ltd. has been partnering locally with the Butantan Institute, conducting trials there of its CoronaVac shot. While Doria promised to deliver a vaccine to the 44 million people in his state, Bolsonaro slammed the Chinese vaccine on safety terms "due to its origin." The head of the Butantan Institute complained that Brazil's health agency, Anvisa, was hampering imports of raw materials from China to produce Sinovac's vaccine. Doria, the São Paulo governor, snapped at Bolsonaro that denying access to the shot "is criminal."
The conflict hit a critical point when the national health agency suspended Sinovac's trials in the state after a trial subject died—without consulting the researchers and despite a claim by the Butantan Institute that there was no link between the death and the shot. On Nov. 11, Anvisa said it was allowing Sinovac's trial to resume, but added the next day that it's sending a team to China to inspect the company's facilities.
For the pharmaceutical companies that are working at record speed to save lives and the global economy, any regulatory splintering creates a distracting burden, says Richard Hatchett, chief executive officer of the Coalition for Epidemic Preparedness Innovations, which is funding a number of the front-runner Covid vaccines. If every country were to carry out its own review of a vaccine, that would force the manufacturer to go through 190 different regulatory processes, he says. "The requirements are largely similar, but they're not going to be completely aligned, and that creates a queuing problem that is unacceptable in the context of a pandemic," Hatchett says.
As infection numbers soar, deaths mount, and the coming months promise to be a "dark winter," in the words of U.S. President-elect Joe Biden, nations may sprint ahead with emergency approvals. "I really discourage this," says Guido Rasi, who was executive director of the European Medicines Agency for nine years until he stepped down on Nov. 13 to return to teaching. Any speeding of the process should happen only at the completion of clinical trials, and not in a way that fuels "vaccine hesitancy," the veteran regulator says. That is, undermine trust and nobody will want your shot. Exhibit A is the risibility of Russian President Vladimir Putin's claim to have already won the race with a vaccine that hasn't yet completed large-scale trials. 
The scientific, patriotic, and bureaucratic strands of urgency might help explain a curious thing that happened after global trials of the Oxford-AstraZeneca vaccine were halted on safety concerns in early September. Within a week, U.K. regulators gave a green light for them to start up again in that country. Days later, Brazil and South Africa followed. Yet it took almost seven weeks for U.S. regulators to allow a resumption. One issue apparently was technical: Bureaucracies process data differently in the EU and the U.S., so a lot of the trial information had to be made U.S.-friendly to comply with the FDA requests. But the upshot was clear: The U.K.'s native vaccine candidate got its most friction-free treatment on its home turf.
Already, in August, the U.K. government signaled it would grant a temporary authorization for an unlicensed vaccine if there was a compelling case to move more quickly than the EMA, even while the U.K. is still subject to the approval process of the EMA until the end of the Brexit transition process on Dec. 31. U.K. health authorities published detailed plans and legal rationales in subsequent months. Could the U.K.'s Medicines and Healthcare products Regulatory Agency give the Oxford shot the hometown advantage with a pre-Brexit thumbs-up? With little time left in 2020, such a split would provide an advantage of only weeks, at best. But to win this race—and save lives—every day counts. 
"Yes, I could see the U.K. being first or one of the first, but it will be entirely subject to the data that are submitted," says David Salisbury, Britain's former health department director of immunization, who is now at the global health program at Chatham House, the London-based think tank. "The issue is clearly the starting gun, which is licensing. It will depend on the data submitted to the regulators, be they MHRA, EMA, or FDA, and we mustn't forget other regulators around the world."
Among these gatekeepers' most potent tools for speeding local approvals is the so-called rolling review—a process that allows regulators to see clinical data in real time and have discussions with companies about ongoing trials and manufacturing processes so that approvals can happen more quickly. The approach is designed to speed up access to drugs and vaccines when there is a public health need. The EMA announced in October that it was starting rolling reviews of the Pfizer and AstraZeneca jabs in Europe. The British regulator then took a similar path, with Moderna announcing that the U.K.'s drug agency had started a rolling review, followed on Oct. 30 by a Bloomberg News report that the MHRA was doing the same for the Pfizer and AstraZeneca vaccines.
In Canada, the government cast a wide net in its own global quest to protect its population, even partnering with China's CanSino Biologics Inc. That deal fell through in August, after China refused to allow research to be exported to Canada amid a separate spat over the arrest of a Huawei Technologies Co. executive. As a result, Canada's National Research Council turned its focus to other partners and put the nation on track to pick a winner on its own terms.
On Sept. 16, Canadian Minister of Health Patty Hajdu signed an interim order that introduced a "temporary regulatory pathway" to help expedite Covid-19 drugs and vaccines. The Western front-runners all jumped aboard. On Oct. 1, AstraZeneca became the first to apply for the Canadian rolling review, followed on Oct. 9 by Pfizer and BioNTech. Three days later, Moderna, which is using a technology similar to Pfizer's, threw its hat into the ring.
In the process, Moderna, based in Cambridge, Mass., opened a window on another crucial part of the regulatory maze: the production chains. Its announcement said that the 20 million doses of Moderna vaccine ordered by the Canadian government would be sourced from its European production—made by a Swiss partner and bottled by a Spanish one. Put another way, the company isn't relying on American industry to supply the U.S.'s next-door neighbor.
Such quirks of the production chain could be determinative. Even if vaccines soon clear hurdles of efficacy and safety, the final push to victory—that moment of actually getting shots into large numbers of the populace—relies on production, distribution, and, again, the regulators pulling the levers.
AstraZeneca's global production is handled by local regulators whose governments are aching to inoculate their people. In Europe, the company is using a pharmaceutical plant near Rome owned by Somerset, N.J.-based Catalent Inc. to bottle hundreds of millions of Oxford vaccine doses. It also has been getting a bespoke service from the Italian pharmaceutical regulator, AIFA, according to Mario Gargiulo, the company's global head of biologics operations. "They are really helping us a lot," says Gargiulo, who has been on-site at Catalent's Italian outpost.
A crucial step has been the preparing of documents to qualify his company's stainless-steel fill-and-finish machinery for the massive bottling project. Usually, Gargiulo says, that can take six to nine months—and involves submitting all the paperwork for approval at once, then waiting for an inspection visit. But thanks to documentation being reviewed as it's produced, "It's been a 10-times reduction," he says. "They are much closer to us, much faster. They are very interactive with us." 
That cooperation puts any U.K.-EU rivalry in a more complicated light. In May, U.K.-Italian cooperation helped Oxford-AstraZeneca beat the competition to the start of Phase 3 trials—the first major milestone in a vaccine's march to efficacy. British regulators assisted in streamlining the process in which thousands of doses were being produced in Italy, according to Stefania Di Marco, the scientific director of Advent Srl, the Pomezia, Italy-based company that produced thousands of doses for the trials. "This was always done in a fast-track way," she says. "We could compress time."
On May 20, her team sent the first batch, around 400 vials with each containing 10 doses, from Rome to London's Heathrow Airport. On arrival the next day in Oxford, the vaccine batch "immediately" began a final process of approvals based on a detailed book-size document prepared by the Italian team, Di Marco says—"it was given priority." Seven days later, on May 28, a member of the Oxford group authorized as a qualified inspector by the MHRA released the doses for use. That evening, the Oxford team started the Phase 3 trial—putting it weeks ahead of the competition, at least until the September pause.
Shrinking the timeline further in the bottling operation, the Italian regulator has been exchanging documents and data with the European regulator, the EMA, meaning that multiple processes are happening in parallel rather than serially, speeding the ultimate goal of releasing the vaccine to the entire Continent—whether or not Britain goes first. "AIFA is collaborating very strongly with the EMA. We have seen that in the production process," Gargiulo says. "They will fast-track, as long as the vaccine is approved. What's at stake is public health."
Speed is good. But speed with cooperation is better. Health advocates have warned that any moves by individual nations to protect their own populations at the expense of others would actually leave everyone vulnerable, allowing the virus to continue to spread.
The World Health Organization and a consortium of international regulators warned that approvals should be aligned across all countries. "Multilateral cooperation between regulatory authorities will be critical in ensuring there is a level playing field, that Covid-19 vaccines and medicines are safe, effective, and quality-assured, and that all countries may benefit from such products equitably and at the same time," the WHO said on Nov. 6 in a joint statement with the International Coalition of Medicines Regulatory Authorities, whose members include U.S., European, and Japanese regulators. Says Hatchett of the Coalition for Epidemic Preparedness Innovations, "I'm optimistic, but everyone has to agree to work together." —With Simone Iglesias