Could This Gel Help Tame the California Fires?
(Bloomberg Businessweek) -- In 2009, Jeff Denholm was making a living as an adventure athlete, competing in stand-up paddleboard races and riding giant waves at Mavericks, the famous surf break near his home in Santa Cruz, Calif. Denholm was sponsored by Patagonia Inc., but to generate extra cash—"Adventure athletes don't make a ton of money," he says—he had a side gig leasing a fire truck to state and county crews that had run out of equipment ­battling wildfires.
One firefighting tool that Denholm kept onboard was retardant, which helps tamp down existing fires and can prevent them; he used a type known as a foam suppressant. Last year the U.S. Forest Service spent about $72 million on retardants, but in researching them, Denholm discovered some discouraging information.
Some don't work. And the most widely used variety—the rust-colored chemicals that airplanes dropped this summer on the Carr and Mendocino Complex fires in Northern California, which are made by Phos-Chek—can have a negative environmental impact. A 2014 National Marine Fisheries Service study found that two Phos-Chek products caused Chinook salmon to die in a lab experiment. A third Phos-Chek retardant that's being used to fight the Camp and Woolsey fires has not undergone any studies on toxicity. (Phos-Chek didn't return requests for comment; a Forest Service spokeswoman said in an email that Phos-Chek products meet the U.S. Environmental Protection Agency's rating of "practically nontoxic.") Denholm started thinking he could make a retardant that was effective and wouldn't harm the environment.
Soon after, he met Stephen Haddix, who was an independent representative for Barricade International Inc., a maker of gel retardants Denholm was looking into. Gels, which started gaining traction in the early 2000s, stick to surfaces for up to eight hours. Unlike other retardants, they can be used on the sides of structures, such as the walls of a house; they prevent fires from spreading and reduce their intensity. But they're hard to work with. Firefighters must strap a five-gallon tank of concentrate to their backs and spray it from hoses. And gels are slippery, which can make moving around while using them dangerous.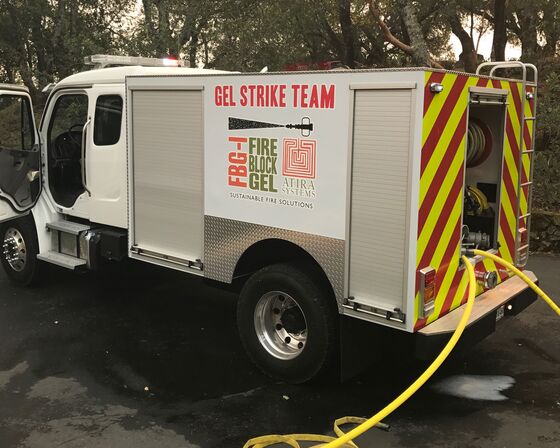 In 2011, the men worked together to make a better gel. They called the company Atira Systems Inc.—"Atira" is a Pawnee term for "goddess protector of the Earth," Denholm says—and raised about $4 million from investors. He and Haddix hired a chemist, a man who had spent 25 years creating paints and inks, to formulate the gel. They will say only that the main ingredients are the same plant derivatives found in cosmetics.
By 2013, they had their first prototype, which they called Strong Water; two years later, they had a product they thought superior to anything on the market—environmentally safe, not slippery, easy to clean up—and slightly cheaper than competitors' offerings. (It's now $325 per five-gallon bucket.) Unlike other gels, the concentrate is mixed with water in a unit inside a truck and sprayed from there, eliminating the need for firemen to strap on tanks.
Denholm and Haddix made two sales in California, to the San Bernardino and San Diego county fire departments, and one to the Texas Forest Service. Shane Glaze, San Bernardino's fire captain, used Strong Water to coat 20 of 128 homes in the West Cajon Valley during the 2016 Blue Cut fire. The blaze destroyed 108 homes, but the 20 covered in Strong Water stood without a char mark. If Strong Water "were on every fire truck in California, we'd be saving a lot more homes," Glaze says. A five-gallon bucket of the product, mixed with 250 gallons of water, can protect 1,000 square feet from a direct flame or "burnover"—when a fire moves through a location—for four to five minutes. That doesn't sound like much time, but a typical wildfire runs its course in three to four minutes.
According to the Forest Service, gels aren't effective at providing long-term fire suppression, and so it's not interested in buying them. The spokeswoman wrote that Phos-Chek products are the only ones that provide long-term fire suppression, effectively lasting, by some accounts, for several days. The agency "has determined that national contracts" for gels "are not needed at this time," she wrote.
Haddix says Strong Water can work in tandem with Phos-Chek retardants. "It's a matter of tactics," he says. "They like to put their retardant on way ahead of the fire. We'd put ours on as the fire approaches."
Without contracts with the Forest Service or the California Department of Forestry and Fire Protection (Cal Fire), the state agency responsible for fire­fighting, Denholm and Haddix have sold a little less than $1 million worth of product in total, to the two county fire departments in California. (Cal Fire relies on Forest Service approval before it considers purchasing a retardant.) "It's difficult to overturn entrenched government contractors," Denholm says.
So they've turned to the private sector. Denholm says that a "large" insurance company is vetting Strong Water for use, but he won't say which one. In 2005, insurer American International Group Inc. introduced its Wildfire Protection Unit and has long used gels to try to prevent damage. AIG didn't return requests for comment.
Meanwhile, California is experiencing its worst fire season in history. As of Nov. 18, 872,786 acres had burned; that's almost 400,000 more acres than what was lost to last year's record-setting fires. The Camp Fire alone has killed more than 75 people and destroyed more than 16,800 structures. "I find it extremely frustrating that the barrier to entry is so hard, and the need is so great," Denholm says. 
To contact the editor responsible for this story: Bret Begun at bbegun@bloomberg.net, Eric Gelman