Coronavirus Stress-Tests China's Fragile Financial System
(Bloomberg Businessweek) -- There's a sign pinned to the door of Peking Garden, a swanky restaurant in Hong Kong's central business district and a popular venue for deal-closing dinners and gatherings of lawyers and financiers working nearby: "Temporary closure notice … We have received a report that one of our staff members is confirmed to be infected with the novel coronavirus." The luxury stores surrounding the restaurant are empty; many office workers who once spent their lunch hours shopping here have been told to work from home for the foreseeable future.
For years, bankers, investors, and lawyers flocked to Asia's financial centers to take part in a boom sparked by China's rapid economic development and the opening of its financial markets. Now, as authorities struggle to contain the outbreak of a deadly new virus and restore public confidence, the question of whether China can live up to the hopes of those who have tied their fortunes to it looms larger than ever.
Pessimists say the crisis could be a catalyst for a long-awaited collapse of the country's over-indebted financial markets—an extreme scenario that Chinese regulators have managed to stave off time and time again, even during the debt crises that embroiled the U.S. and Europe in 2008 and 2012. Among longtime China watchers, the outbreak revives a more nuanced debate about whether outsiders have overestimated the country's economic strength and the political stability of the ruling Communist Party.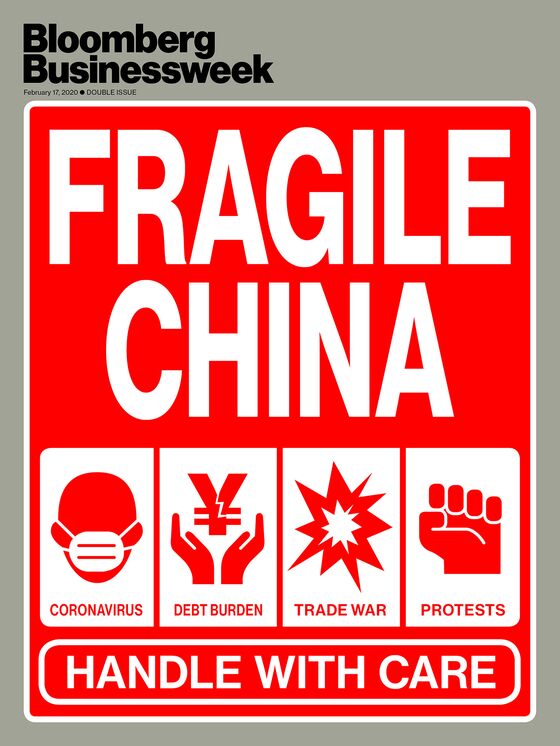 For investment professionals, the immediate concerns are more mundane: What does it mean for client meetings, dealmaking, and their jobs? "No one wants to travel to Hong Kong," Thomas Wong, former head of Hong Kong and China research and sales at Credit Suisse Group AG, says of international investors. Wong now leads his own Hong Kong-based hedge fund, Optimas Capital. The company has asked most of its 23 employees to work from home.
Even before Covid-19 began claiming lives, China's economy looked to be on increasingly shaky foundations. In part because of trade tensions with the U.S., gross domestic product officially grew 6.1% in 2019—a pace that most developed nations would welcome but that reflected China's weakest expansion in almost three decades. Defaults in China's domestic bond market, once rare, hit more than 150 last year, beating 2018's record and spurring concern that China's pursuit of growth had come at the cost of financial stability. Last year regulators seized Baoshang Bank, the first state-led takeover of a lender in China in about two decades.
Beijing has been trying to slow the corporate borrowing binge, but such efforts probably will be paused while the country focuses on getting through an outbreak that has claimed the lives of more than 1,110 people, according to official numbers. Businesses have been shuttered in an attempt to contain the spread of the virus during the extended Lunar New Year holiday. In Hubei, the epicenter of the outbreak and a key industrial province, millions remain under lockdown.
One question now is whether markets will remain confident in the ability of China's policymakers to pull the strings of the financial system. These concerns overlap with criticism of the government's handling of the virus crisis itself. "The controversy surrounding response and management speaks directly to a governance system which is good at large and draconian top-down action but weak and brittle when it comes to prevention and people being allowed to take responsibility," says George Magnus, an economist at the University of Oxford's China Centre and author of Red Flags: Why Xi's China Is in Jeopardy. "You can map this governance conundrum onto the wider economy, including debt management, and see how flawed the whole system is."
In particular, the death of a doctor sanctioned by local authorities after blowing the whistle on the mysterious new virus prompted an unprecedented outpouring of anger on domestic social media. Chinese citizens used to ask if the government could maintain economic prosperity—now they ask whether it can keep them alive.
The story of Li Wenliang, who died from the virus, "demonstrates how oppression of free speech can damage the economy," says David Webb, a Hong Kong-based shareholder activist and publisher of Webb-site.com. If authorities had taken the doctor seriously, says Webb, they might have been able to contain the outbreak sooner, "and China wouldn't have suffered weeks of lost output."
Anticipating a stimulus by Beijing and pent-up consumer and investment demand, Optimas added to its existing holdings in cement, technology, property, and education companies, Wong says. Others aren't so sure regulators can push the "build" button so easily, with many workers still confined to home, the ground in much of the country still hardened by winter ice, and abandoned infrastructure projects already dotting the landscape. "We're in early February, construction season hasn't started yet. Stimulus this quarter might be pushing on a string," says Travis Lundy, a longtime Hong Kong resident and independent analyst at Smartkarma.
The central bank has slashed money-market lending rates, and banks have been told to extend the terms of loans. But authorities may be cautious. "Financial conditions are more fragile in terms of leverage and growth momentum," says Dan Wang, a Beijing-based analyst at research firm Gavekal Dragonomics. "China doesn't need as much infrastructure as before, and it doesn't want to cut rates too much." More easing could lead to more of the leverage Beijing was so recently keen to limit.
China won't experience a full-blown "debt crisis as long as the financial system remains closed and the regulator is all-powerful," says Michael Pettis, a finance professor at Peking University. That's not necessarily good news. "Debt problems can be resolved in the form of a crisis or in the form of many, many years of stagnation. The latter tends to be in the long term much worse than the former."
Back in Hong Kong, which had already been shaken by clashes between pro-democracy protesters and police before the outbreak, Wong says he's still optimistic. Finance professionals will continue to view China as a growth market and keep arriving at its banking hubs. "There is no other choice," he says. His firm recently signed a new lease, expanding its space and moving into Chater House—an office tower just across the road from Peking Garden restaurant.
To contact the editor responsible for this story: Pat Regnier at pregnier3@bloomberg.net