China's Year of the Electric Vehicle Is Now Year of the Shakeout
(Bloomberg Businessweek) -- This year was supposed to be a watershed for electric vehicles, with BYD, Daimler, General Motors, Tesla, and other industry titans scheduled to roll out new models and open manufacturing plants in China, the technology's largest market. Then the coronavirus came along, short-circuiting demand for cars of every sort and leaving EV makers with, at best, a dream deferred.
Because of the pandemic and its accompanying economic meltdown, 2020 is on track to be the third straight year of declining sales in the world's biggest auto market, jeopardizing multibillion-dollar expansion plans by EV makers. Tesla Inc. in January began deliveries from a new factory in Shanghai after co-founder Elon Musk spent years courting Chinese leaders, only to temporarily shut it weeks later when the government imposed a lockdown that kept workers and buyers home.
General Motors in February introduced the Menlo, its first electric Chevrolet in the country. Daimler started making the electric Mercedes EQC at its sprawling Beijing factory. BMW is scheduled to begin producing its iX3 electric SUV in China soon, and Volkswagen is starting production at two new Chinese plants. But as more cars roll off the country's gradually reopening assembly lines, it remains to be seen whether consumers will race to buy them. "In terms of the automobile industry, it is still facing great difficulties and problems, especially the problem of weak consumption demand," says Xin Guobin, vice minister in the Ministry of Industry and Information Technology.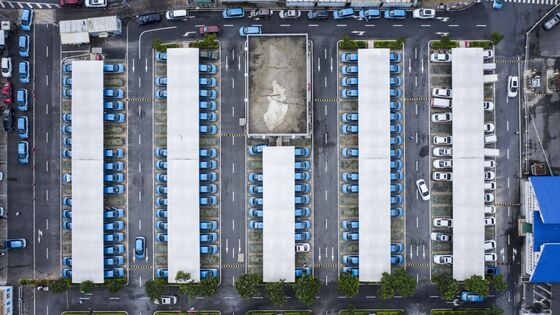 The outlook is particularly clouded for local EV makers, which have most of their sales in China. Warren Buffett-backed BYD Co.'s earnings plunged more than 90% in the last six months of 2019 vs. a year earlier—before the impact of the coronavirus hit. NIO, WM Motor, and Xpeng Motors—startups with backing from technology behemoths Alibaba Group Holding, Tencent, and Baidu—may struggle to survive as their funding lifelines run out. And things could be even more dire for the scores of Chinese EV startups that lack the backing of a high-profile investor or partner.
"An EV shakeout is inevitable," says Michael Dunne, chief executive officer of ZoZo Go, an industry consultant based in Hong Kong. "The coronavirus shock has driven investor appetite to nothing, so all EV startups are scrambling for cash."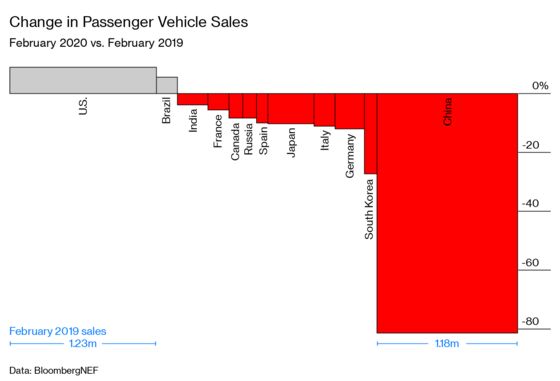 Even before the pandemic, the days of fast growth for China's automakers were ending. Sales fell in 2018, the first decline in more than two decades, and dropped again last year as the U.S.-China trade war hit the economy. In 2020, China auto sales may decline as much as 10%, according to S&P Global Ratings. One reason for the dour outlook: China's gross domestic product growth is forecast to be as low as 1.4%, compared with a pre-pandemic estimate of 5.9%, according to Bloomberg Economics.
Compounding EV makers' woes in China are global supply chain interruptions, the plunge in oil prices, and China's rollback of some emissions standards, which had helped spur interest in electric cars in recent years. Plus, the government last year started cutting back on subsidies for buyers that EV makers had relied on to be price competitive with traditional cars.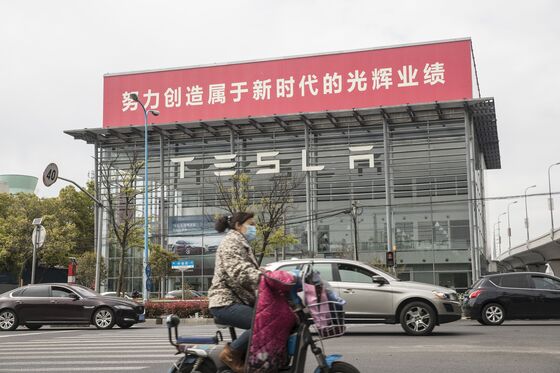 President Xi Jinping's government is trying to strike a balance between helping EVs, which it considers crucial to China's long-term industrial future, and bolstering producers of traditional vehicles, which account for most of today's sales—and automotive jobs. The government will keep domestic EVs exempt from a 10% sales tax, and it agreed to prolong subsidies for EV purchases (which were supposed to end on Dec. 31) for two more years, according to state media. "Businesses and consumers will welcome such policies, which will energize the market and help us work through the challenges 2020 will pose," NIO Inc. said in an email.
So far, the big foreign companies aren't showing any signs of backing away. Tesla received significant help from the Chinese government in reopening its Shanghai factory in February, and the company subsequently reported that early-year deliveries fell less than expected.
Daimler AG said it started ramping up its China production in February and saw showroom traffic picking up daily. The German company also sells EVs under the Denza brand in China and will fold its Smart minicar marque into a venture with Zhejiang Geely Holding Group Co., the Chinese automaker controlled by Daimler's largest shareholder, Li Shufu. Smart will become an all-electric brand, and the first vehicles are still scheduled to hit the roads in 2022. "Our electric offensive is one of our top priorities," Daimler said in an email.
BYD, which also makes electric buses and EV batteries, says it's confident it can minimize the impact of the outbreak and tap opportunities emerging from the crisis. "The demand for new-energy vehicles is slightly sluggish, yet the trend of China's economic growth remains unchanged and the trend of rapid development of the new energy industry is still on track," BYD said in an online message.
Still, NIO and other locals aspiring to be China's answer to Tesla are scrambling to stay afloat. The carmaker, backed by Tencent Holdings Ltd. and with shares listed in the U.S., said first-quarter sales would drop by more than a fifth, to perhaps 1.2 billion yuan ($170 million), adding that it might not have enough liquidity to survive.
The company hopes for a rescue from the city government of Hefei, the capital of central Anhui province. The city signed an initial agreement in February for a lifeline worth more than 10 billion yuan, but the two sides haven't announced a final deal. Meanwhile, WM Motor Technology Co., backed by Baidu Inc., cut the initial payment price on its EX6 Plus SUV by at least 50% in an apparent bid to boost sales. Says ZoZo Go's Dunne of China's EV startups: "Starved of cash, they could come apart at any time."
Not everyone is so glum. Chris McNally, a London-based analyst at Evercore ISI, figures that while the global slump in auto demand likely will drag on EV sales volume, electric vehicles' share of total cars sold—about 5% last year—should hold steady thanks to sales targets set by China and the European Union.
The Chinese government isn't going to back away from its strategy to be a leader in EVs, says Jing Yang, director of corporate research for Fitch Ratings in Shanghai, especially since the industry is at the crux of China's blueprint to become a manufacturing superpower by 2025. "There will be general support this year to traditional vehicles as well," she says, "but over the medium to long term, the focus will still be on the EV side." —With Christoph Rauwald and Oliver Sachgau
With assistance from Bloomberg