Covid Anxiety in Sunbelt Bodes Poorly for Trump
(Bloomberg Businessweek) -- President Donald Trump's reelection chances began falling in the spring, when the coronavirus tore through Northeastern states. But the current Sunbelt surge of coronavirus cases and deaths poses a direr threat to Trump—one that could ultimately cost him a second term. As the virus outbreak shifted from the Northeast to the Sunbelt, it moved from blue states Trump doesn't need to carry to red states such as Arizona, Florida, and Texas that are critical to his reelection hopes.
New polling from Gallup highlights how anxiety about Covid-19 has spiked in the areas where the virus is strongest. In April, when the hardest-hit states were in New England and the mid-Atlantic region, Gallup found that worries about the availability of coronavirus testing and hospital beds were higher there than in the rest of the country. For instance, nearly two-thirds (64%) of respondents in the Northeast worried that they wouldn't be able to get an ICU bed if they became ill. 
But as New York and the surrounding regions gained control of the outbreak and cases began falling, those fears subsided. By June, only 36% of people in the region were concerned about ICU access.
The story in the Sunbelt is essentially the reverse. In April, virus concerns were lower in the Sunbelt than anywhere else in the country. That's hardly surprising—the region experienced nothing like the catastrophe unfolding in New York. Encouraged by Trump, Republican governors rushed to ease lockdowns and reopen their economies, with some boasting about their response to the pandemic. "We succeeded," Florida Governor Ron DeSantis declared on May 20. "I think that people just don't want to recognize it."
But Covid-19 cases soon exploded in Arizona, Texas, and Florida. In a new analysis for Bloomberg Businessweek, Gallup found that worries about testing availability and hospital treatment shot up. In recent weeks, concern in the Sunbelt region surpassed the rest of the country. (Although Trump's mishandling of the crisis has also caused fears to creep up again in places like the Northeast that have kept the virus under control.)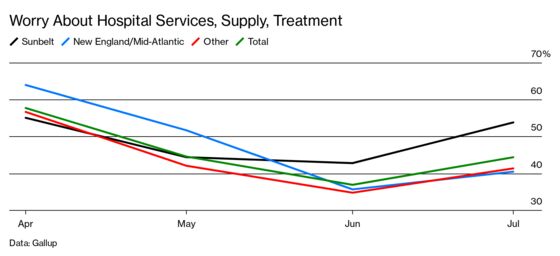 "Clearly, we're seeing unique regional differentiation just pop out when you look at the shifting hotspots," says Lydia Saad, director of U.S. social research for Gallup. "The spike in anxiety shows that the public is paying attention, that these things matter to them. They're not just focusing on national news—they're seeing local patterns and trends and reacting."
The public health fallout is plain to see: Driven by the Sunbelt surge, Covid cases in the U.S. recently surpassed 4 million. Last week, this caused record daily death totals in Arizona (83), Florida (118), and Texas (120). 
It's also clear that the Sunbelt outbreaks have had devastating political effects on Republicans, including Trump. In May, Republicans governors in Arizona, Florida, and Texas all enjoyed strong positive approval ratings—but those numbers have since flipped upside down. A July 19 SurveyMonkey poll shows that only 40% of Florida voters approve of DeSantis, 36% approve of Arizona Governor Doug Ducey, and 44% approve of Texas Governor Greg Abbott.
And Trump's approval rating, both nationally and in the Sunbelt, has collapsed further. The RealClearPolitics polling average finds the president's approval/disapproval rating has slumped to 42%-56%, while he trails Joe Biden in Arizona and Florida and is tied with him in Texas.
In 2016, Trump won all three states and their 78 electoral votes. Almost any plausible path to a second term entails winning them again. But as Covid-19 soars across the Sunbelt, anxious voters—including onetime Trump voters—look increasingly willing to spurn him for Biden. 
A new CBS News poll of 2016 Trump voters in Arizona, Florida, and Texas finds that among those who think he's doing a bad job of handling the virus, fewer than half (47%) plan to vote for him again. Right now, only 27% say they'll vote for Biden, with 10% more going third party. But that's enough to cost Trump a critical swath of the Sunbelt—and any hope of reelection.
 
Read next: What Happens If the President Tests Positive for Coronavirus