Covid Creates a Boom for Röhm's Protective Plexiglas Panels
(Bloomberg Businessweek) -- Early in the year, Michael Pack was preparing some tough measures. Röhm GmbH, the German acrylic glass manufacturer he leads, was emerging from a difficult winter season. Demand from the automotive and construction industries was lackluster, hurting prices, and the company's new private equity owners were keen to map out how to get a return on their $3.2 billion purchase completed in July. In response, Pack, Röhm's chief executive officer, started cutting production and workers' hours at the hardest-hit plants.
Then in March he noticed a sudden uptick in a part of the business that had long been steady at best: acrylic sheets sold under the Plexiglas brand. Orders were pouring in from retailers, offices, hospitals, and public transport companies, which were eager to get their hands on protective shields to separate employees from a coughing and sneezing public spreading the coronavirus. Like face masks and disinfectant, Plexiglas became omnipresent almost overnight, a translucent guard between cashiers, bus drivers, and receptionists on one side and customers on the other.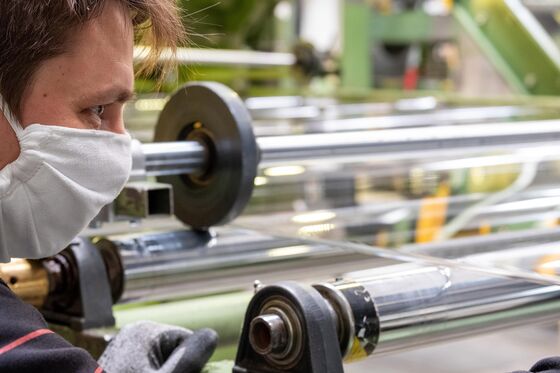 For Röhm, the surge offered a welcome boost. "We went from ice cold to super hot," says Pack. "Initially, we thought it was a spike, and let's take what we can get. Then it really spread, got broader and bigger."
Pack says the company is now sold out of Plexiglas sheets in Europe and the U.S. at least until October, and indications are that the increase in demand won't disappear as suddenly as it came on. Röhm predicts translucent barriers in public spaces and offices will remain a common feature for the foreseeable future, supporting a product line that had suffered from weak margins.
"The rise in demand for protective acrylic sheet from Covid-19 is meteoric," says Anton Ticktin, a managing director at Piper Sandler's Valence Group who specializes in chemicals transactions. Ticktin estimates record sales and profit this year for the acrylic sheet industry, which is getting an additional boost through consolidation and higher demand for LCD screens that use the material.
Röhm says orders for sheet Plexiglas are largely making up for the drop in demand from the automotive industry, where the material is used for headlamps and glossy dashboard trimmings. It's also used widely in aviation, wall-mounted signs, and greenhouse glazing.
The big rush to protective screens occurred in March and April, with some anecdotal reports pointing to a threefold increase in demand, says Sebastian Bray, an analyst at Berenberg Bank. Longer term, the industry can hope for a "still quite substantial" 15% to 20% annual growth rate, Bray estimates, far beyond previous projections, which hovered in the low single digits.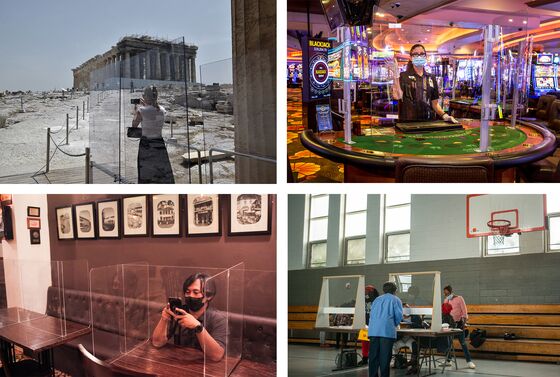 Plexiglas was discovered by Otto Röhm, a German chemist who began experimenting with acrylic acid around the turn of the century. By the end of the 1920s his company, Röhm & Haas, began manufacturing a clear, transparent bonded safety glass with an interior acrylate layer for use as windows in the automotive industry. Granule-based injection molding followed, leading to a wide array of applications, from futuristic furniture to pens to elaborate car lights.
With annual sales of about €1.7 billion ($1.9 billion) and 3,500 employees worldwide, Röhm was sold last year to Advent International, which was attracted by the range of products, from the basic acrylic compound to aerospace-grade sheets, as well as a new production method Röhm developed using ethylene rather than the traditional process based on toxic hydrogen cyanide.
Röhm is far from the only manufacturer of the shatterproof material professionally referred to as polymethyl methacrylate, or PMMA. Around the same time Röhm made his discovery almost a century ago, Imperial Chemical Industries Ltd. invented Perspex, followed by DuPont Co.'s Lucite brand, now owned by Mitsubishi Chemical.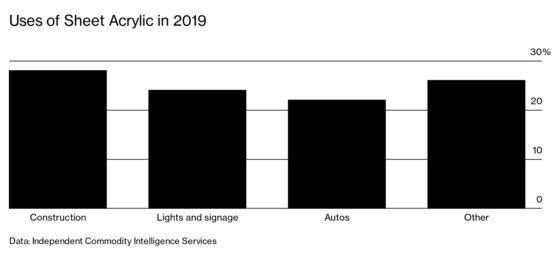 About two-thirds of PMMA goes into extruded and cast sheets, which includes the protective shields, according to Martin Bastian, head of European chemicals at investment bank Houlihan Lokey. The industry was enjoying higher prices in 2018, with PMMA in vogue with carmakers drawn to its glossy finish for interiors at a time when the material was in short supply. But waning demand in 2019 and a boost in capacity saw prices start to fall. They're down about 47% since mid-2018 in Asia, though less in Europe, according to global data and analytics company ICIS.
The decline that Röhm witnessed in the acrylic glass industry before the coronavirus pandemic is typical of the commoditized end of the plastics industry that's been maturing for years. The cyclical, low-margin markets aren't for the fainthearted. General Electric Co. sold its plastics business to Saudi Basic Industries Corp. for almost $12 billion in 2007, and a host of companies, including Honeywell International Inc., have spun off cyclical chemical assets.
In reaction to the Covid-sparked upturn in demand, Pack began redeploying workers to the sheeting side of the business in both Germany and the U.S. Röhm also took on temporary staff to help handle orders and logistics. "Overall, we're doing better than people would have thought," Pack says.