Stranded International Students Are Sustaining U.S. College Towns
(Bloomberg Businessweek) -- When Regina Vaughn reopened her Freshii franchise in West Lafayette, Ind., in mid-April, after it had been closed for almost a month, orders started flowing back in from some of her old regulars. Among them was Nour Hendy, a computer engineering student at Purdue University, who hails from Alexandria, Egypt. "It's been part of my routine to go to Freshii, to get lunch there, for a very long time," says Hendy, 22, who, amid the pandemic, had to switch to mostly using an app to order his favorites, which include brown rice and vegetables with chicken or tofu.
College towns are struggling across the U.S. For many local businesses, revenue flows are dictated by the academic calendar: the arrival of students in late summer, prospective applicants and their parents touring campuses in fall and spring, families attending graduations in May, and then an influx of high schoolers enrolled in summer programs. Most of these customers have been absent since March, when universities sent students packing to avoid the spread of the coronavirus. It's still unclear if many will return in the fall, and those who do may be directed not to leave campus to prevent infections.
Some businesses, like Vaughn's restaurant, have been able to rely on a captive market of sorts. There were about 1.1 million foreign students enrolled at U.S. colleges in the 2018-19 school year, equal to more than 5% of the university population. Many have been essentially trapped in the U.S., because closed borders, mandated quarantines, or other restrictions on travel have prevented them from returning to their home countries. Or they worry that if they do, they may not be permitted to come back to the U.S.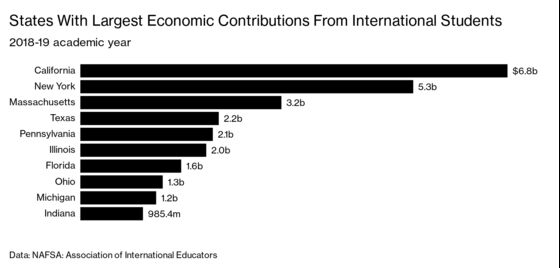 Adding to the climate of fear, a federal rule introduced last month would have exposed international students enrolled at schools opting for online-only instruction in the fall to therisk of deportation if they chose to remain in the U.S. The new guidelines immediately ignited controversy and were quickly rescinded, but the cloud of uncertainty that has formed over U.S. immigration policy under the Trump administration has not dissipated.
International students attending American colleges and universities contributed $41 billion to the U.S. economy and supported almost 460,000 jobs during the 2018-19 academic year, according to the trade group NAFSA: Association of International Educators. In Indiana, nearly 30,000 foreign students had an almost $1 billion economic impact. In Massachusetts, which logged 71,000 international students, they injected $3.2 billion into the economy.
Universities and their hometowns worry that the pandemic and uncertainty over visa rules could encourage fewer students from abroad to come, which would hurt local economies and university budgets since many pay the full cost. "It will absolutely have an impact to those restaurants and businesses that cater to the international students on campus," says Scott Walker, president and chief executive officer of the West Lafayette Chamber of Commerce. "International students are really critically important to our community and Purdue."
After American colleges told students to leave campus in March, about 92% of international students enrolled in the spring semester remained—that's almost 235,000, according to a May survey of 441 schools by the Institute of International Education, a trade group. In a follow-up study in July, 302 schools reported more than 40,000 international students were enrolled in classes on campus this summer. Upwards of 90% of the institutions polled said they expected a majority of those students would be staying on through the fall, according to Mirka Martel, head of research at the institute.
Purdue counted almost 9,100 students from abroad in the fall of 2019, including those in graduate programs. Of the 2,700 foreign undergrads who responded to a survey in late May, more than half said they had not departed the U.S., according to Michael Brzezinski, dean of international programs at the school.
Vaughn credits those students, along with about $17,000 from the federal Paycheck Protection Program, with keeping her restaurant afloat despite a 75% reduction in sales. "I feel like they carried us through for a few months," says Vaughn, 50, whose franchise is a short walk from campus. "They kept coming in and supporting us. Even if they didn't come in, I could see them on the third-party apps like DoorDash."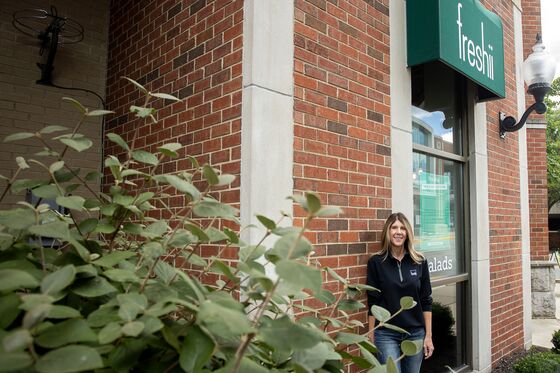 At Mount Holyoke, in South Hadley, Mass., international students make up 27% of the student body. Of about 106 students still on campus now, 93 are international students, says Christian Feuerstein, a college spokeswoman.
Among them is Hiba Nawaid, 20, a rising sophomore from Karachi, Pakistan, who last saw her parents about a year ago. Nawaid lives on campus and mostly picks up her meals in a Styrofoam box from the dining hall. Once a week or so, she splits an order from a local restaurant with a friend and also uses apps to have groceries delivered so she can cook. "More than 100 people like me order things every week for basic necessities," she says.
Miranda Ordynowicz, the manager at Johnny's Bar & Grille, one of the establishments that Nawaid patronizes, says students from abroad who have stayed on campus have been ordering regularly from her restaurant and its sister sushi place, Iya: "I've noticed a few of the same names weekly."
Freshman and sophomore students at Mount Holyoke were to start classes on campus later this month, but the school recently opted for all virtual lessons because of health concerns. International students like Nawaid will be allowed to remain for the duration of the school year, says Feuerstein, the college spokeswoman.
Communities such as West Lafayette want to see the pipeline of international students remain intact. Walker, of the chamber of commerce, says U.S. immigration authorities should continue to welcome them, as they help boost local economies. "It's important that we figure this out for international students to keep coming to our universities." —With Yifan Feng
 
Read next: Thousands of Law Grads Will Take the Bar Exam in Person Despite Covid