Big Dance Numbers Are Out in Bollywood as Virus Forces Change
(Bloomberg Businessweek) -- Bollywood movies have always been about excess, with even serious scripts often managing to squeeze in lavish musical numbers and frenetic routines featuring scores of dancers. No more. The pandemic is turning Bollywood downright minimalistic. Shooting scenes of crowded wedding songs—a staple of the genre—has been temporarily ruled out by Covid-wary officials. And a chase scene scripted for a dusty, crowded Indian street was recently rewritten to take place in an empty warehouse, confides one director at a major studio.
These are just some of the changes the globe's most prolific movie industry is making to awaken from one of the world's strictest lockdowns. The coronavirus, which has sickened more than a million Indians—including superstar Amitabh Bachchan and his daughter-in-law, Aishwarya Rai, a former Miss World who is one of the nation's best-loved actresses—is forcing filmmakers to radically rethink how they do their job. "We've looked at all the scripts on our table to make them more production-friendly," says Atul Kasbekar, producer of the award-winning thriller Neerja, who's now preparing to shoot a Hindi remake of the 1998 hit German experimental film Run Lola Run. "The only thing you can do is figure out what is the path of least risk, financially."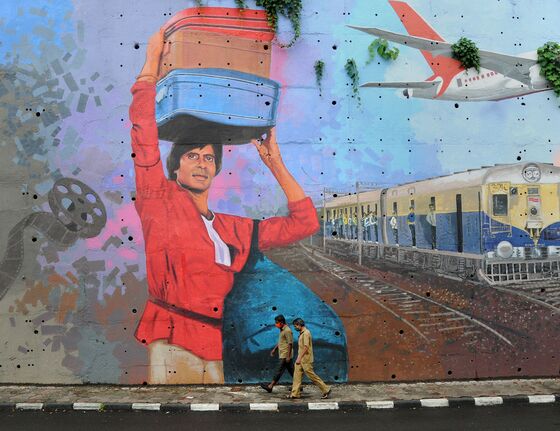 Kasbekar and other filmmakers in India are competing for attention from streaming sites such as Netflix and its homegrown rivals; these are the only showcases available as Indians continue to shelter in place while grappling with increased oversight from a government that's struggling to contain a worsening viral outbreak, now the third-largest in the world. The resulting clash between creativity and caution has poised India's almost $34 billion entertainment industry at an inflection point that some say could change it forever.
The surging reliance on direct-to-home distribution is encouraging producers to experiment with genres and storylines that don't fit the traditional formula for Indian fare. Such efforts include Netflix's Indian Matchmaking. The reality show on arranged marriages has become a hit as people remain homebound; it's also sparking controversy for its portrayal of caste and obsession with fair skin, qualities Indians consider when choosing a suitable mate. Another is Home Stories, a collection of four rough-hewn short films set amid the lockdown that play off the anxiety and confusion that quarantine creates—everything including watching the deteriorating mental health of one homebound character and the tale of a delivery man working during the pandemic.
The shift also opens up more space for grittier dramas such as Amazon Prime's acclaimed Paatal Lok, a glimpse into the netherworld of Indian policing, because streamed content is able to bypass the country's censor board that often bedevils multiplex-bound productions.
"Rather than signaling the end of the big box office numbers, instead we're seeing a broadening of the field," says David Lunn, a researcher at University of London's School of Languages, Cultures & Linguistics. "In this new, more diverse landscape, there will be greater space for experimentation and novelty—and failure—and filmmakers are already trying their hand at new formats."
Still, all experiments need to comply with the 16-page protocol issued by the government in Maharashtra, the Indian state that's home to Bollywood's capital city of Mumbai. It advises studios to cast real-life kin as family members on screen to limit strangers interacting. There are daily temperature checks, plus fumigation of sets and editing rooms. People older than 65 aren't welcome on the set in an industry known for its generation-spanning sagas. No wedding, marketplace, or fight scenes, which typically involve crowds, are allowed. And only a third of pre-Covid-era crew is permitted on set during filming.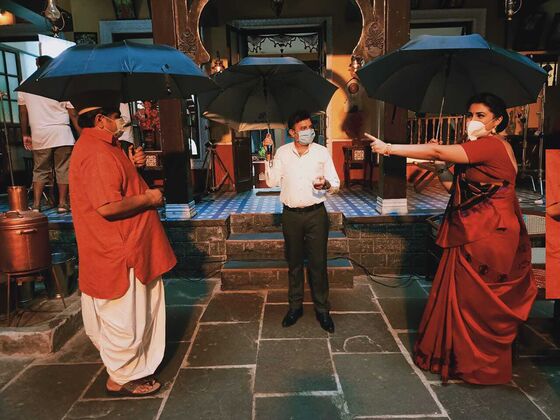 Producer JD Majethia came up with a quirky way to combat virus transmission on the set of his television show, Bhakharwadi: Everyone is required to carry an umbrella on the shoot floor. "Holding an umbrella automatically ensures social distancing, so nobody can brush past another even by mistake," he says. Masks—and umbrellas—aren't ditched until the cameras begin to roll.
"We have tweaked our script wherever possible to reduce the number of actors in a frame," Majethia says. "We've also tried to shoot with multiple cameras in such a way that actors appear to be sitting closer when they are actually sitting fairly apart. I recently told a writer that we can easily swap a kissing scene with an air kissing one and still retain the underlying emotion in the scene."
R. Balki, who previously directed Bachchan in the hits Paa and Cheeni Kum, first got a taste of Covid constraints when he shot a coronavirus public-awareness campaign in May. Everyone had to enter the set through a tunnel from which disinfectant was sprayed. They wore face shields and had doctors in full protective gear on standby. Sanitized costumes were sent to actors in advance, and Akshay Kumar—who has received India's National Film Awards for two of his films—came dressed from home and did his own makeup.
"I won't say it was a pain, but it requires a bit of care," says Balki, who shot the public-service spot with only 20 crew members, instead of the typical 60. The backdrop of his campaign was an uncharacteristically deserted Indian village square.
Sanjay Jadhav, who's directed several Marathi language films, says he's changing scripts to have a maximum of three people in the frame at a time. Actors are becoming increasingly vocal on the risks they face on set and off, says Jadhav, who also expects retaliation from unionized crews who may be laid off because of the sparer productions.
Popular TV actress Hina Khan shared on Instagram how unsafe she felt while dubbing dialogue for a recent production, first with a mask on and then without. "I was told my voice is not clear. … I realized it's so, so unsafe to inhale and exhale so close to the microphone. … God knows how many have dubbed in the same studio before me. … God knows who amongst them was a carrier," she wrote.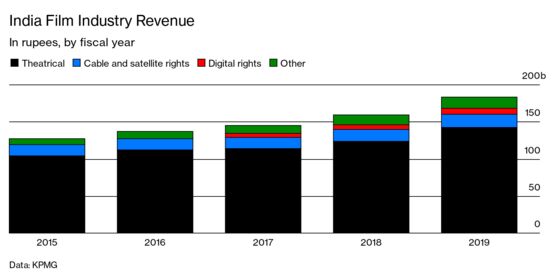 Film financiers have begun buying an add-on Covid coverage for lead actors as part of their key man insurance policies, according to Sonam Chandwani, managing partner at law firm KS Legal & Associates in Mumbai, which says it has about 30 media clients. The firm is also bolstering the force majeure clauses in contracts, which allow provisions to be breached as a result of circumstances beyond human control, to cover any future lockdowns.
Kasbekar, who was supposed to start shooting his Run Lola Run remake in April, changed the protagonist's profession after he found "a giant location" that could accommodate several different shooting setups, allowing him to save some money. The producer also predicts special effects will now be needed in other action films where rewriting is impossible, especially for battle scenes, despite India having a vast supply of cheap extras who traditionally have been available for such productions.
It's not clear how the extra costs and lack of cinema outlets will affect Bollywood's finances. The typical Bollywood production is a money-spinner, with even the films' music farmed out for stage shows that pay royalties, while stars enjoy the glamour—and product endorsements—that traditionally accompany big hits in theaters.
Just how long the pandemic-spurred production changes will last is uncertain. "That's a million-dollar question," Balki says. "Filmmakers will have to lean on streaming platforms. Producers will have to be happier with lesser profits, and actors with lesser payouts. At least for now." —With P R Sanjai